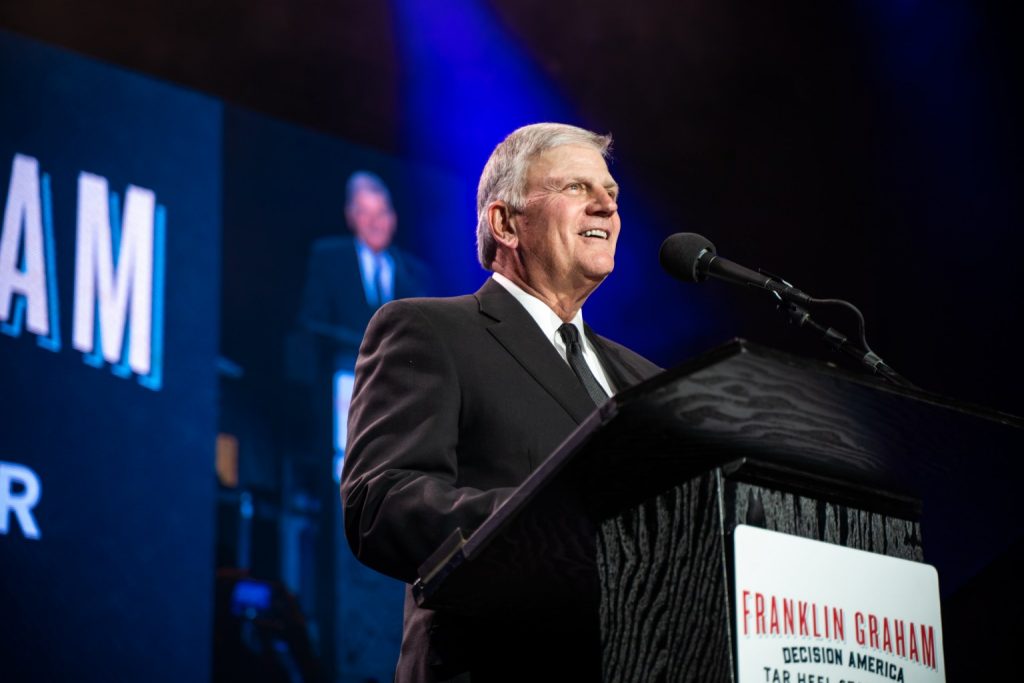 This year alone, Franklin Graham has traveled to Asia, Australia and South America. Like his father, Billy Graham, he has a heart to see the the Bible's Great Commission—God's command that all people hear about God's love—taken to the ends of the earth.
It's been a change of pace, though, for the last two weeks as the evangelist stuck close to home for the Decision America Tar Heel State Tour.
That's because the need for God is everywhere, even Franklin Graham's home state. Sunday, he preached in an artsy, eclectic city in the North Carolina mountains.
"It is good to be home in Asheville," Franklin Graham said after a crowd rose to their feet in applause when he walked onstage. "God loves you. Don't you ever forget that."
>> See photos from the Decision America stops.
Since October 1, more than 65,000 people attended the eight-city tour, and over 4,800 made decisions for Christ in person, online and through text. Stops included Fayetteville, Greenville, Wilmington, Raleigh, Greensboro, Hickory, Charlotte and Asheville.
'All I See Is God's Grace'
For Gary Picard, the opportunity to be a prayer counselor and share hope with complete strangers at Asheville's U.S. Cellular Center was a no-brainer. He's used to it.
Gary owns a construction business and regularly talks to clients about how his life changed five years ago when he accepted Christ. He also has long, spiritual conversations with an atheist friend.
While there are many spiritualists, Buddhists and other religions here, it's a "live and let live mentality," Gary said.
"Hippies and business people co-exist," he said. While it may be hard for some believers to live in such an non-traditional city, Gary said, "All I see is God's grace."
"We're all lost in some way. We've all got issues, it's just whether [or not] we admit our need for Jesus in our life."
Sunday, protesters stood outside the venue chanting while inside Franklin Graham addressed the LGBTQ community directly.
"I'm not judging you. I'm here telling you in love," Franklin Graham said. "God loves you, but unless we repent of our sins and have faith in Jesus Christ … there's no hope, no remedy."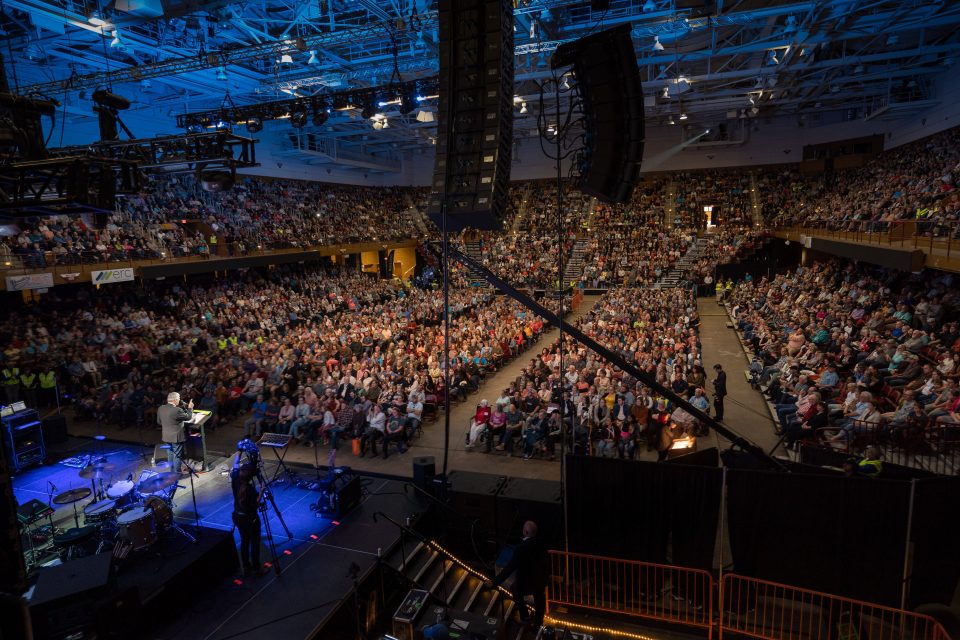 'I Felt the Spirit Here'
"I felt the [Holy] Spirit here," Miranda confided Sunday night. "I broke down and cried."
The Franklin, North Carolina, resident stood up without hesitation when Franklin Graham gave an invitation to receive Christ. "I've been emotional lately," she said, admitting she's lonely.
In her early-40s, Miranda has constantly struggled with depression and anxiety. She also nearly died from a drug addiction. Then, while walking in 2012, Miranda was hit by two cars—disabling her.
Lately, she's focused on praying and reading her Bible.
"I would like to keep my identity in Christ, but I'm getting depressed again," she worried.
For Miranda and thousands of others who made decisions for Christ on the Decision America Tour, it's not an instant cure for problems, but they're not alone. Local churches reach out and welcome them into the fold, including sweet Miranda.
"That's what would really help me," she said. "I'm trying to get closer to God."
It's God's guiding that Franklin Graham followed when he started the Decision America Tour in 2016. Visiting all 50 state capitals, he began leading Americans in prayer and calling the nation back to God. Since then, the evangelist has traveled to various regions of the country, sharing the Gospel.
That's what Gary lives for.
"The Great Commission is what we're called to do," Gary said. "After 45 years on the other side, I find this to be very easy.
"When you see someone come to Christ, it can't help but change you."