By the look of things, Wednesday was a pretty typical night at the Greensboro Coliseum Complex in North Carolina. A crowd of thousands is nothing new for the multipurpose venue that regularly hosts popular musical acts and college sports championships.
However, the event held Wednesday evening was different. Franklin Graham and Christian musician Jeremy Camp were in town for the fifth stop of the Decision America Tar Heel State Tour—and they came with a powerful message. 
"God is our only hope," Franklin Graham said soon after taking the podium. He shared the solution to today's issues isn't political, it's spiritual.
"[God] created a vacuum inside of us that He reserves for Himself," the evangelist explained. "Until He comes in and takes control, you'll always have this emptiness.
"God has a plan for your life. … But you've got to come to Him."
>> See photos from the Decision America Tour stop in Greensboro.
As Franklin Graham spoke, Ronnie James listened carefully from the back of the packed venue.
"I love evangelism," the Vietnam War veteran said. James discovered the peace of Christ as a young man, and constantly seeks opportunities to share the Good News. He's led people in the prayer of salvation in various areas, including his local Waffle House and Latin America. 
"People don't have hope. But when they come to events like this, they realize they can find hope in Jesus," James explained. "That's what they're looking for, they just don't realize it."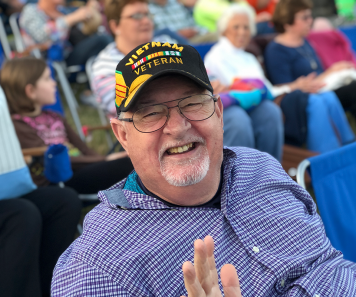 Carolyn McKay didn't come to that same realization—Jesus could fill the vacuum in her heart—until she was 45 years old. Ever since surrendering her life to Him, she's been growing in her faith. Volunteering at the Decision America Tour stop in Greensboro was another milestone on her spiritual journey.
"Just to let the Holy Spirit live in me is the greatest privilege I could ever have," she said, tears glistening in her eyes.
Moments before, McKay prayed with a young woman named Alisse as she invited Christ into her heart for the first time.
"It was so sweet," the prayer volunteer said. "She was crying, and her son standing beside her was so happy."
The Wednesday night event wrapped up in celebratory fashion with worship from Jeremy Camp and fireworks lighting the dark night sky.
Then, the music stopped. The final firework boomed. And the fifth stop of the Decision America Tar Heel State was over.
But unlike the momentary thrill of a concert or sporting event, the evening's powerful message will ring in the ears of those who attended for days, weeks and years to come.
"You can walk out of this event and go, 'Now what?'" Camp said. "You can walk out of here empowered by the Holy Spirit."