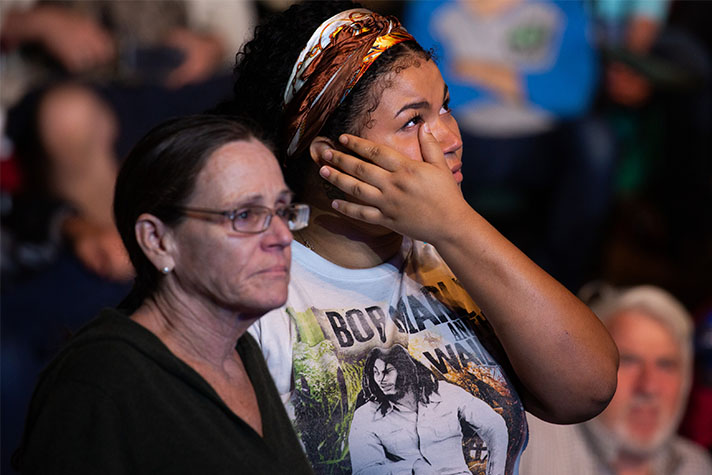 Running away doesn't solve your problems.
This is a truth Floridians from Panama City know all too well—and it was reiterated by Franklin Graham along the third stop of the six-city Decision America Sunshine State Tour on Tuesday.
Fifteen months ago, Hurricane Michael made landfall on the region as the strongest hurricane to ever hit the Panhandle, resulting in 16 deaths and $25 billion in damage.
Having quickly skyrocketed from a predicted Category 1 or 2 storm to a Category 5, many people found themselves trapped and unable to evacuate. However, some people—like Jayme Christmas—fled the storm.
But there was no bypassing the eventual return to a damaged home and uphill, grueling battle with insurance. The Christmas family just received a new roof for their home last December, and while they're grateful for that repair, they still need new windows.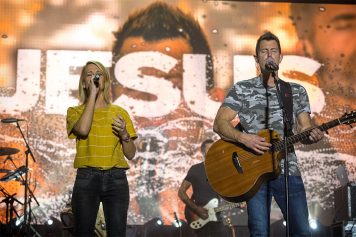 Nevertheless, Jayme was prepared to encounter a much brighter forecast while at the Aaron Bessant Amphitheater for the tour.
Excited to hear Franklin Graham preach and Jeremy Camp sing, she admitted, "When you have a hurricane or whatever it may be, just hearing the power of God's Word is very encouraging."
More than 6,200 people surrounded her on the cool evening, many sitting in beach chairs across the grassy lawn as Graham told the story of the Prodigal Son from Luke 11.
"Have you ever wanted to run from your problems? … Marriage? Job? Parents? School?" Graham asked. "Running doesn't solve anything. Many people are searching for happiness but are not finding it."
Continuing on, Graham said some people think if they get a new apartment or fishing boat, they'll be happy—but that will lead only to temporary fulfillment.
"I think everyone wants to have a purpose," Graham said. "We have a vacuum of emptiness that can only be filled by God Himself. He has a plan and purpose for your life. He wants you to have peace, joy and fulfillment."
Under the foggy sky, those words gave clarity to the heart of Samantha Seaborn, one of 460 Decision America Tour volunteers for Panama City.
Welcome Home
There was an unusual draw to the Sunshine State Tour for a woman named Kim, who said she was "intrigued" by the event when she kept seeing signs for it around town.
When Kim got to the event, she was full of guilt for something she did years ago that's been putting a strain on family relationships.
"It was really bad," she admitted.
As she sat on the lawn, Franklin Graham talked about the Prodigal Son whose father welcomed him home with open arms—no shame or bitterness, only compassion.
By the end of the evening, Kim was one of many who stood to ask Christ's forgiveness and said she'd never committed her life to Him like that before.
"I already feel better," she said.
As Kim made her way back to the car after the event, anticipating work the next morning, she did so with a BGEA discipleship booklet called "Living in Christ" in hand. Though it was back to routine, Kim now has a new guidebook to life.
No stranger to Franklin Graham's ministries, Seaborn also serves on staff at nearby City Church, the host church for the ongoing volunteer rebuild teams working on damaged homes with Samaritan's Purse.
While she lost her home in the storm, the Panama City native "immediately went into serving mode" and is still in temporary housing.
Calling the tour stop "something special and a reminder to keep pressing on" for Hurricane Michael survivors, she shared how Graham sent a personal letter to all 1,200 Samaritan's Purse recipients who received relief from Hurricane Michael, inviting them to attend the Sunshine State Tour.
"I can easily run from my problems right now, but there's so much work to do here and I know God has still called me to Panama City," said Seaborn as tears spilled from her deep brown eyes. "I may not have a house, most of my family may not be here in Panama City anymore, but I know God has called me where He has me and put people in my place. He is our Provider, everything we need, our joy; and in Him, we have everything."
As a child, she heard the same message of redemption from Billy Graham and D.C. Talk in south Florida.
"Now here I am as an adult and the Gospel has never changed," Seaborn said. "Trusting in God and knowing there's hope—that's why I do what I do. It's important to share hope in Jesus' Name more than ever after the storm. I know God's not done here. A lot of people have left Panama City but we're staying strong here."
In the storm's aftermath, she's repeatedly encountered Billy Graham chaplains who deployed to the city to offer comfort. On Tuesday, she was once again reunited with several of those who had talked with her in previous months and are now serving on the tour.
Although the relief effort is far from over, Seaborn shared, "I always tell people, 'Hurricane Michael was here, but God still is.'"
Please continue to pray for Panama City's recovery from Hurricane Michael.