Surrender.
It's a foreign concept for those steeped in self-reliance, Franklin Graham shared during the opening night of the Decision America Tar Heel State Tour in Fayetteville, North Carolina, on Tuesday. The eight-city tour continues Wednesday with a stop in nearby Greenville.
Graham's message from the Old Testament was tailor-made for the city once called "America's Most Pro-Military Town" by Time magazine. Fayetteville houses Fort Bragg, the largest U.S. military base, so many in attendance could relate to the Bible story of the commander Naaman.
Naaman was powerful and wealthy, but he was helpless to cure himself from the disease of leprosy. Rather, Naaman had to fully yield his pride and follow God's direction. He had to surrender. And so must we, Graham explained, because we personally can't do anything about the sin that separates us from God.
"Sin is incurable outside of Jesus Christ," Graham told an estimated 9,200 people at Fayetteville's Festival Park. "Why? Because Jesus Christ is the only One who paid the debt of sin.
"You can't save yourself. Naaman could not save himself. He was a leper. He couldn't heal himself."
It's a truth Caleb learned four months ago. Seated many rows of lawn chairs and blankets back from the stage, he attended the event with his wife Stephanie and 6-month-old daughter. The Fort Bragg infantryman shared how his alcohol addiction was destroying his family until the Lord intervened. He smiled when he thought about living the last four months sober.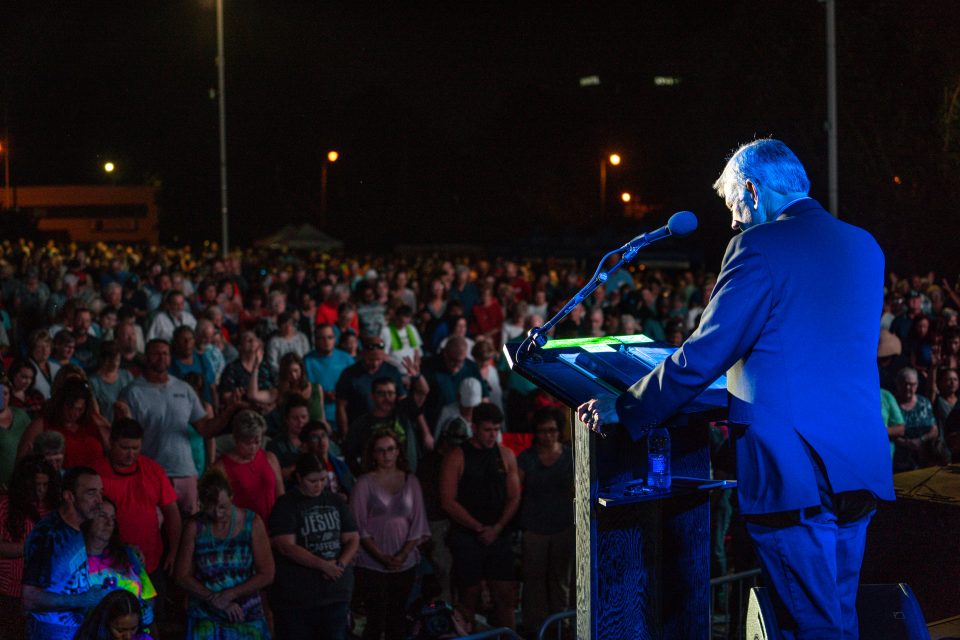 "It's extremely different," Stephanie said, also smiling.
Nowadays, Caleb and Stephanie attend church together and pray together. Prayer, Stephanie said, has made all the difference. For the bulk of their four years together, Stephanie said she would ask God how to love her husband.
"I was just loving him the way I loved God, the way God wanted me to," Stephanie said. "With God's help, he came to God. It's crazy cool."
Caleb has deployed once already and anticipates being sent to the Middle East in May, but this time, he knows he won't be alone.
"It's really nice to have Someone to pray to, Someone to talk to and Someone to give my problems to," Caleb said. "Having Him to fall back on and pray to every night and know that He's always there for me no matter what—even in the most difficult places."
Jason understands those difficult places, too. He prayed with Franklin Graham Tuesday night to ask Jesus into his life. He said for one of the first times in his life, he felt like he talked to Jesus one-on-one as he prayed, and now looks forward in anticipation to living a new life with Him.
So many folks in this town are familiar with the trials of life. But many—particularly 10 miles up the road in Fort Bragg—aren't trained on how to spiritually navigate them.
Edward Graham, Franklin Graham's youngest son, said it's hard for the Army to train soldiers spiritually because the largest and oldest service in the U.S. military can't emphasize one faith. But for his 16 years of Army service, including three-and-a-half here in Fort Bragg, Edward never wavered from following Christ.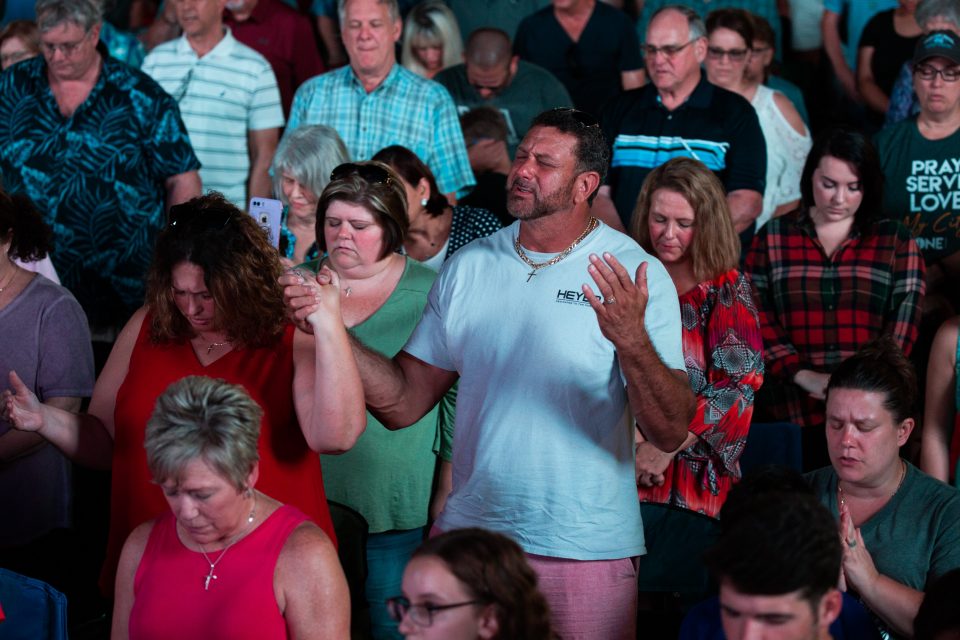 "Christianity is the pillar that I relied on that made me resilient, that I could always go back to and know that I was not perfect," Edward Graham said. "And also know that I'm not alone and I can't do this by myself. It goes back to surrendering. I had to give those ideas, those thoughts, those issues, those problems I still see, the smells I still smell, the sounds I still hear—I surrender those to the Lord. I know He's bigger than any problem I have."
Surrender just isn't natural, Edward Graham added.
"I think a lot of times we're taught and trained how to fight in combat," Edward Graham said. "We're not trained how to surrender. It's not natural.
"I think that's why it's so important for them to hear a story of a soldier who was unclean, who was not pure—not only in his disease, but also in his heart. He was not worthy of the grace and the mercy that we receive from Jesus, but that's exactly what he got. And that's what many received tonight."
Seven-year-old Drake was among those. After talking to a counselor with his mom nearby, he danced with abandon as his favorite Christian artist Jeremy Camp led worship. Fireworks erupted overhead to close the evangelistic rally, a seemingly on-earth celebration of the promised party happening in heaven over so many folks surrendering.
God's Word declares in Luke 15:10, "In the same way, I tell you, there is rejoicing in the presence of the angels of God over one sinner who repents."
Freedom.
Join us in rejoicing to God for those who turned their lives over to Him. Please pray these folks would find roots in the local church. 
Do you know the freedom that only Christ can bring? Find peace with Him today.