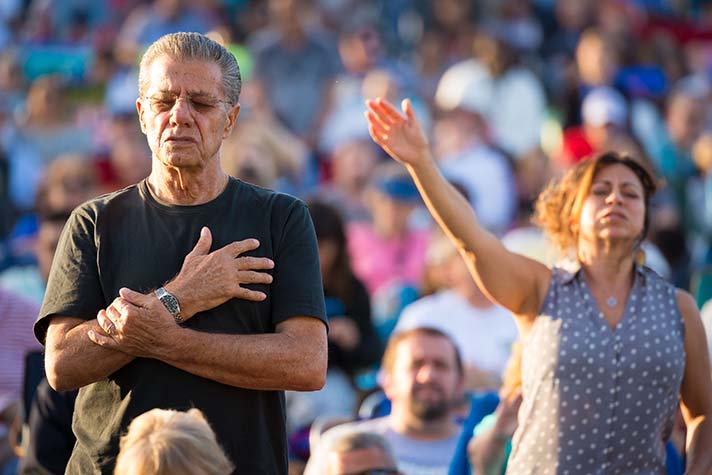 Boca Raton isn't America's neediest place.
In fact, the city of palms is known as one of the most luxurious retirement areas in South Florida.
But Saturday night at Boca's Sunset Cove Amphitheater, Franklin Graham told everyone there how needy they really were.
"The Bible says all of us have sinned. We have come short of God's standards," he explained.
For over a week, the evangelist has traveled across Florida on the six-stop Decision America Sunshine State Tour. Saturday, he talked about how far America has strayed from God.
"The world has changed, the culture has changed," Franklin Graham said, adding how we live in a world where people are asking, "What is truth?"
>> See photos from the Boca Raton stop.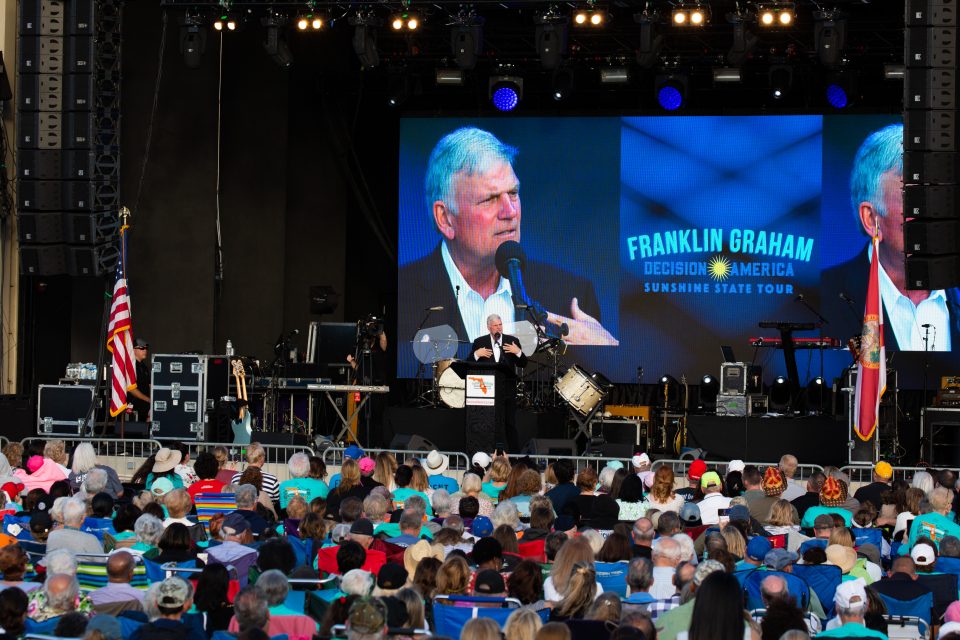 That truth is what Andrea Goff has been trying to impart to her friends. She even posted about the evangelistic prayer event on Facebook to about a thousand people. Living nearby in Pompano Beach, she's surrounded by materialism.
"You can buy anything you want," she said. "Because there's the money to do it." She talked about what she called a "hedonistic society."
"There's a lot of very lonely people trying to buy happiness," she said. "Anti-depressants, suicide. There's so much of that."
Preaching from 2 Chronicles, Franklin Graham's message focused on the self-centered King Manasseh. Similar to our earthly idols, the ruler of Jerusalem worshipped false gods, even leading an entire nation into sin.
But no one is a lost cause. Even the wicked king asked God to forgive his sin and turned his life around.
In between songs, worship artist Jeremy Camp spoke compassionately to the crowd of more than 6,000. "I don't know what you're struggling with … addiction, guilt, brokenness … but Jesus Christ has come to set you free, and you should be free indeed."
Hundreds found that very freedom Saturday night, including Andrea's friend John.
Struggling with the tragic death of his 21-year-old son, he decided to take up her invitation to come. After hearing about God's love and the hope He offers, John surrendered his life to Christ.
"This was a huge breakthrough," Andrea said. "I'm praising God and thankful for this powerful event."
There were hundreds of Holy Spirit breakthroughs and decisions for Christ in this beach oasis. On the grass in the back, a man named Chris and his wife were shaken up after his truck flipped over Friday. Keith, a field manager for the event, prayed for God to heal him. He also thanked God for his spiritual healing. Across the way, a teenager suffering from amnesia asked God to help him find the next step in the chaos he was experiencing.
Afterward, Romy stood tearfully clutching a Bible. "I'm chasing Jesus," she said after recommitting to follow Christ. "I want the pain to stop." Romy's boyfriend was murdered last year and she's preparing to attend the upcoming murder trial. "I want to know God's purpose for me in this new beginning," she said.
"This is God busting me wide open. I'm just trying to find my path back to walking with Jesus."