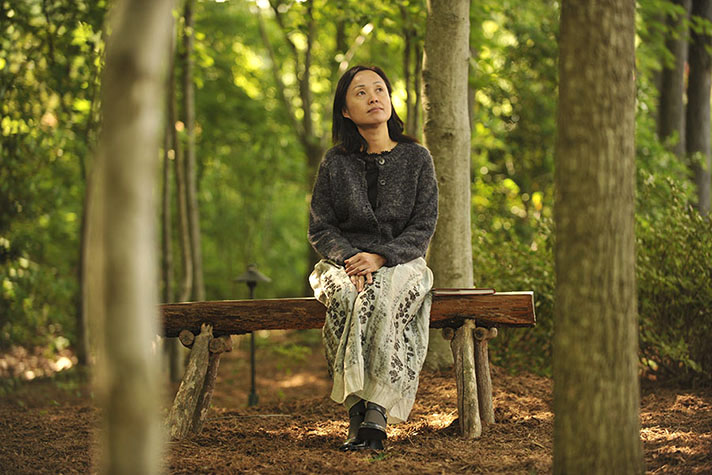 Life can be so hard at times. Sometimes the pain or grief is just too much to bear by yourself. In times like this, where can you go to find comfort and hope?
For many, a visit to the Billy Graham Library in Charlotte, North Carolina, helps them take a deep breath and find God's peace. Over and over, visitors have said when they step on the grounds, they've felt His presence.
Be encouraged by these short stories of how God has worked in recent months to offer respite from the wearisome world at the Billy Graham Library.
A distraught mother came this summer with a heavy burden. Her daughter had been suicidal and attempted to take her life many times. After Billy Graham Rapid Response Team (RRT) chaplains prayed with the mother, she found strength and power through talking to Christ. As the heavy weight she'd been carrying slipped away, she found renewed strength. Knowing she had the power of Jesus within her, she regained the will to walk through this difficult season with her daughter.
One day before Michael* was to visit the doctor to confirm a colon cancer diagnosis, he came to the Library requesting prayer. He made his way through the Memorial Prayer Garden to pay his respects at Billy Graham's gravesite. After praying with an RRT chaplain, Michael had tears in his eyes. He left with the peace of knowing that no matter the fear or uncertainty he faced, God was near.
Heartbroken, one woman shared how her two sons walked away from their faith. Instead of pursuing God, they were pursuing their own desires. One had a severe special needs baby and was experimenting with drugs to dull his pain. The chaplain listened to the mother's story, and they spent time praying for her sons to come back to God. The woman shared how she could sense His powerful presence at the Library.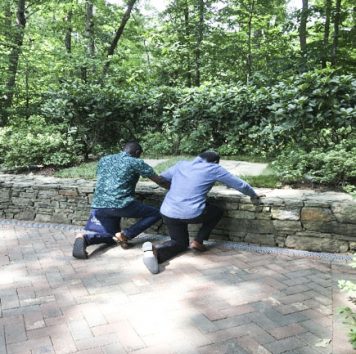 A chaplain observed a mother and daughter sitting together on a bench but not talking. After seeing the daughter in distress, a chaplain introduced herself. The daughter shared that she blamed herself after a friend recently committed suicide. Their conversation shifted to how Satan puts bad thoughts in people's minds and agreed it was a spiritual battle. The chaplain prayed and asked God to take away her guilt as she grieves her friend's death.
Another mother and daughter recently came to the Library after the mother was diagnosed with Alzheimer's. The daughter was visibly upset by her mother's condition. A chaplain prayed for comfort and healing for both of them.
Encouragement for Others
Two young pastors from Ghana immediately went to their knees in prayer after arriving at Billy and Ruth Graham's gravesite. They'd learned about Billy Graham in their classwork and were excited to continue their studies in the U.S. They shared that it meant a lot to come to the Library, where the story of how God used a farm boy to share the Gospel around the world is told. Tears ran down their faces the entire time they talked and prayed with the chaplain.
A couple from South Carolina told a chaplain about their challenge in adapting to civilian life after serving in the military. As often happens, God uses the right person at the right time. The chaplain explained to them that he also was retired from the military. He was able to pray with the couple and share advice on how to adjust to their new normal.
*Name changed for privacy.
Are you in need of hope? Talk with someone at 1-877-2GRAHAM (1-877-247-2426), or chat online at PeacewithGod.net.