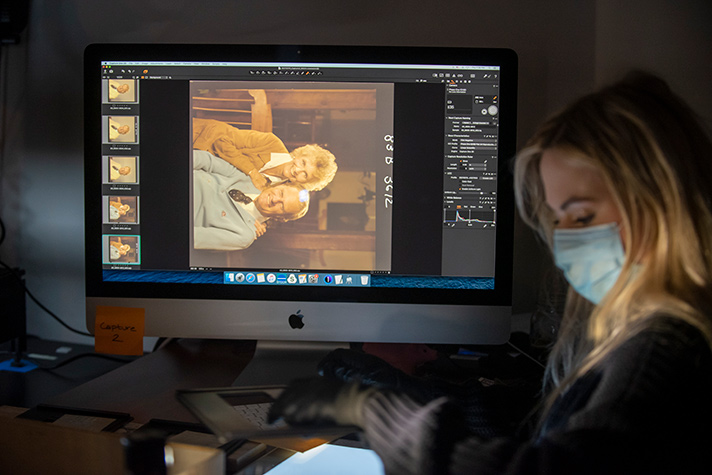 Think about a vintage Billy Graham photo you've seen.
Maybe the young evangelist is emphatically pointing a finger heavenward. Maybe he's shaking hands with a world leader. Or he's crouched low with a group of kids, sharing the universal language of laughter.
Now think about the photographer behind those photos. All these moments—from the most historic to the most intimate—were captured by photographers who followed Billy Graham's team, even before the Billy Graham Evangelistic Association was known as the BGEA.
The result? Over 1 million photos that document the twists and turns of the evangelist's exceptional life.
"People often don't know what to do with archives," explained Jeff Kelch, co-founder and CEO of The Digital Archive Group. "Archives often end up being donated to a library, college or institution, thinking that's the right place because they'll be taken care of. But if they're not accessible, they're no good to anyone."
That's why Kelch—who grew up watching Billy Graham Crusades—was so excited to digitize 70 years' worth of ministry photos.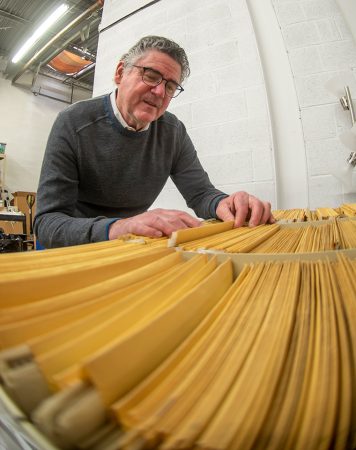 A Massive Project With an Eternal Purpose
You might be surprised by the complexity of such a project. With a wide variety of photos—from black and white in the 1950s to panoramas in the 1990s—it's not as simple as inserting a SD card into a laptop.
All in all, the project has taken Kelch's 11-person team years to complete.
In 2017, BGEA's photo team first consulted Kelch, who's completed similar projects for Oprah, Michael Jordan and the Chicago White Sox. But the process didn't actually start until 2020, at the same time construction began on the Billy Graham Archive and Research Center.
Two years and hundreds of thousands of photos later, the project is complete. When the Archive and Research Center opens later this year in Charlotte, North Carolina, it will house a searchable database of photos.
"We plan to preserve this historical material for one purpose: to inform, inspire and equip future generations of preachers, evangelists, pastors and students for the work of evangelism," said Franklin Graham, BGEA's president and CEO. "My father would not want future generations to study Billy Graham. He would want them to study the Lord Jesus Christ."
And that goal of inspiring the next generation has already begun.
Before Digital Archives
Sift through proof sheets to find negative.
Scan negative with small piece of digitization equipment.
Edit photo.
Deliver to requester.
Total time: half a day
After Digital Archives
Search for photo in digital database.
Download.
Total time: 30 seconds
What Young Archivists Thought of Billy Graham
Of the 11 people who meticulously scanned, digitized and organized these photos, most were 20-somethings. Some didn't even know who Billy Graham was before joining the project.
"Now they know. Now they really, really know," said Kelch, who has a few more gray hairs than his team members.
"They're getting a really good understanding of what Billy Graham meant to the world, by seeing where he was and the people that he met. You can see people's faces, and you can see his face, and it's really easy to see how important he was."
Despite the repetitive nature of their work, the young archivists were fascinated by what they discovered while chronicling Billy Graham's life—one year at a time.
"It's been wild to see the evolution of Billy Graham and all of the kids," said Caroline, one of the image technicians. "When we started, he was so young. We've gotten to watch him age. We're all emotionally attached to the family now."
She felt genuinely worried about Billy Graham's wife, Ruth, after stumbling across photos of her using a cane. And while scanning shots of the couple's 40th wedding anniversary, she exclaimed, "Aren't they so cute?"
Frame by frame, the young technicians traveled time—watching hair styles, clothing and architecture evolve through snapshots of Crusade crowds and family weddings.
They also traveled the world. The negatives tell the story of the evangelist's rigorous schedule, jumping from England to Yugoslavia to Japan to Missouri within just a few months.
"It's wild to see candid shots with his family, and then to see him with a president and be like, 'Wow, that's the same person,'" said another technician, Patrick. "It's neat to see Billy being affectionate with the kids or wearing shorts. Those are the best ones—the informal ones with family."
While reflecting on their unique, visual journey through Billy Graham's life, these young archivists weren't wowed by huge crowds and grand awards. They were struck by his character.
And through their efforts, others like them can get to know Billy Graham as more than a historic figure mentioned in textbooks.
Not for the sake of Billy Graham. But so the next generation knows the name of Jesus Christ.