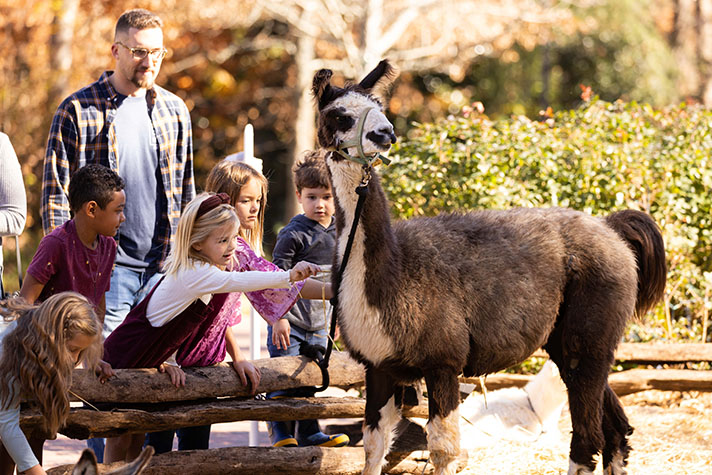 As you arrive at Christmas at the Library and make your way down the brick path towards the Billy Graham Library in Charlotte, North Carolina, you'll come upon a live nativity. Mary, Joseph, baby Jesus and shepherds are represented and surrounded by camels, goats, sheep, a llama and donkey.
>>Fun facts about this year's Christmas at the Library animals
For the last 14 years, Jodi Gray and her team from Sam's Path Petting Zoo have traveled from Hartwell, Georgia, to bring the animals to the Library.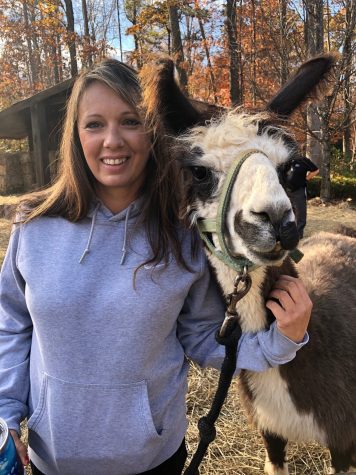 Believe it or not, Jodi was raised in New Jersey and never had animals growing up. "I wasn't even allowed to have a cat. No dog. No cat. Nothing," shared Gray. "No bunny. No gerbil."
Growing up, Jodi would often travel to Hartwell to visit her grandparents. It was there she learned about all the animals down the road.
"My grandfather would drive me down the road two miles past their house that had all sorts of animals. Buffalo, monkeys, ostrich," Gray said.
Then, when Gray was 21, she came to take care of her grandma who had fallen ill and needed to recover from hip surgery. While she was there, a family friend invited her to a local festival and wanted her to meet his best friend.
At first, she wanted no part of it, but quickly changed her mind when a handsome man named Jeff showed up.
"He was so cute and adorable," Gray said. But, before they could go to the festival, he told Gray he needed to stop by his house.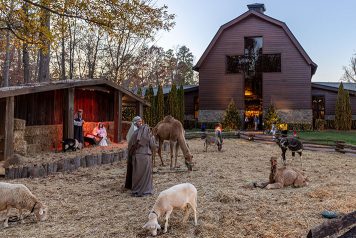 They traveled two miles down the road, and suddenly, to Gray's amazement, pulled into the same house where her grandfather had always taken her to see the animals. "You're the animal guy!" she exclaimed in disbelief.
Sam, the monkey, had had an accident on Jeff's shirt, hence the stop by home to changes his shirt.
That day everything changed. The two began dating and eventually got married. Jeff's first gift to Jodi—a llama.
The young woman who was never allowed to have pets finally found her passion and purpose in life. In 2004, Jodi and Jeff started Sam's Path Petting Zoo—named after Sam, the monkey that brought them together. They have traveled all over the Carolinas and Georgia sharing their love of animals, including bringing their animals to Christmas at the Library.
"It has been such an honor for Sam's Path Zoo to be a part of the Billy Graham Christmas at the Library since the beginning. We are blessed to be able to spend each Christmas season sharing the true meaning of Christmas with the Billy Graham Library family, staff and patrons who come to visit each year," Gray said.
Nativity animals for 2021 include camels, a donkey, sheep, goats, a Zebu cow and a llama. From 11 a.m. to 1 p.m. Monday through Saturday, you can come meet some of the baby animals.
Operating hours for Christmas at the Library are Monday through Thursday, 9:30 a.m.–9 p.m., and Friday and Saturday, 9:30 a.m.–10 p.m. Christmas activities begin at 5 p.m. each evening. The Library is closed on Sundays. Parking and admission are free, though there is a cost for certain activities—view specific pricing here. Reservations are required for activities.