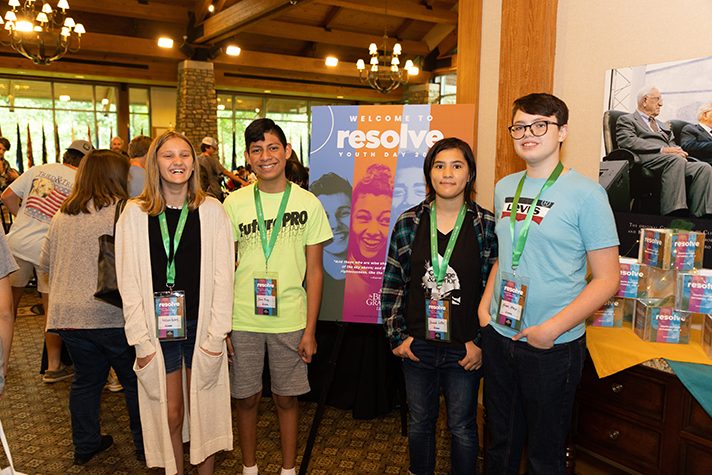 The loudest silence in history—what does that even mean? It means less and less people are talking to their friends and neighbors about Jesus.
At Saturday's Resolve: Youth Evangelism Day, more than 180 students were challenged to change that. The Billy Graham Library hosted the event for middle school and high school students.
>>See photos from Youth Evangelism Day in Charlotte, North Carolina.
Between sessions held in the Billy Graham Evangelistic Association's (BGEA) dining room, students were given breaks to take The Journey of Faith tour at the Library. The tour shows Billy Graham's journey from farm boy to becoming an international evangelist for the Gospel.
Students met new friends over a breakfast of chicken and biscuits and played a game before turning their attention to worship led by Charlotte's Vizion Church.
Speaker Nick Hall stood in the sea of students worshiping, his hands raised to God. Fifteen years ago, Hall founded Pulse, a ministry that brings the hope of Jesus to the next generation.
Minutes after that time of worship, the evangelist was on stage and getting down to business.
"Do you really know Jesus?" he asked.
"I'm trying to find some young evangelists. I believe God is looking for a generation of proclaimers who are willing to give their life for the Gospel of Christ."
But first you need to make a resolve, he said, referencing the event name.
"'Resolve' means there's a decision," he explained. "There's a response. There's a conviction that moves you.
"You'll be different," he said. "You got some grit. You got some swag. When you resolve to follow Jesus, your friends will notice. You won't be silent about Him anymore."
Before Hall spoke, students watched a video which gave an overall picture of Gen Z—their generation.
A generation ready to lead every cause, feel every pain, longing for more. But they don't know, they've never heard what it's all for, what it all means, why any of it even matters.

There's a longing in all of us, the image of the Creator in each, always in motion, always searching from thing to thing, relationship to relationship, never satisfied. … Waiting to hear the word they've longed for but do not know.
Over at the Billy Graham Library, 16-year-old Elijah connected with that message.
He rattled off examples of what he wished his peers would ask themselves, instead of just following the crowd: "What is true and what is false? What is moral and what is immoral? What is justice and what is foolishness?"
His younger brother, Noah, chimed in. "We shout too much about what doesn't matter," he said.
"What really got to me was, 'Do you really know Jesus? And if you do know Jesus, how can you not share [this hope] with someone who needs Him—knowing that it could change their life?'"
Students were encouraged to write down the names of five people they will pray for and share Jesus with. Just like in Mark 2, Hall said, where four men carried a disabled man to see Jesus and He healed him on the spot.
In break-out sessions, teens learned the Steps to Peace With God—a Billy Graham tract that explains how to share the Gospel.
"God wants more from you," Hall told this largely churched crowd. He wants to save you from basic Christianity.
"It's not weird to a non-Christian for you to talk about Jesus," explained Hall. "Because if you have something that is life and death, heaven and hell, the truth that everybody's made for, but if you keep that to yourself, that's selfish.
"It's not on you to save them, but it is on you not to be silent."
Do you know Jesus? You can today. Start here.
Want to know how to share your faith? Check this out.