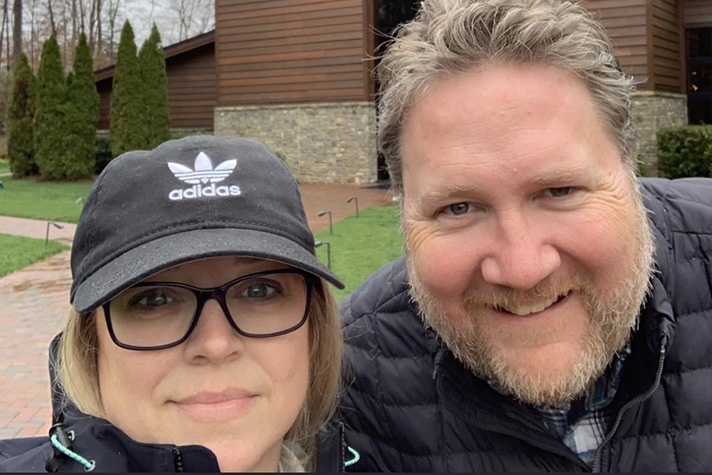 Allison Haase put it all out there, bearing her deepest burdens and greatest joy on Instagram.
The wife and mother posted about her moment of clarity two years earlier at the Billy Graham Library in Charlotte, North Carolina.
After thinking for my whole life I was good with God yet not really fully surrendered, and after He had delivered me from alcohol just a couple months earlier, I had an encounter at the cross that changed everything.
Allison went through the Library's Journey of Faith tour, which points to what God can do through any life that is fully surrendered to Him.
During a video at the end, she heard Billy Graham's words about God's love. Allison had asked Christ into her heart as a child and recommitted her life to Him in 2005, but hadn't fully surrendered her sin. She lived in fear from past trauma and abuse.
"God spoke to me that moment through Billy Graham's words," Allison confirmed. She knew she had to turn over years of bitterness and unforgiveness to God—to trust Him fully.
View this post on Instagram
"I had lived my whole life as a victim," Allison realized. "The Holy Spirit convicted me and I saw my sin and how I was abused. And now I'm turning around and mentally and emotionally hurting my family members because of my pain and unforgiveness."
The emotional baggage she had lugged around since childhood was oppressive. Her own family of four was in crisis—and she was emotionally numb.
Allison recalled in the post how she paused in front of a large Thomas Kinkade mural at the Library, called "The Cross."
"I was at a crossroads," she said. "I knew God was calling me to confess my sins."
I needed Jesus to heal me and to truly surrender every hurt and pain, guilt and shame. I left my burden at the foot of the cross, and it was there BY FAITH I received my freedom and new life that set our marriage and family on a new path to healing and restoration.
Struggling for words, Allison knew what needed to happen next.
"My heart was pounding. I wanted to go confess my sins to my husband and my sons." Along with her husband, Chris, and the boys, they walked into the Library's prayer room.
With a prayer volunteer at her side, Allison apologized to her family and asked for forgiveness. "We were all crying," she remembers.
"I felt the sensation that I had been cleaned," she said. "I felt so light and free.
"Our family has been through so much. It was a decision that impacted generations."
Chris was delivered from alcohol in 2005 when he surrendered his life to Christ. In 2016, when plans to start a church fell through and their marriage hit rock bottom, alcohol became a crutch for Allison.
"Alcohol was a way to cope with the anger," she said. In 2018, after going through a recovery program, Allison surrendered her drinking to the Lord and was delivered.
With a grateful heart, Allison looks back at what God has done on her journey of healing and restoration—how He has saved their family. "He has healed us from addiction and has reconciled us," she confirmed.
That's something she wants to testify about, now that God has given her new eyes for people.
"I had been judgmental and harsh and critical," she confessed. "I was a crusader for justice.
"I experienced God's love that day at the Library. … I was able to give grace and love and mercy to myself and family and other people. The repentance was a turning point.
"It's like I got a wake-up call. I just remember seeing myself and realizing, 'I'm a sinner.'"
Turn over your sin to Christ. Pray now.