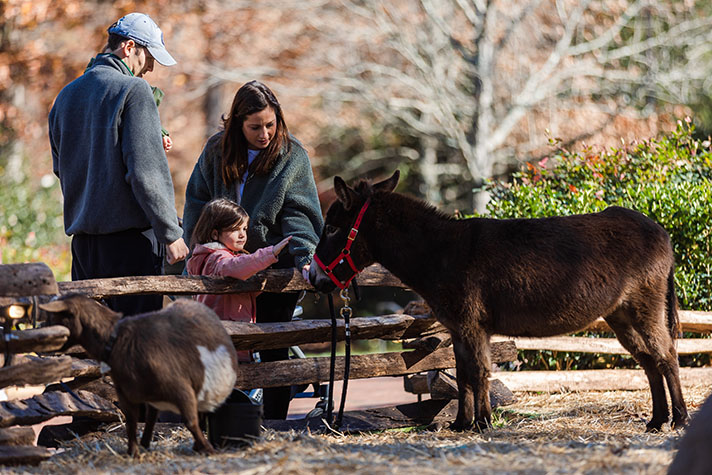 Seven-year-old Sarah* curled up with a book in a camel-colored leather chair in Ruth's Attic bookstore. Nearby, her teen sister browsed the shelves. This is a familiar scenario for the Kirtleys, who have made Christmas at the Library a family tradition.
"We love the nativity and the story [of Christmas]," said their mom, Nicole Riley-Kirtley. "We've been coming the last five or six years. My kids always think about the toys and what they're going to get for Christmas, and we want it to be more than that," she said.
"This gives them things to touch, questions to ask. We're opening that door by the experiences we have.
"It helps us have those conversations," she added, including talks about Christmas—which celebrates the birth of Christ—and also trusting Him for salvation.
>>Plan your trip to Christmas at the Library. Reservations are required.
To remember her time there, Sarah picked out a mustard seed necklace.
In the Bible, Jesus shared the parable of how the mustard seed represents the kingdom of God, which started out small but keeps growing as more people put their faith in Christ.
"For her, it's just a little seed inside a necklace," explained her mom. "For us, it means we'll be planting so much more."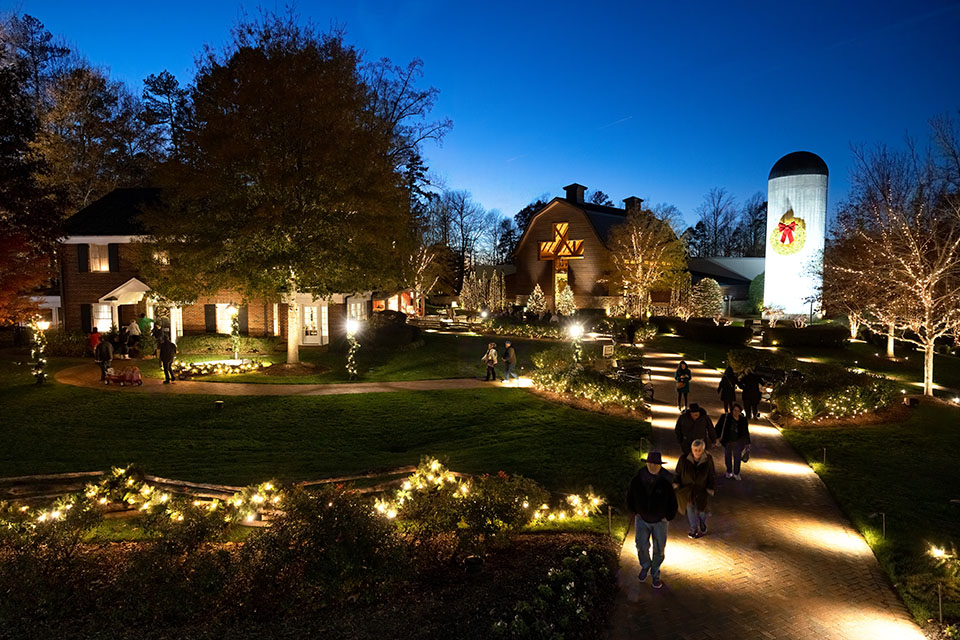 Nearby, Kevin Blakley was taking in the surroundings. It was his first time at the Billy Graham Library. "There's a sweet spirit here," he commented.
During the visit, Blakley and his family immersed themselves in the celebration of Jesus' birth.
Viewing thousands of sparkling lights from their horse-drawn carriage ride was the best, he said, and "the big, lighted wreath on the silo."
Along with hundreds of others, the Blakleys paused to look at the live nativity, depicting the birth of Jesus. Camels, goats, sheep, and a donkey grazed or slept peacefully in the hay as shepherds stood close by.
Just inside the doors is the The Journey of Faith tour, which tells the story of how God used Billy Graham to communicate the Gospel over the decades.
"I've heard Billy Graham preach my whole life," Blakley said. The son of a preacher, he watches Billy Graham sermons on YouTube.
Several moments during The Journey of Faith tour brought him close to tears, he said, including the exhibit chronicling Billy Graham's homegoing and memorial events in 2018.
"When they had his funeral procession and the sign on the bridge overpass that said 'well done'—that's what we all want to hear," he said, referring to a parable about a master who commends his faithful servants (Matthew 25:21-23, ESV).
A Pastor's Family Inspired
Six childen crowded around Shamieka and Otha Thornton—a pastor from nearby Statesville, North Carolina.
After going through The Journey of Faith tour, the mother of seven was struck by Billy Graham's legacy of faith, and how it continues through the ministry of his children. "It was inspiring to see how his children honored the work of their father," she said.
As a pastor's wife, Shamieka was also encouraged by the life of Ruth Bell Graham. "She was comfortable and confident in her role as a mother," she said.
"Raising children at home, a lot of times you can think that your job is insignificant. But like [Ruth Bell Graham] said, being a wife and a mother is one of the greatest gifts God could ever give."
Otha appreciated Billy Graham's sense of humor, and how he used it to relate to people. "He was able to talk to anybody," said Thornton, "From normal people to presidents.
"You want to make people comfortable, be approachable," the pastor said, "so people want to speak to you without having a sense of fear.
"I like his style," he added. "Very unique. It's something I can use today in my ministry."
As the night came to a close, Sarah and her family took a family photo and reflected on their visit. "We look forward to it every year," her mother said.
The family hopes to return for additional events at the Library.
"The staff and volunteers are very friendly," said Riley-Kirtley. "People are always nice and kind, and I want to come back to that every time."
*Name changed for privacy.
Christmas at the Library features a live nativity; carolers; fun activities; story time; a Journey of Faith tour with interactive displays, exhibits, and memorabilia; and more. Make your reservation today.