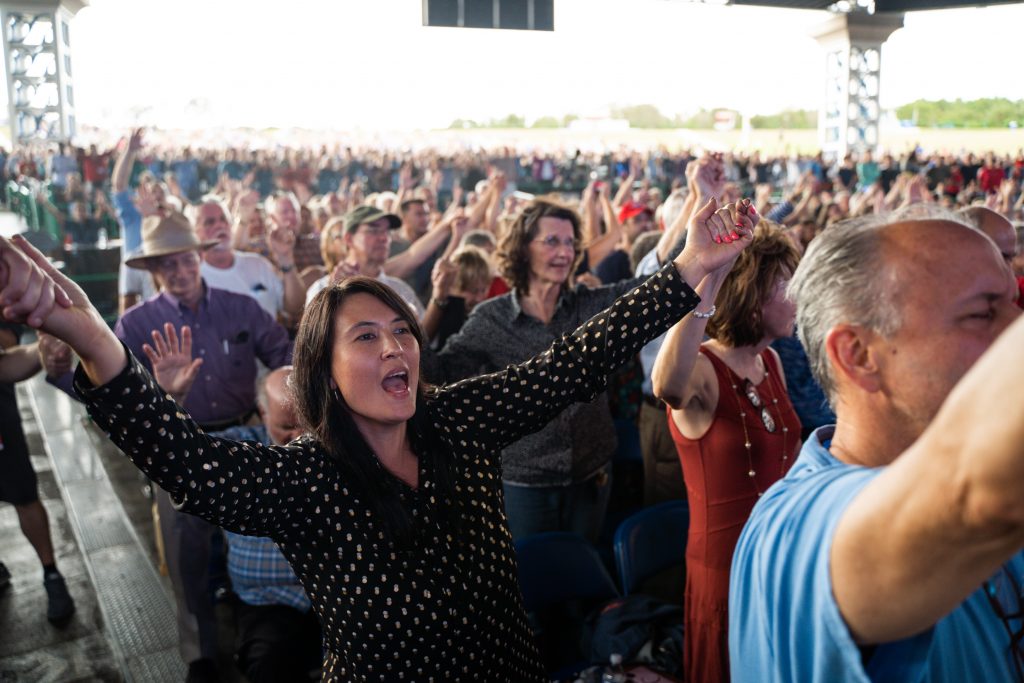 We all know what it's like to get a second chance—and the disappointment of squandering such an opportunity.
Yet, as Franklin Graham told a crowd of more than 7,100 in Raleigh on Sunday afternoon, so many are missing out on the greatest second chance of all: a new life with Jesus Christ.
Imagine "your sins—all the dirt, all the shame, every wicked thing you've ever done," wiped clean, Graham explained.
"God is giving you another chance."
And how do you avoid wasting that second chance?
"Turn your back on your sin. You don't look back," Graham said firmly.
The warning couldn't have been more clear to Mikayla*, who decided to give her life to Christ Sunday. A year ago, she was suicidal.
"I was going to drive my car off the bridge. I didn't want to live anymore," she recalled.
But as she was driving, the song "I Can Only Imagine" came on the radio, followed by "Christ in Me" by Jeremy Camp. Overcome with emotion, she pulled over and nixed her plans. Since then, she's been hungry to know more about Jesus.
After hearing about the Tar Heel State Tour on Facebook, she traveled more than an hour to attend the Raleigh event. As Franklin Graham gave an invitation to accept Christ, Mikayla made her decision with tears in her eyes.
"Standing up in front of thousands of people was so scary, but I just felt the Lord around me," she said. "I knew I had to stand and give my life to Him."
That same saving power of Jesus Christ transformed Donna Stamm's life decades ago at a Franklin Graham event in Wilmington, North Carolina, when—like Mikayla—she and her mother decided to give their lives to Christ. Now, Donna does all she can to live out her faith from a popular market she manages in downtown Wilmington.
"The Lord will lay on my heart someone coming in," she said.
Often, those conversations lead to prayer between her, God and a stranger. And through every prayer, "He's never failed."
So when Franklin Graham returned to Wilmington Saturday as part of the Tar Heel State Tour, Donna was there to see God move again. She then hopped in her car to attend the Raleigh event the next day as well.
Donna's past includes domestic violence and human trafficking. But just as Franklin Graham urged on Sunday, she's moved on from what used to be.
"Sometimes, life can look like it's going backwards," she admitted. "But Jesus Christ reminds me I have a new life. Leave the old life alone."
Sharing Your Faith 101
From the first Decision America Tour in 2016 until now, thousands of Christians have taken the step to sign up and get trained to walk new and rededicated believers through the Gospel message.
They're not evangelists like Billy Graham or Franklin Graham. They're ordinary people like you and your friends.
"We've just gotta share it; get out there and get over ourselves," prayer volunteer Erin Solis said, referring to how Christians can let fear get in the way of telling others about Jesus.
She and her husband, Matt, first got involved as prayer counselors on the May 2019 Decision America Northeast Tour, volunteering at all seven stops. For the past two-and-a-half years they've given up the comforts of home to travel with their four children sharing the Good News of Jesus Christ wherever they can.
"God totally changed my life and restored my family," Matt said, thinking back on what he called a "dirty" life that involved drug addiction and illegal business dealings. "We can't help but want to share Jesus."
The pair will serve as counselors for the remainder of the Tar Heel State Tour.
Donna and the Solis family are living examples of how God can use ordinary people. And this is part of what's driving the Decision America tour from city to city.
How will you use your second chance?
Coinciding with the Decision America Tour, the Billy Graham Evangelistic Association has been posting faith sharing tips on its Facebook page as part of a "Sharing Your Faith 101" series. Follow along and share with friends.
Ready to have a new life with Christ? >> Take the first step.
* Name changed for privacy.