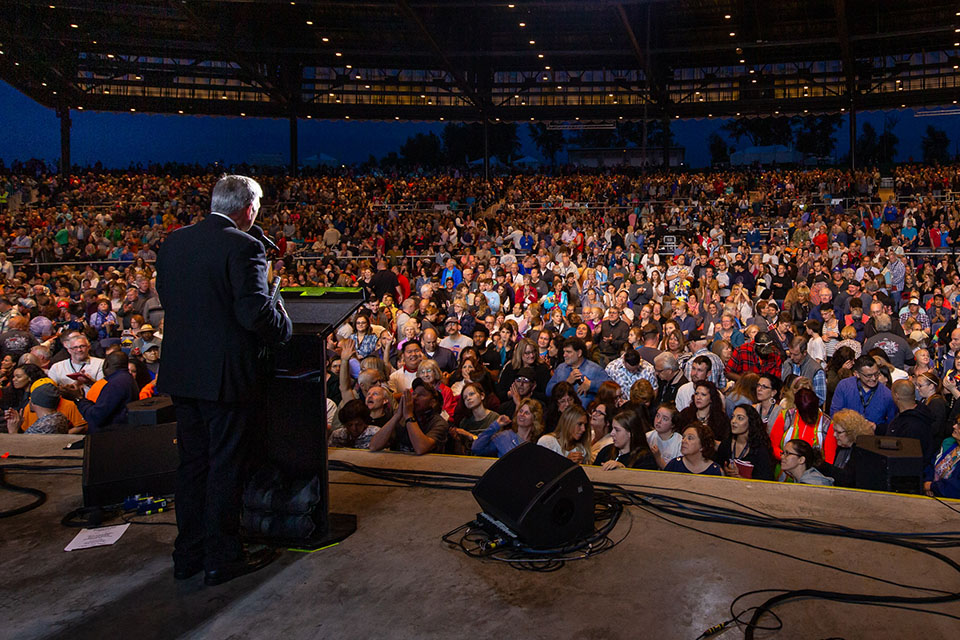 From the southern coast of Maine to central New York, the past 12 days have put more than 1,000 miles on three buses advertising the Decision America Northeast Tour.
Stopping in some of the most secular cities in our nation, Franklin Graham has been on a mission to tell people how to fill that empty space inside that nothing else can fill—even the best lobster roll.
>> See photos from the final stop on the Decision America Northeast Tour
It's an area of the country his father, Billy Graham, also had on his heart. Mr. Graham preached in six of the same seven cities—Manchester, Portland, Springfield, Providence and Burlington in 1982; and Syracuse in 1989.
Thirty years later, Franklin's Syracuse stop drew more than 6,400 people to Lakeview Amphitheater on an overcast Thursday night. It was the largest audience of the Northeast Tour.
"Lots of people say the Northeast is a cold place," said Matt Solis. He wasn't talking about the weather, but the spiritual climate among some of America's first colonies—a place many believe is now closed to God.
But maybe that's not the case.
Matt Solis and his wife, Erin, are from Lubbock, Texas, and have traveled the country the past two years, sharing Jesus with all kinds of people. They've taken their four children, ages 8 to 14, along with them, racking up the miles on a Suburban and sleeping in tents that first year until they were blessed with a 2003 Winnebago 10 months ago.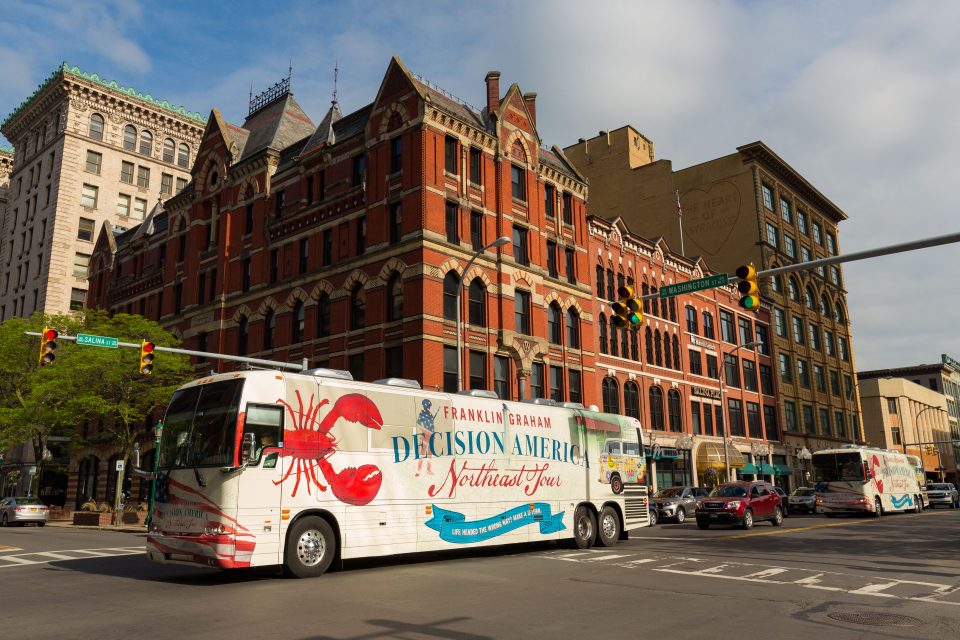 Most recently, they crisscrossed the Northeast, following every stop on the Decision America Tour as prayer counselors. Together, they prayed with multiple people who wanted to commit or rededicate their lives to Jesus.
"You're actually witnessing the new birth of a Christian. … There's not another feeling like that," Matt said.
There are churches all over these states, he shared, but pastors are discouraged as many pews remain vacant on the weekends. The Decision America Tour, he said, offers non-church venues where people who might not set foot in church will go and hear about Jesus.
"This shows [pastors] that there are still people who are lost and hungry," he said.
Twenty years ago, Matt was one of the last people you might expect to be talking so much about Jesus. He was a drug addict who ran an illegal business in Texas for a decade. He remembers telling a police officer once that only God could change the way he was living.
"God heard me and thumped me off my pedestal," he puts it.
Meanwhile, his now wife had started going to church. Matt went, too, because he was afraid she would "meet a church guy." He said he wanted to run forward and put his life in God's hands on multiple occasions, but "Satan talked me out of it." That's until a former drug addict-turned-pastor helped lead him to Christ in 2011.
Erin made the same decision to follow Jesus four years later, also touched by a pastor's sermon.
After Franklin's first tour stop in Portland last week, Erin said she was taken by the way he presented a "cut and dry Gospel." Nothing complicated. No frills. And no compromising.
"You have something so valuable that God would trade the whole world for it," Franklin preached from Mark 8.
No matter what a person's most expensive earthly possession is, he said, the soul is far more valuable. So valuable that Jesus died so our souls could live forever. He did that because of His great love for us.
>> Watch: Andrew James responded to the Gospel Thursday night
One woman in her early 20s prayed with a volunteer named Debbie following Franklin's message. The young woman was burdened by things she'd done in the past and had become disconnected from her family. It hadn't occurred to her until Thursday night, as the sun set behind the amphitheater, that God also cares about her situation.
The woman realized she needed to not only apologize to her family but also repent before God. She did just that.
"You're forgiven. You're forgiven. You're forgiven," Franklin repeated to those who came forward in response to Christ. "Don't stay in those sins," he urged. "You've got a new beginning in front of you."
He encouraged the crowd to talk to God in prayer and let Him talk to them through the Bible.
"Read the Scriptures. Trust the Scriptures," he told them.
Below the stage, an elderly man with stubble and a red baseball hat was serving as a prayer volunteer. He calls himself Messenger Mac McKinney and spoke to someone who had never heard the Gospel before.
People like that are still out there, the Solises said. People who don't know about Jesus.
"My hope is that the current believers are set on fire and ready to catch the new believers," Erin Solis said. Now that the tour is over, it's time to keep the momentum going—to be courageous in faith-sharing and guide those who are new to living the Jesus life. God designed us for community, she said, and a Christian's faith isn't meant to be kept inside anyway.
Looking around a full amphitheater, Erin said she hopes the Northeast Tour also shows Christians they aren't alone, even in a state not exactly known for its God-honoring values.
"Open your eyes," she said. "We are here."