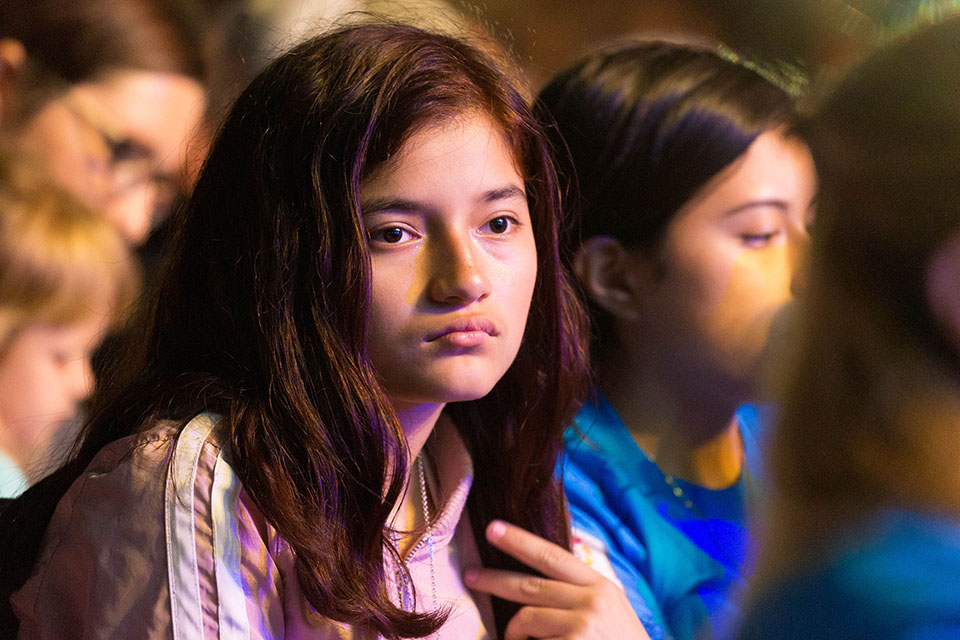 Do a quick Google search for Key West and you'll get loads of postcard-worthy images: full palm trees, legendary sunsets and green-blue waters you can see right through.
For a two- by four-mile island, there's an awful lot to see here—not to mention the abundance of bright-feathered roosters and pesky iguanas.
Key West is where people come to get away, and what better place than the southernmost point of the continental United States? But one theme throughout Franklin Graham's Decision America Tour across the Sunshine State is that it doesn't matter how far away you go, you can't escape your problems—or the consequences of sin.
That three-letter word isn't always popular and can rattle or even anger people to the core.
Especially for a place like Key West that prides itself in diversity, the reality of the Gospel is sometimes confused with hate speech, as sidewalk protesters asserted Thursday night. Yet, the opposite is true. The Bible tells us what the Gospel is in a nutshell:
"For God so loved the world, that he gave his only Son, that whoever believes in him should not perish but have eternal life."
—John 3:16
"The Gospel is inclusive," Franklin Graham shared on Twitter ahead of the event. "God invites everyone to put their faith & trust in His Son, Jesus Christ." Graham continued that his visit to Key West was "to share w/the people of that great & diverse community that God loves them & the Gospel's life-saving truth & power applies to all."
Local business owner Robin J. Wood sat on a cement wall at the Coffee Butler Key West Amphitheater after passing a line of colorful protesters outside the venue. Some of those protesters are her friends.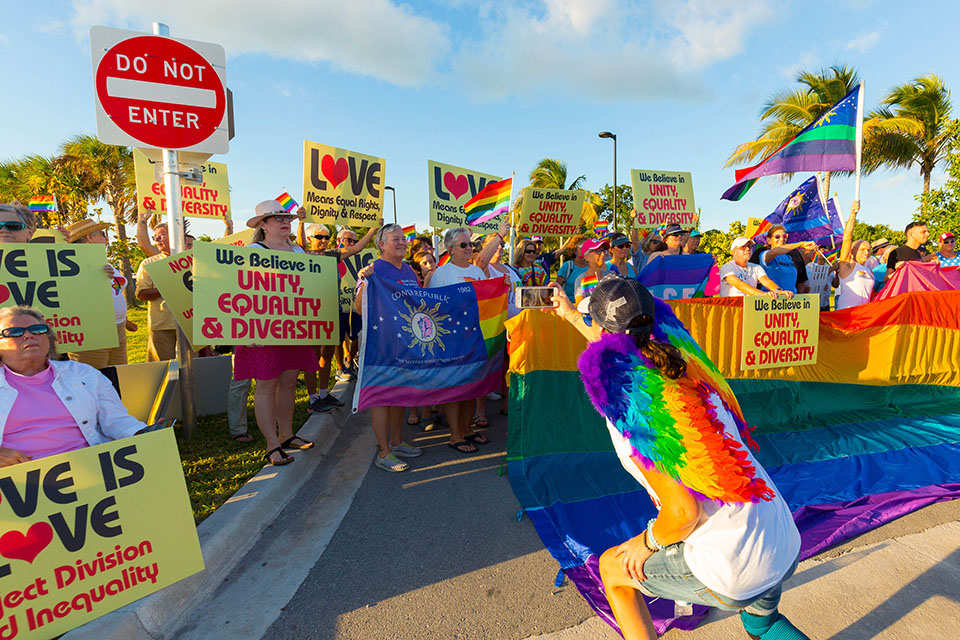 There's a motto in Key West that says "one human family," Wood shared. After being on the island for 15 years, she said it seems to only apply "if you agree with what they say."
"I love my friends," she said, adding she doesn't think there's a reason to protest.
About Key West
Southernmost point of the continental U.S., 100 miles from the mainland and 90 miles from Cuba.
Home to mile marker 0—the end of U.S. Interstate 1 which runs from Maine all the way down the East Coast.
Discovered by Ponce de Leon in the early 1500s while searching for the Fountain of Youth.
A blend of Cuban, Bahamian, West Indian and American cultures.
Haven for writers such as Ernest Hemingway and Tennessee Williams.
She believes Graham's whole reason for coming to her city is "to see souls saved … to show that it's all about love."
Still, Wood hopes her friends will remain so even as they disagree on hot button issues. And she's not afraid to share her faith in the meantime, even with those who hold polar opposite beliefs. After all, she said, the Bible talks about Jesus dying for all and "reaching people who seem unreachable."
Just like Zacchaeus.
The corrupt public official from Bible times was the focus of Graham's message. Zacchaeus was a tax collector hated by most, but loved by Jesus Christ, who knew his name and ate with him.
Jesus loves everyone in the crowd, too, Graham said, looking across the amphitheater, lit up against a black sky.
"He sees you right here this evening, and He loves you. You're important to Him."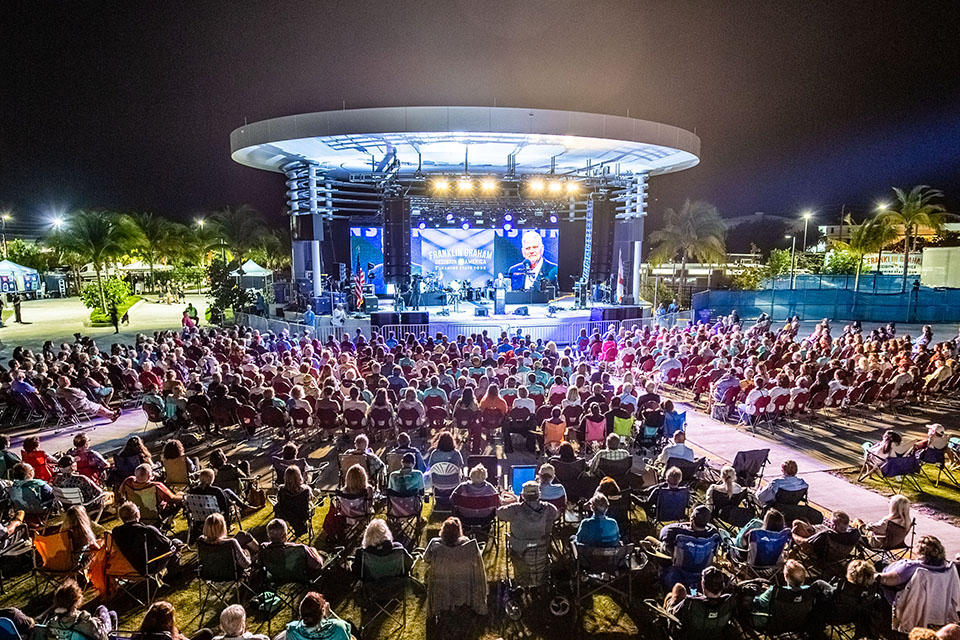 Twenty-seven-year-old Jared sat with his mother and later stood at Graham's audience-wide invitation to accept Jesus Christ.
Jared already believed in Jesus, but said he's felt his faith slipping. With an endless list of health issues, he said, "One minute I'm praising God; the next, I'm in a dark place."
Thursday was a good reminder that God cares deeply about him.
Jared has friends who "think just because you're a Christian, you hate people," he said. "But God loves everybody."
That can be hard for people to believe.
With all its beauty and eccentricities, Key West is spiritually tough ground. Rainbow flags abound, shop windows advertise psychic readings and vans drive around town wrapped in ads promoting strip clubs.
In this laid-back, whatever-works-for-you island life, people can get lax about God. That's a dangerous place to be.
"God made us and created us, but we have a problem, and that problem is sin," Graham said. "Our sins separate us from God. God is holy. Sin cannot enter God's presence."
Because of our sin, we might go through life feeling empty, he said, "and you can't quite put your finger on it.
"I'm here to tell you tonight it's Jesus Christ. He can give you purpose. He can give you meaning. … Jesus Christ came not to condemn the world but to save."
>> What does it mean to believe in Jesus? Read a short response from Billy Graham.
That message was communicated even before Graham took the stage.
Earlier Thursday evening, Billy Graham Rapid Response Team chaplain Mike Gawlinski was walking through the venue when he spotted Ray Garcia sitting by himself.
Garcia is a local DJ whose mother grew up watching Billy Graham. Always up for some music and curious about the artists performing on the Decision America Tour, he came by.
That's when Gawlinski walked up. The two chatted, and eventually, Gawlinski asked Garcia about God. If Garcia was at the gates of heaven, would God let him in?
Garcia wasn't sure.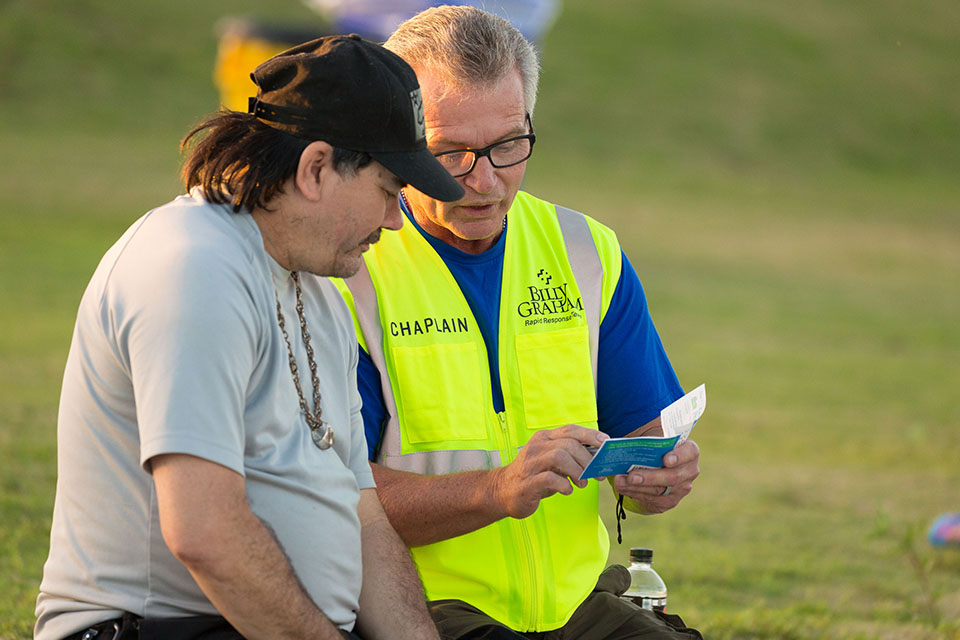 The radio personality watches preachers on YouTube, but after going through the steps to peace with Gawlinski, he understood more about Christ's payment for his sins—His atoning blood on the cross. Garcia prayed to recommit his life to Christ and said he's more at peace in his heart and assured of eternity in heaven. He was also connected to a local church.
Moments later, when guitarist Dennis Agajanian began playing "Nothing But the Blood of Jesus" onstage, Garcia got excited.
"That's the same thing he was talking about!" he said, referring to Gawlinski's explanation of the cross.
With a "Living in Christ" discipleship booklet, along with a new Bible in hand, Garcia said he'll be going through both of them to grow in his faith.