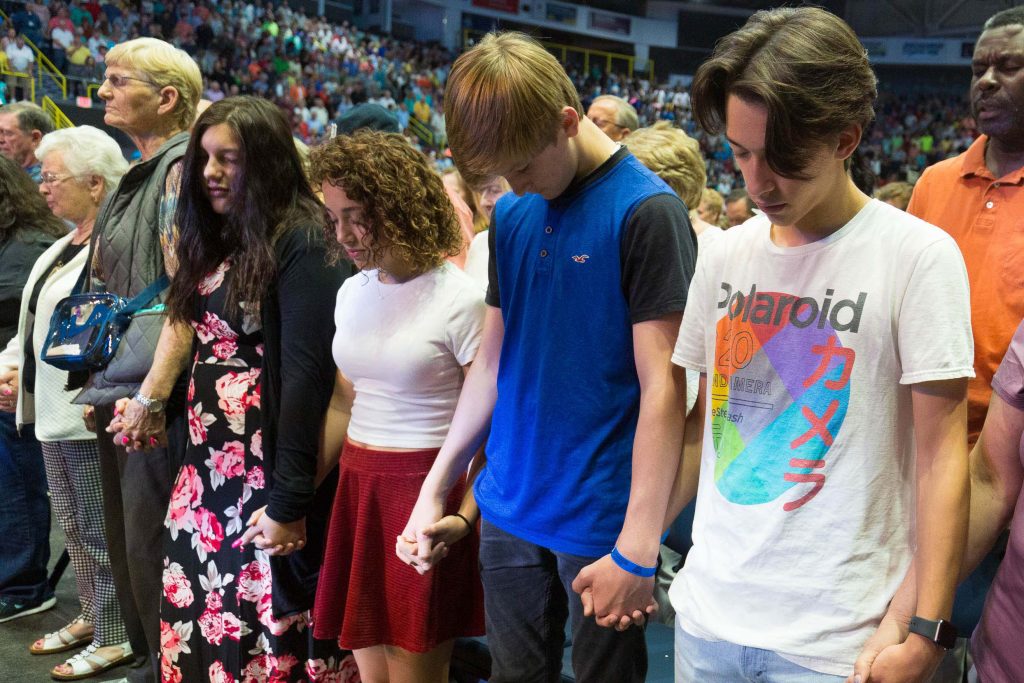 Franklin Graham and his team ended a nine-day journey of more than 1,700 miles on Sunday night as the sun set on the Decision America Sunshine State Tour. The six-city prayer and evangelism tour stretched from the Florida Panhandle to the Keys, where Graham was greeted by palm trees and protestors.
At the first stop, in Jacksonville Beach on January 11, local media asked Graham about the purpose of his outreach to the people of Florida. "I want them to know God loves them," he said.
Florida Tour by the Numbers
39,000+ total attendance
3,900+ volunteers
1,462 churches involved
1,702 miles traveled
He shared the message of God's love time and again as he visited Plant City, Panama City Beach, Key West, Boca Raton, and Fort Myers. Five of the six events were held outdoors, and the Sunshine State didn't disappoint. Gorgeous sunsets and temperatures in the 70s and low-80s characterized each tour stop, making the free events the perfect place for Florida families to spend an evening.
They came by the thousands—a diverse group representing the efforts of more than 1,400 Florida churches that caught the evangelistic vision and ran with it. All told, more than 39,000 people showed up for the tour, which featured music from Jeremy Camp and Dennis Agajanian. Hundreds of thousands of others watched online via Franklin Graham's Facebook page.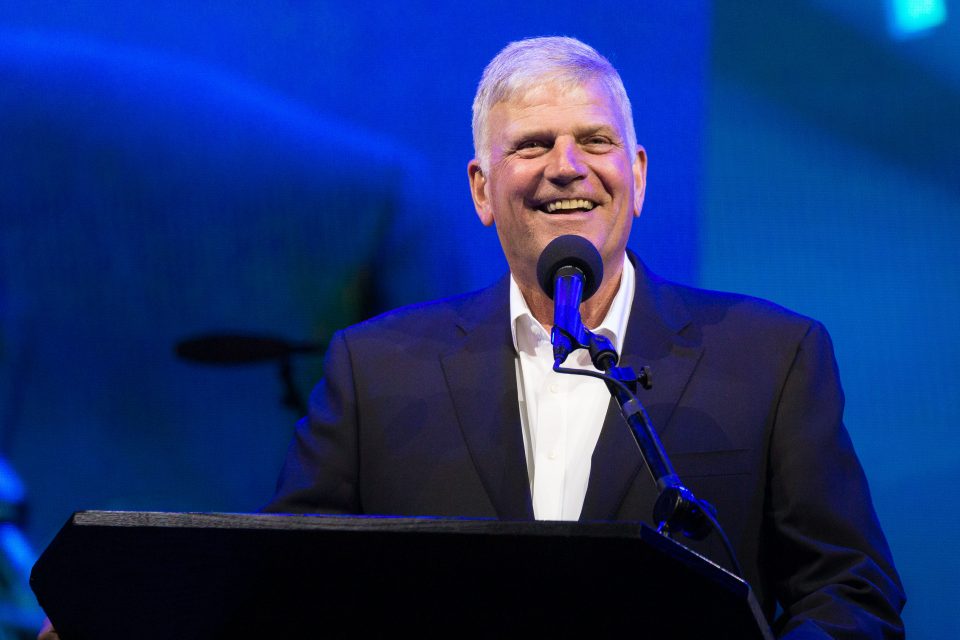 'It's Personal'
Franklin Graham's daughter, Cissie Graham Lynch, lives in Fort Myers. She's traveled all over the world with her father's ministry. This time, the ministry came to her.
"We think of these events on such a large scale, but when it comes to Fort Myers, it's personal to me," Lynch said. "Because I've got people that I've been praying for that I know are coming. Some I've been praying for for years."
Thousands of Christ-followers across Florida were also praying for friends, neighbors and family members to come to the event and have an encounter with Jesus Christ. Almost 3,000 people completed BGEA's Christian Life & Witness Course ahead of the tour. The course is designed to help believers grow in their faith and learn how to confidently talk about it with others. Many of those who completed the course volunteered to serve as prayer counselors at the tour events.
The counselors who volunteered in Fort Myers had their hands full. After Franklin Graham presented the Good News of Jesus and invited the crowd to accept God's gift of forgiveness and eternal life, hundreds of people stood up to indicate making a decision for Christ.
'I Wanted God to Forgive Me'
Down on the floor of the arena, four teenagers boldly rose to their feet.
Haley recently turned 16 and has been dealing with some pretty heavy stuff for her age. There's a lot of brokenness in her family, and guilt from a bad decision she made two years ago has been weighing on her.
On Saturday night, when she slept over at her friend Bailey's house, neither of the girls knew exactly where they were going on Sunday. They just knew Bailey's mom was taking them to some kind of concert, along with Bailey's teenage brother and his friend. Then they found out there was a little more to it.
"I was like, 'Oh, it's actually a church service,'" Bailey said, "but it turned out to be a lot of fun."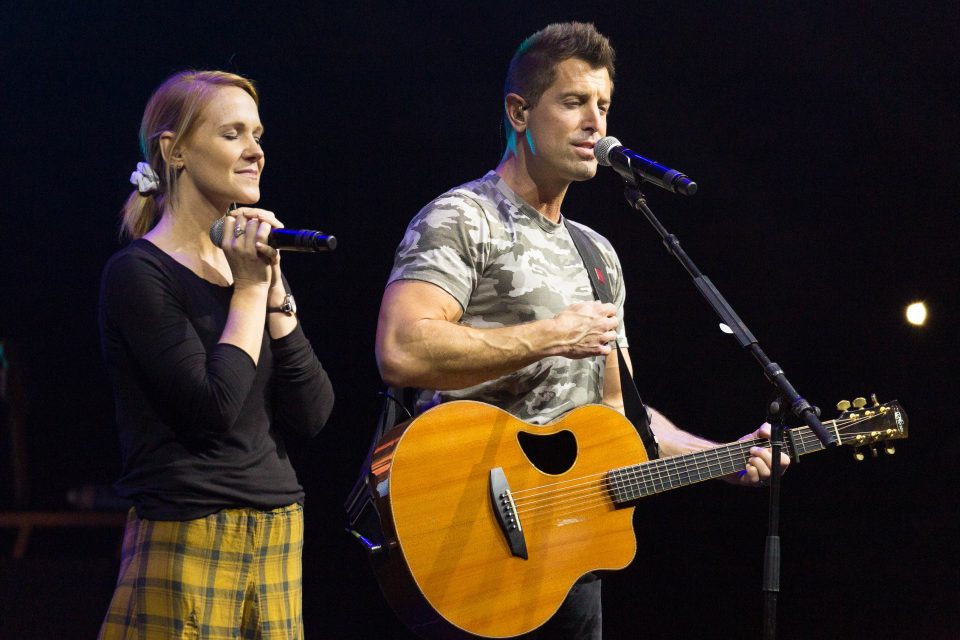 >>See more photos from Fort Myers.
Parts of the evening did feel a little churchy. Jeremy Camp made for one lively worship leader, and Franklin Graham shared a powerful half-hour message that could have been preached from a pulpit instead of the platform at Hertz Arena.
"Maybe you're here tonight and you're saying to yourself, 'I wish I could be born again. I wish I could start over again,'" Graham said to a packed house of more than 8,000 people—maximum capacity for the arena.
"All of us are guilty of sin," he said. "I'm guilty. I ran from God. I didn't want God in my life. I went for many years, running from God."
As Graham preached the Gospel message from the Bible, focusing on the third chapter of the book of John, the words hit home for the four teens sitting side by side.
"God loves you. He's willing to forgive you."
Haley stood up. So did Bailey, her brother and his friend. They followed Graham's lead in praying for God's forgiveness and salvation. Then a prayer counselor made sure they understood the decision they were making and handed out booklets meant to help them take the next step in their new walk with God.
Afterward, Haley said she made the decision for a couple of reasons—first, to let go of the guilt she's been carrying around for two years of her young life.
"I made a mistake in eighth grade," Haley said. "I disobeyed God. I wanted God to forgive me."
The second reason was her family: "To see if God could help us."
Her 14-year-old friend Bailey had different reasons for standing up.
"A couple years ago when my brother passed away, it was really difficult," Bailey said. "I turned almost completely away from God."
On Sunday night, she took a big step back toward the God who loves her and her family. Her brother who was in attendance also made a commitment to Christ, along with his friend.
Jade, the mom who brought the carload of teens, watched as all four of them made a move to follow God.
"I was very pleased," she said as she gathered everyone together to head home. "My heart is overjoyed."
Are you looking for forgiveness? Start here.