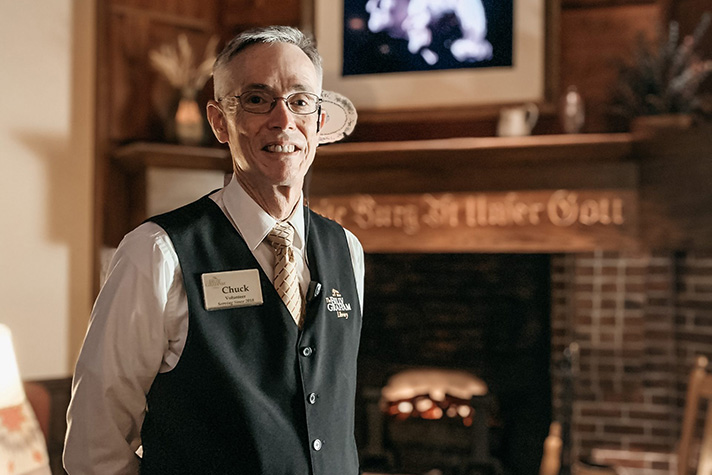 Billy Graham Library volunteer and veteran Chuck Starr has pored over many battles in his career. As a retired Air Force historian, he researched and wrote about combat missions for 25 years.
Every time he serves at the Library, this chief master sergeant is in a battle for souls.
"Telling people how much God loves them, having conversations of eternal value and encouraging them in their walk with Him are all a part of a normal day," he explained.
>>Volunteer for Christmas at the Library.
"Major decisions in people's life are made here," he said, referring to the Prayer Room. Here, volunteers listen, answers questions about God, and of course, pray.
>>Find out what makes the Prayer Room so special.
One of his favorite posts is serving at Billy Graham's childhood home, located on the Library grounds. He also enjoys assignments in The Journey of Faith tour, which offers visitors a look into Billy Graham's ministry of sharing the Gospel around the world.
The name of the tour hasn't escaped Chuck. He knows that professing faith isn't a one-time decision, it's a choice to follow Christ daily.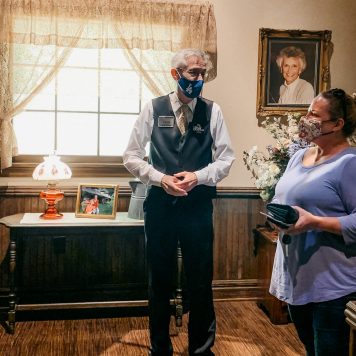 "Serving as a volunteer at the Library is unquestionably the best part of my personal journey of faith," he said. For two years, he's listened, struck up conversations, and enjoyed a good laugh or cry along the way.
"I'm not a tough guy," he said. "I can hurt and cry with anyone about anything, anywhere. But it's Who I turn to when lightning strikes that's important."
Chuck isn't shy about telling people that God has a plan for their lives, and will never leave or abandon them.
"At the end of each shift, I leave the Library knowing that something special just took place," Chuck explained.
"It's almost like the Lord gives us a little glimpse into what it will be like when we enter His presence to continue our journey on the other side of eternity."
Interested in volunteering at the Billy Graham Library? Learn more.