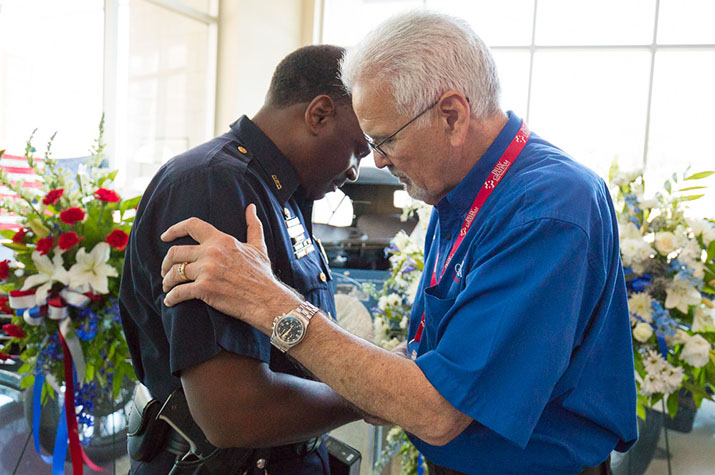 The North Charleston Police Department and a local chaplain agency have invited the Billy Graham Rapid Response Team (RRT) to North Charleston to help support the community after several recent losses.
On Thursday, 31-year-old North Charleston Police Officer Ryan MacCluen was driving his motorcycle during his time off when a car hit and killed him.
That same day, another officer was in a bad accident. While on-duty, Officer Brandon VanAusdal and his K-9 partner, Mojo, were reporting to a call when an SUV pulled out in front of them. Officer VanAusdal is in critical condition, and Mojo died.
The drivers who allegedly caused both accidents are suspected of driving under the influence.
In addition, a North Charleston Police Department employee in the communications center recently passed away unexpectedly.
"It's been one tragedy after another in the past two weeks," said crisis-trained chaplain Jeff Naber.
The team has sent two chaplains, who are both retired law enforcement officers with decades of experience, to be with those who are hurting.
"We've developed a strong relationship with law enforcement agencies throughout the country, specifically in North Carolina and South Carolina," Naber said. "Essentially, Charleston is in our backyard. We want to take extra care of the people there."
From the recent law enforcement shootings in Richardson, Texas; Westerville, Ohio; and York County, South Carolina; to the school shooting in Parkland, Florida, the Rapid Response Team has been offering emotional and spiritual care to those in need across the country. Additionally, the Billy Graham chaplains were in Charleston just two years ago in response to the Emmanuel A.M.E. church shooting.
Naber says the chaplains will offer a ministry of presence to the community, particularly to officers, first responders and their spouses.
"I would ask people to pray for the officers reporting today, tomorrow and in the weeks to come for duty and roll call," Naber said. "It will be obvious someone is missing."