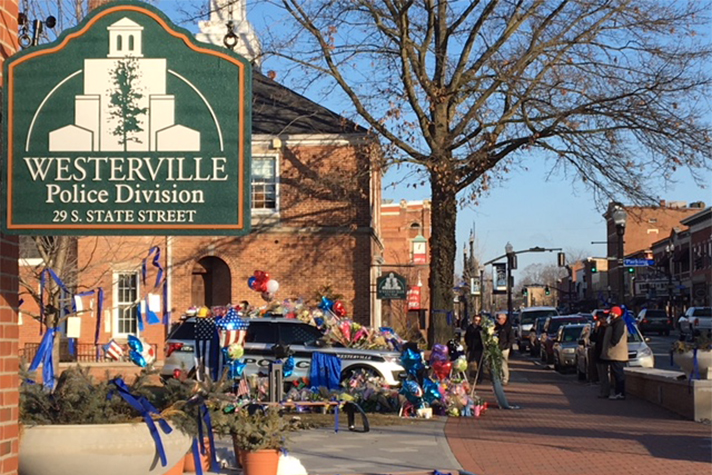 The city of Westerville, Ohio, is typical, small-town USA.
Residents order their doughnuts a day in advance from a shop down the street, and police officers stop and tell them if a garage door is left open.
Although the suburb has a population of nearly 40,000, it's a close-knit community where everyone feels safe and secure.
No one expected two police officers to be fatally shot while responding to a 911 call last Saturday. Officers Eric Joering, 39, and Anthony Morelli, 54, were killed during the ambush.
"Everyone has a story about these officers," said Jeff Naber, a crisis-trained chaplain with the Billy Graham Rapid Response Team. He explained how much of the community knew them personally or knew their families through the local library or soccer games.
"To have this happen in a place like this is so abnormal, shocking to everyone. They are the moral fabric of Westerville," Naber said. "Everything about them is a symbol of what is good and wholesome, and what everyone strives for Westerville to be. That's who these guys represent."
The Rapid Response Team coordinated with law enforcement officials in Ohio who welcomed the group of veteran crisis-trained chaplains. The team of nine is there to offer emotional and spiritual care to the community. They have prayed with hundreds, talked with thousands and stood by many more.
Some chaplains have spent time in the police department's squad room, where 20 to 30 officers are often gathered at their home away from home. Since the department relieved all officers of their duties until after the joint funeral, nearby agencies have stepped in to protect the community during their absence.
"[The other agencies] are as heartbroken as the community is," said chaplain Denise Molatch, who is both a former police officer and widow of a police officer.
Thousands have shown support to the families of these police officers during a candlelight vigil, and many lined the streets as the fallen officers' bodies were taken to the coroners.
Yet, the fatalities of these heroes have raised many questions. Several in the community want to know why God would allow this to happen and are thinking more about their own mortality.
"God is still God and still here and still loves us," Molatch reminded a young girl.
She also talked with a 91-year-old woman who wept as she realized she was not quite as safe as she thought.
"I think the whole community is more sensitive to each other and to the Lord," Molatch said in regards to the tragedy.
Many are relying on their relationships with each other and the One who is above the law to give them strength.
"Relationships are how we get through life on this earth," Naber said, referring to Matthew 22:37-39, which states the greatest commandment is to love God with all your heart, soul and mind—and to love your neighbor as yourself. "Our mission is to explain how we get through this life on earth with Jesus Christ."
Please continue to lift up the Westerville community in your prayers, as well as those facing loss from the recent shootings in Richardson, Texas, and Parkland, Florida.