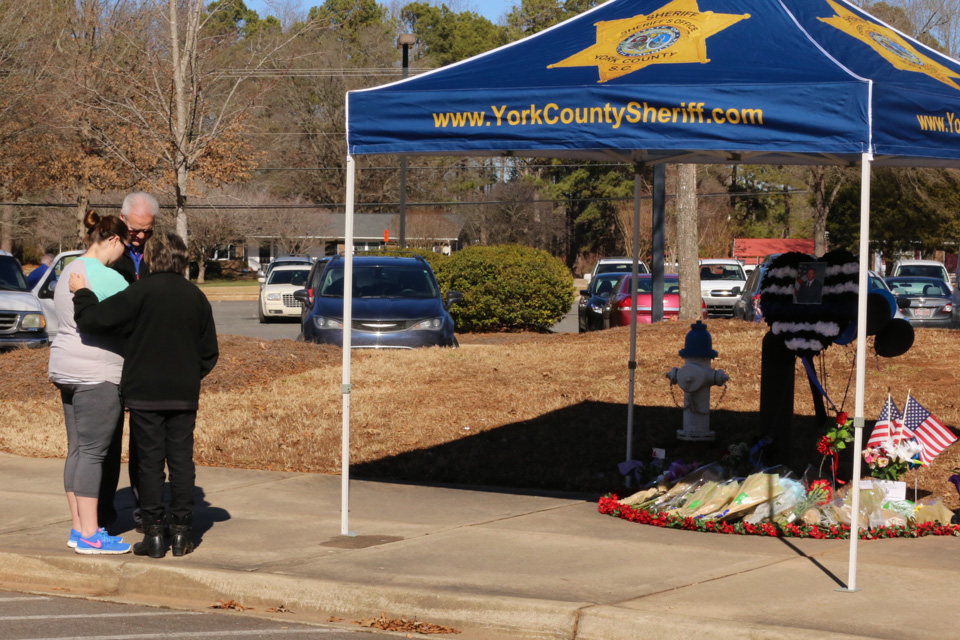 Word spread quickly through the tight-knit community of York, South Carolina, on Friday of a memorial site to honor fallen officer Michael Doty.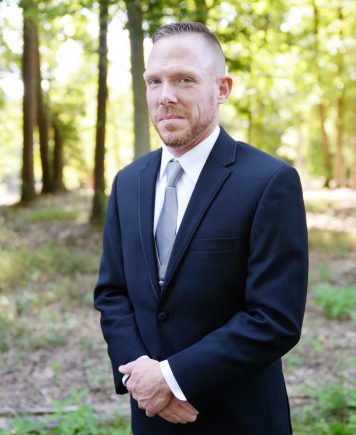 Family members, fellow officers, friends and members of the community, including many who didn't personally know Det. Doty, came to pay their respects outside the York County Sheriff's Office headquarters. Some brought flowers; others paused to pray or to stand in silence.
Billy Graham Rapid Response Team chaplains have been working alongside York County Sheriff's Office chaplains for the past several days. Chaplains were requested by the Sheriff's Office to provide emotional and spiritual care for the officers and their families, along with the whole community of York.
Det. Doty was shot while searching for a suspect near a home early Tuesday morning after responding to a domestic violence call. He died from his injuries on Wednesday. Det. Doty is the first officer killed during the line of duty in York County, South Carolina, in over 25 years.
Three other officers were shot during the overnight manhunt, including K-9 handler Sgt. Randy Clinton, Sheriff's Sgt. Buddy Brown and York Police Sgt. Kyle Cummings.
>> Watch a 1-minute video of chaplains ministering in action. >>
Among the passersby who came to Det. Doty's memorial site was Sheila Williams, a cousin of Sgt. Randy Clinton—the first officer shot during the call. Sheila, who has been a resident of York her entire life, stood by the memorial for hours.
"It just doesn't happen in York. Not in York," she said as she stared at the picture of Det. Doty, surrounded by flowers at the center of the memorial tent.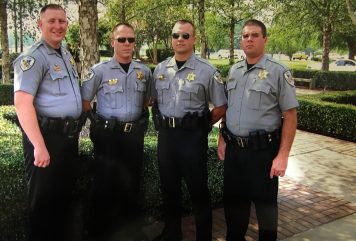 She had spent much of the day praying and talking with the Billy Graham Rapid Response Team chaplains, especially Barb Grabowski.
"She's a Godsend. Her and her husband," Sheila said.
Crisis-trained chaplains Leo and Barb Grabowski are local residents who have deployed at least 30 times over the past decade to places like Sutherland Springs, Texas, and Sandy Hook, Connecticut. They were asked by family members to pray over Det. Doty before he passed.
"They weren't prepared for what happened, but they were ready for it," Leo said, who is a former Detroit police officer. Leo said that although the incident was sudden, Det. Doty knew the Lord, which left his family with a peace, even in the midst of inexplicable loss and pain.
While at the hospital, chaplains witnessed the brother-and-sisterhood of blue weep, and watched as the other three injured officers were taken by wheelchair to see Det. Doty and say goodbye. Over 100 people lined the hospital hall to escort and honor the fallen hero, including multiple law enforcement officers.
"This whole place is like family," Barb said.
Just as the law enforcement family is there for the community, the community of York is proving to be there for their law enforcement. Some have passed out blue ribbons and cards, or organized events. Others have simply wanted to be there, including a sheriff's deputy from as far as Georgia and 16-year-old twin boys who are considering careers in law enforcement.
Chaplain Leo Grabowski believes that as grieving continues and memorials end, there is one thing that everyone can offer this family and law enforcement.
"Continued fervent prayer," he said, is "the key and most vital thing you can do."