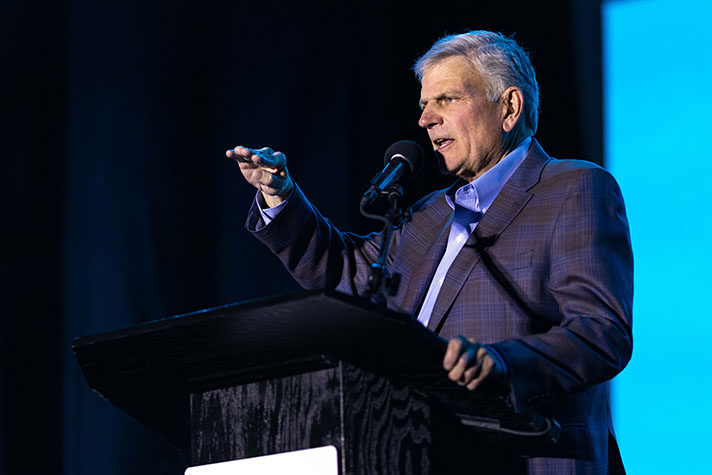 In the middle of her commute to work, Mildred Nyani made a quick decision. She picked up her phone, called off work, and brought her flowered blanket to the Oklahoma State Capitol South Lawn.
Nyani joined the lively crowd gathered for the fourth stop on Franklin Graham's God Loves You Tour.
Franklin Graham had some Good News for the 4,600 people scattered about the grass in camping chairs and on blankets.
"Jesus is not dead. He's not still hanging on the cross. He's alive! He's here in Oklahoma City," said Franklin Graham.
That's exactly why Nyani changed her plans.
"I came because I wanted to be in the presence of God with other believers," she said, smiling.
As Marcos Witt and Newsboys sang a special rendition of the Revelation Song, Nyani, originally from Cameroon, Africa, stood near the front and danced in worship to God.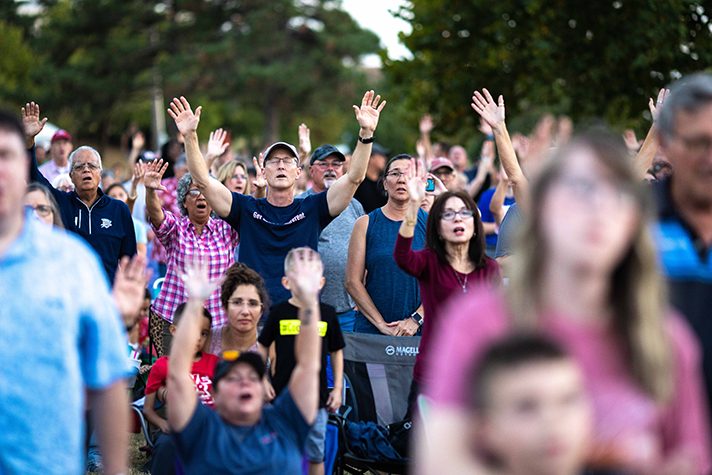 Jesus Christ Forgives Sins
Oklahoma City, located just beyond the rolling prairies of the Great Plains, is known for its diverse heritage. The combination of Western and Native American culture, plus a growing population and expanding industries gives the city the title of the "Modern Frontier."
It was here, at the very center of the city, that Franklin Graham called the audience to step into a new future, one of forgiveness and freedom.
>>See photos from Saturday's Oklahoma City event.
In his message, Graham told a story from Luke 7 about a broken woman and an arrogant Pharisee. The woman, who acknowledged all her sins, fell in worship at Jesus' feet. The Pharisee, however, stood by and judged the woman for her sins, not realizing the sin in his own heart.
"Sin has infected the entire human race," Graham reminded the crowd as he called them to follow the woman's example. Urging them, he gave an invitation to confess their sins to God and find freedom in His everlasting love.
"This women comes," Graham said. "She's a sinner. She knows she's a sinner. And she's weeping and crying and washing the Lord's feet with her tears. … And this woman—who sinned much—she came to Jesus. He turned to her and said, 'Your sins are forgiven.'"
A Confirmation of Faith
Emmanuel and Rosalba came to the event after seeing an ad on Facebook. Before the event, Rosalba—who grew up in a village in Mexico—beamed with excitement in anticipation of what the night would hold.
When Franklin Graham offered the opportunity for people to stand and confess their sins, both Emmanuel and Rosalba rose and whispered a prayer to rededicate their lives to Christ.
"It was confirmation to say I believe," Emmanuel explained. "It feels good."
Next stop: Amarillo, Texas. Pray for Franklin Graham and volunteers as they share the Gospel throughout the God Loves You Tour.