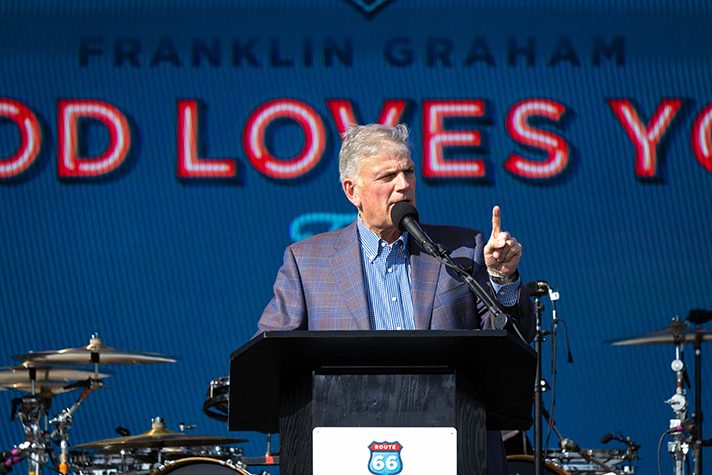 When Route 66 reaches Amarillo, Texas, it's a quirky mix of Americana.
There's Cadillac Ranch—a rustic art display of 10 cars planted face down, painted with colorful graffiti. A tribute to the famous two-thousand-plus-mile trek.
Then throw in cowboy culture—with plenty of hats, boots and fancy leather belts.
Sunday, Franklin Graham came to this Panhandle town with a message for all cultures, all people.
"Let's live the life God has called us to live," said Franklin Graham. "Let's do it forgiven, cleansed, knowing we're on our way to Heaven."
>>See photos from Amarillo's Route 66 event.
It was 86-degrees and the Texan sun was bearing down strong as more than 11,000 people spread out in John Stiff Memorial Park, many gathered under shade trees.
"I don't know how you do it in this heat," said Michael Tait, vocalist for Newsboys, leading the crowd in worship along with Marcos Witt and Dennis Agajanian.
But the life-changing message of hope they received was worth it. It is the God Loves You Tour, after all.
That hope fuels Tour volunteers. Rosa Petruccelli has followed the eight-city Route 66 Tour with Franklin Graham since the first stop in Joliet, Illinois. A vagabond in the best sort of way, Rosa drives around the U.S. sharing the love of Jesus.
The 61-year-old travels solo in her whimsical little camper "Space of Grace."
>>Read how God uses Rosa's broken past to connect with others searching for hope.
In Amarillo, she helped set up speakers and found her purpose as she warmly welcomed newcomer volunteers, making them feel comfortable as they stepped out in faith.
"But God used me the most in St. Louis," she said. At the second Route 66 Tour stop, she walked past people experiencing homelessness on her way to the venue. What could be scary for many was all God.
"There was absolutely no fear when God had me share the Gospel with them," she explained.
A Reunion
In Amarillo, God led prayer volunteer Mary Lyne to a homeless woman and her two young daughters. The Gospel message moved their hearts.
Of everybody here tonight, this mother "needed to hear it the most," said Lyne.
As Franklin Graham led in prayer, the young girls asked Jesus into their hearts and the mother recommitted her life to Him.
Breaking down, the mother told Lyne how the girls were staying apart from her until circumstances changed. She had to get special permission to bring them to the event.
Lyne encouraged her to read the Bible with them whenever she was able to.
"I was just bawling. I couldn't even pray hardly. It just got me" Lyne said, their difficult separation breaking her heart.
A Revelation
Across the way, a young woman held her baby as Franklin Graham talked about abortion, among other sins.
Christian had hidden her decision to have an abortion and was ashamed. "I've never heard someone say that you can be forgiven from having an abortion," she said.
The guilt had held her back from committing to God. "I want to be free [of that]," she said.
"Jesus Christ will forgive you of your sins and He'll cleanse you tonight," said Franklin Graham. "But you've got to come to God through faith in Jesus Christ."
This revelation seized her heart and Christian prayed to recommit her life to Christ. She hopes to work with young women at Christian-based crisis pregnancy clinics.
Under a big Texas sky, Christian and many others found what they were missing—forgiveness and lasting hope.