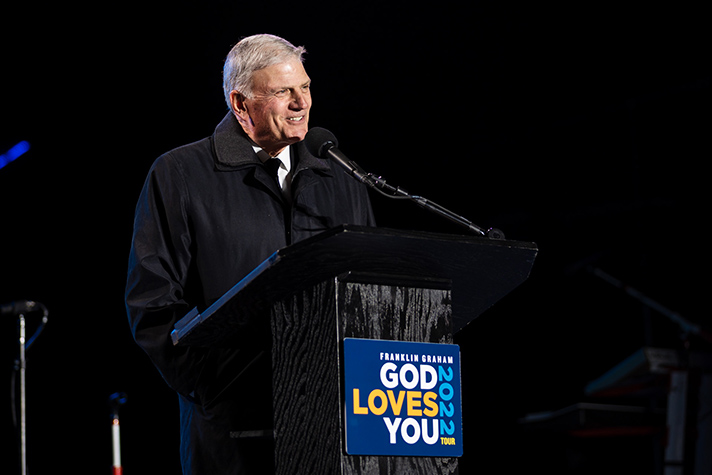 "You've come here tonight and you know deep down inside something is missing in your life."
Franklin Graham words reverberated Tuesday night in front of a crowd of more than 5,000 people at The Youngstown Foundation Amphitheatre in Youngstown, Ohio.
As the temperatures dropped, 20-year-old Cole could feel his heart warming.
"Hearing the absolute, unadulterated Gospel message lit a fire under me," he said.
Cole had made a decision in the past year to follow Jesus Christ as his Savior. But lately, he felt he was failing at living out his Christian testimony.
"My life is a cycle of bitterness," Cole said. "Everyone else was doing better in my eyes. I just allowed myself to get in a mental pit where I was angry at the world and angry at myself."
Youngstown was the third stop of the six-city, nine-day God Loves You Tour, which has seen hundreds make decisions for Christ so far at each stop. Tuesday night was no different.
"Jesus can give you purpose and meaning," Franklin Graham said. "He can give you peace if you're willing to trust Him."
Raising his arms toward Heaven, Cole found peace on Tuesday—and grace and strength to live out his faith.
"I haven't been telling people about Jesus as much as I should have been lately," he said. "I need to tell more people about Jesus."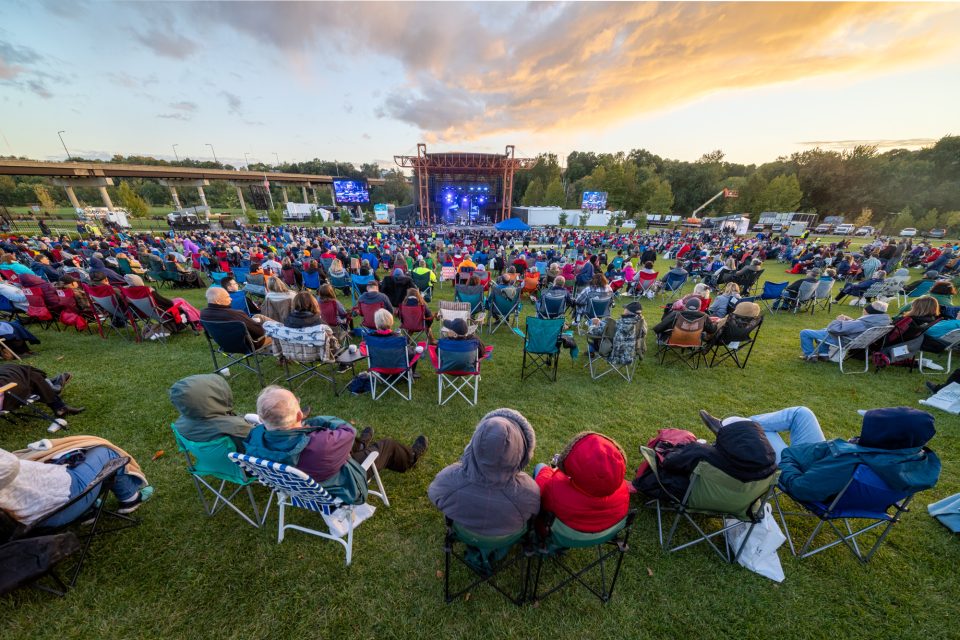 Uprooting His Amish Family
Paul and Laura Coblentz knew their teenage son was having a hard time in his walk with God. "He kind of strayed a little bit," Laura explained.
"God is willing to forgive sin and cleanse us," Franklin Graham said. "So we can have a new life and a new beginning."
As the evangelist invited people to make a decision for Christ, their son stood up to repent and turn back to Him.
The former Amish couple were especially excited to be there because Paul had come to know Christ while watching Billy Graham preach on TV some time ago.
Unable to sleep, Paul prayed to turn his heart over to Jesus in the middle of the night as he watched a Billy Graham Classic message.
This decision changed their family for eternity. The Coblentzes left the Amish community and were "all saved and born again," said Laura. "It's been a tremendous journey."
"In the Amish religion, there's only hope of salvation," she explained. "There's no certainty."
The family still watches Billy Graham sermons. "It's helped us realize the truth of being born again," Laura explained. "Now we have the great honor to listen to his son."
Grocery Store Invitation
People are hearing about the God Loves You Tour in many different ways. For 16-year-old Lindsey,* it was a flyer she came across while working at a local grocery store.
Lindsey's faith in Jesus has made her stand out at school, and her mom nudged her to come so she could receive encouragement to stand strong in an environment that is challenging to be an outspoken Christian.
"It's pretty hard," she admits. "They don't like different."
She's even had classmates try to pick a fight with her in gym class because of her beliefs. She didn't give in, crediting her Rock that steadies her daily. Tuesday night was a much-needed reminder that He will never forsake her.
"My faith makes me less anxious," she said. "Not having faith makes me anxious."
The God Loves You Tour rolls on to Flint, Mich. (Thursday); Waukesha, Wis. (Saturday); before the finale in Rochester, Minn. (Sunday). Franklin Graham, Newsboys and Dennis Agajanian will continue to share the eternal hope of Jesus Christ through a message and live music as they make their way across the Midwest.
*Name changed for privacy.