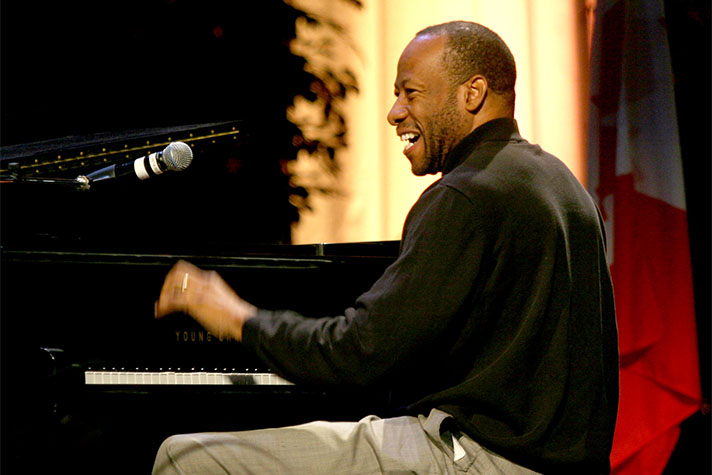 Internationally renowned Christian pianist Huntley Brown is a man of contrasts.
He offers world-class electrifying performances yet remains utterly humble about his musical gift.
This ordained pastor plays venues from Carnegie Hall to high schools plagued by gang activity, and leads worship at Billy Graham Evangelistic Association (BGEA) Crusade events to boot.
"I love my audiences and will go anywhere I'm called. But I only play for an audience of One," he explains, referring to his love for God.
>> Watch Huntley Brown play at a Franklin Graham Taiwan Festival
What separates this joyful Jamaican, who resides outside Chicago, from other highly talented secular pianists?
Brown explains how his calling is deeper than just music.
"Inspired music will give you goosebumps, make you feel wonderful. …. But anointed music will bring you into the presence of God. Being in His presence is where you can find healing or whatever you're looking for."
This special connection with the Lord has nothing to do with how grand the piano or talented the player.
"It's simply prayer," he explained. Maintaining an active prayer life fills him with the Holy Spirit, which then spills out over the ivories.
'I Want to Be the Billy Graham of Pianists'
Currently playing with orchestras and choirs at Franklin Graham's and Will Graham's European Festivals, Brown's connection with the BGEA started when he served as Crusade pianist for Dr. Ralph Bell, a former BGEA evangelist.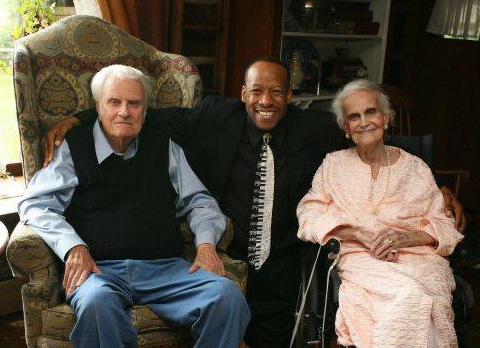 Brown also played for Ruth Graham & Friends, a ministry started by Billy Graham's daughter, Ruth, who was named after her mother. He's traveled the world with the BGEA Schools of Evangelism, including speaking and leading worship at Amsterdam 2000, a BGEA-led international evangelism conference.
Getting to meet and play for Billy Graham, though, was a milestone.
"People have different heroes," he explained, "Sports players, etc. Not for me. I look up at somebody who's a world changer.
"I look up to Dr. Graham as a world changer. Wherever he went, he preached one message, the uncompromising message of the Gospel of Jesus Christ.
"It was my dream to meet him," he explained, so Billy Graham's daughter, Ruth, set up a meeting.
On his way, Brown stopped in to see George Beverly Shea, a soloist for the Billy Graham Crusades for six decades. The two sang and played music together late into the night.
The next day he drove up to the Grahams' mountaintop home in Montreat, North Carolina, where he played Ruth Graham's favorite songs. "I was really just having a great time," he said. When Billy Graham came in the room, all Huntley could think of was how many world leaders have looked to this man for counsel.
"I was pinching myself. What really impressed me that day was he was asking about me," Brown said. "He was so caring, he was so humble.
"We had a phenomenal time, and I did my Louie Armstrong impersonation," he laughed. At this point in the interview, Brown breaks into the impersonation, and laughs heartily afterward.
"People ask me, 'What's the number one concert you've ever played?' I've played Carnegie Hall and this one, to me, is bigger than Carnegie Hall. That personal concert for Billy and Ruth Graham. Number one in my ministry."
After his visit, Brown said he went back to his hotel room and worshiped for two hours, praising God for fulfilling his dream of playing for the evangelist.
"You want to make him proud because he's leaving such a legacy," Huntley said. "I want to be the Billy Graham of pianists."
Passion for the Persecuted Church
"The world summit was literally life-changing," Brown said of BGEA's World Summit in Defense of Persecuted Christians in Washington, D.C., in May 2017.
"You hear stories of people being persecuted but it's not until you hear actual accounts that it becomes very real," he said. "It opened my eyes to a fresh reality."
Brown stressed how American churches need to consistently pray for Christians in persecuted countries.
"Sooner or later our turn's going to come. I believe it's not if—but when. The church is going to be persecuted.
"If we are silent now, when it's our turn to have to go through the fire, no one will speak up for us."
Brown's passion for the church and evangelism go hand in hand with his music ministry. "To be effective," he said, "you need to stay in prayer and you have to know who you are. You have to process your identity through Christ."
This amazingly talented pianist knows he's not representing himself, but Someone far greater.
"I discovered I'm an ambassador, a musical ambassador through Christ."
Is your identity in Christ? Find it here.