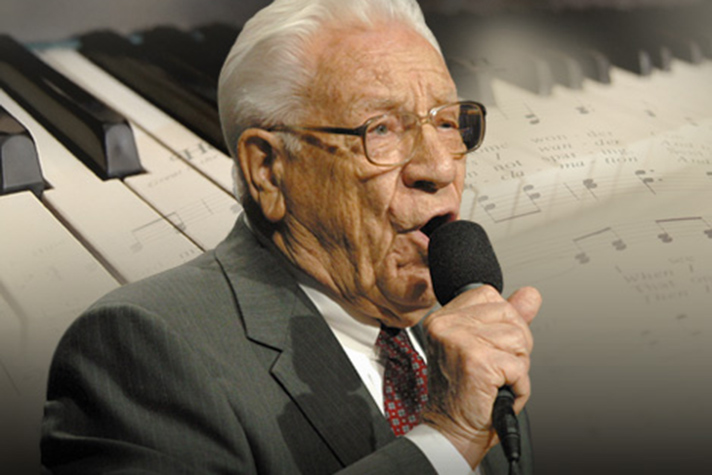 The life of George Beverly Shea, who lived to be 104 years, was celebrated on April 21 in Montreat, N.C., with memorable hymns, stories and tributes: "There was a song in Bev's heart."
If ever so slightly, Cliff Barrows' voice cracked as he talked about his longtime friend George Beverly Shea.
This was a time of celebration, one of joy and remembrance. After all, if anyone lived a full life, Bev Shea at 104 years certainly could carry that badge.
But between all the stories and laughs, sharing memories that could fill a building the size of Montreat's Anderson Auditorium, Mr. Barrows delivered perhaps the most fitting condolence of them all.
"We lost the third member of our trio," he said before breaking the moment with a well-timed line. "The two of us don't sound so good together."
"The two" would be Mr. Barrows and Billy Graham, who glanced a warm smile from the front row at Mr. Barrows' moving tribute of their dear friend. And they were among a crowd of nearly 1,000 who paid their respects on the afternoon of April 21, crying and singing glorious hymns, just like Mr. Shea had all these years.
Only this version with a little less baritone.
"What a precious, precious man," said Mr. Barrows after more than 60 years of ministry together. "Our dear, beloved friend."
Mr. Shea, the eldest of the Billy Graham Crusade trio by 10 years, lived to see both Mr. Graham (94) and Mr. Barrows (90) into their 10th decade. Still sharp and witty to the end, Mr. Shea passed away on Tuesday after a brief illness.
Recently asked how he would like to be remembered, Mr. Shea quipped, "That I always stayed on key."
"There was a song in Bev's heart," said Dr. David Bruce, who offered the Scripture reading and meditation during the service. "The man's life can be summed up in a few simple phrases—the twinkle in his eye, the praise on his lips, the song in his heart, the length of his days and the joy of his Lord."
Many referred to that twinkle, a sincere way of making you feel at ease, as if you were the most important person he had encountered.
Billy Graham once said, "I don't believe I've ever heard him utter an unkind or critical word about anyone."
Forget that Mr. Shea was a two-time Grammy award winner, nominated 10 times. Or that he released more than 70 albums. Or that he holds the Guinness Book of World Records for singing to the largest live audience at more than 220 million.
Mr. Shea's humility was what set the talented gospel singer apart, always deflecting any praise to his heavenly Father. Said Mr. Barrows: "When Bev was born he was given such a dose of humility he's been in relapse ever since."
Humility, humor and honoring God were three recurring themes in Sunday's remembrances. And a fourth would be his fervent love of a good cup of coffee. "He was simple. He was funny," said his son, Ron Shea. "He loved going to his cottage up in Canada that was made out of plywood. You couldn't go up there in the winter, you'd freeze to death.
"He was simple. He loved the Lord. And he loved singing praises."
The ceremony held a familiar tone. Starting with a recording of Mr. Shea singing Fanny Crosby's "Safe in the Arms of Jesus," many of his favorites were sang, including "And Can it Be," "Love Divine, All Loves Excelling" and "Great is Thy Faithfulness."
The personal stories gave a rare glimpse of the man some called "Papa Shea." Steve Aceto, Mr. Shea's stepson, shared how the legendary gospel singer approached him about 27 years ago. "Here's a man twice my age who asked my permission to marry my mother (Karlene)," said Aceto, pausing as the crowd laughed. "This confused me at first."
But the family quickly bonded with Mr. Shea and consider themselves blessed to even know such a man for nearly three decades. "When I see Jesus face to face," Aceto said in his tribute, "I've often thought there would be something that is familiar."
That familiar sound drew many, who drove several hours despite never meeting the man in person. Marie Pass, who described him as "extraordinary," came from Mooresville, N.C., along with a friend from her church choir and their choir director. "Every one of those songs, I sat here with tears rolling down my face."
Iris Blevins, of Abingdon, Va., called Mr. Shea a "wonderful, wonderful man," who impacted her as a young teen in the '60s, when she grew up playing piano at her country church in Haysi, Va. "Bev Shea's version of 'How Great Thou Art' was playing all over the radio and they all wanted me to play it," she recalled rushing out to the music store. "His picture was on the sheet music."
Special music aptly highlighted the service, including Teresa Bledsoe's solo "Redeemed" and "When I Survey the Wondrous Cross," from a memorial choir consisting of three local congregations (Christ Community Church Montreat, First Baptist Hendersonville and First Presbyterian of Black Mountain).
Tom Bledsoe gave the dismissal and Will Graham offered the benediction, with kind words for his "Uncle Bev." "Thank you for this man of God who proclaimed your truth in music and song," Graham said. "We already miss our dear friend."
But few will miss him more than Mr. Graham and Mr. Barrows. With memories of the three singing "This Little Light of Mine" still vivid, Mr. Barrows talked about the "Gentle Giant" setting the tone for Billy Graham to preach the Gospel around the world.
"For more than 70 years, I had the privilege of introducing 'America's Beloved gospel Singer,' " Mr. Barrows said. "And oh how the people would listen. Many hundreds would come to faith in Christ even before the message was given."
Mr. Barrows then quoted Mr. Shea's life verse, Psalm 28:7, "My heart leaps for joy and with my song I will praise Him."
"That's exactly how Bev Shea lived his life."
Always on key. Never about himself.
"Billy Graham said he'd rather hear Bev sing than anybody," Mr. Barrows said. He then paused slightly, keeping his voice from breaking.
"So would we all," Mr. Barrows said. "So would we all."