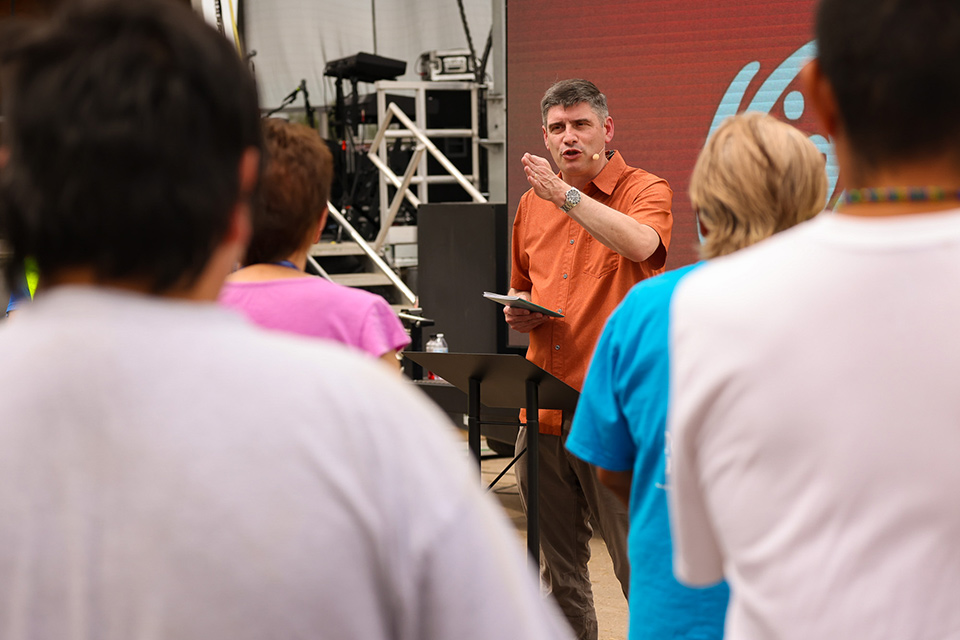 Will Graham came to the Rosebud Fairgrounds with a simple question: "Who is Jesus?"
It's a question he let linger for a bit, throwing out different scenarios people have proposed throughout history.
"The answer to that will change your life," he told the 500-plus at the John Waln Arena Rodeo Grounds on Saturday evening.
>>Photo Gallery: Rosebud Reservation
On this first night of the Native Peoples Tour, there was someone in the crowd who could tell you without a shadow of a doubt who Jesus is.
This past year told her everything she needed to know.
The Long Journey to Rosebud
The day was June 28, 2021. It's forever burned into Rose Chapel's memory. The day she received the news no woman would ever want to hear.
She was diagnosed with cancer. And not just any kind of cancer, but triple negative breast cancer.
"It's the most aggressive breast cancer you can get," Rose said.
But she told God, "You send me where you want me to go." And that's exactly what He did.
First, aggressive chemotherapy. Then surgery to remove the lump on Feb. 21. Then five weeks of radiation in Rapid City, South Dakota.
This is where Jesus really showed up. On the 135-mile journey from her home in Merriman, Nebraska—on her very last radiation treatment—Rose heard Will Graham on KSLT talk about the Native Peoples Christian Leaders Conference that night, May 3.
Her ears perked. "And it wasn't too late to sign up," she said. "So I signed up right away."
At the conference, Rose learned about the Rosebud event, was trained to be a counselor, and on Saturday afternoon, found herself leading 11-year-old Cheyenne* to accept Christ into her heart.
"Her demeanor, her smile … she was pretty excited," Rose said about Cheyenne at Kidzfest, which included a video-animated presentation, followed by Will Graham presenting the Good News. "It was presented more on her terms."
Revved Up for Revival
The embers are ready. Rose has sensed God preparing the way for revival at different reservations in South Dakota.
And after her mother died of cancer in 2012, Rose decided it was time to do something about it. The area rep for the Christian Motorcyclist Association—along with her husband Ron—Rose decided to hold annual "Prayer Rides."
The 250-mile-plus motorcycle run makes seven stops to pray for the Holy Spirit to move: Martin, Wanblee, Kyle, Sharps Corner, Wounded Knee, Pine Ridge and Oglala.
The Chapels led special "Prayer Rides" for both last year's basketball camps and this year's Native Peoples Tour.
"That's one of the things that God gave me is a vision of the reservations, the embers, and the Holy Spirit would blow on it and create the fire," Rose said, believing the Native Peoples Tour that moved to the Pine Ridge Reservation on Sunday could play a key role. "This could be the wind that we've been waiting for. So I jumped at the chance to help."
'So, Who Is Jesus?'
On Saturday evening, Rose sat in the audience, waiting for another opportunity to counsel. Will Graham preached, following powerful worship led by Joshua Chavez and Christian rapper, KB, who reminded the crowd that "Jesus is for you."
And that brings us back to Will Graham's question: "So, who is Jesus?"
Simply put: "Jesus is God," he said. "And you are hand-made in the image of God.
"He was not just a religious person who was made up," Graham expounded.
Will Graham watched as a steady stream of people made their way forward, responding to his invitation to receive Christ as Lord and Savior by repenting of their sins and believing Jesus died on the cross for their sins.
"I think they understood what Pastor Will said tonight and that's what really counts," said prayer volunteer Christina Herrera, who was prayer walking around the venue during the evening event. "I was surprised at how many went up [at the invitation]. Praise God. That's what's important."
In the end, his simple question came with a profound answer that resonated throughout the bleachers at the Rosebud Fairgrounds.
"Jesus is a real person who changed everything."
*Name changed for privacy