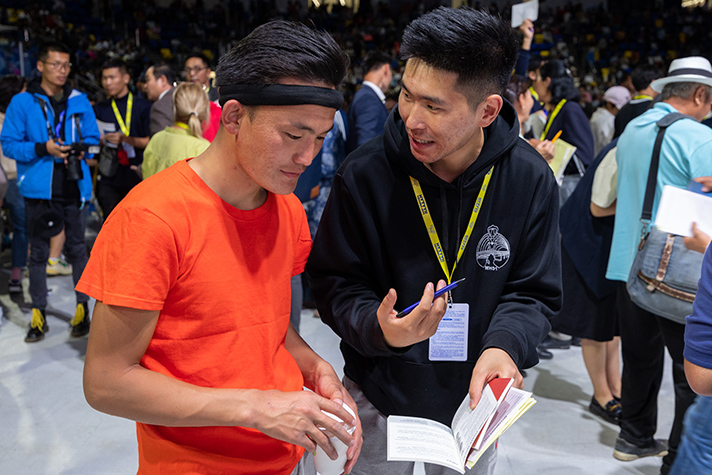 Bus after bus brought people from Ulaanbaatar, the neighboring districts and the countryside. Others traveled to Steppe Arena by car.
Many were curious about Jesus. Some came for the music. But each one left knowing how valuable they are to God.
Franklin Graham made that perfectly clear on the final night of the Festival of Joy in Mongolia.
"You are important to God," he said. "God loves you."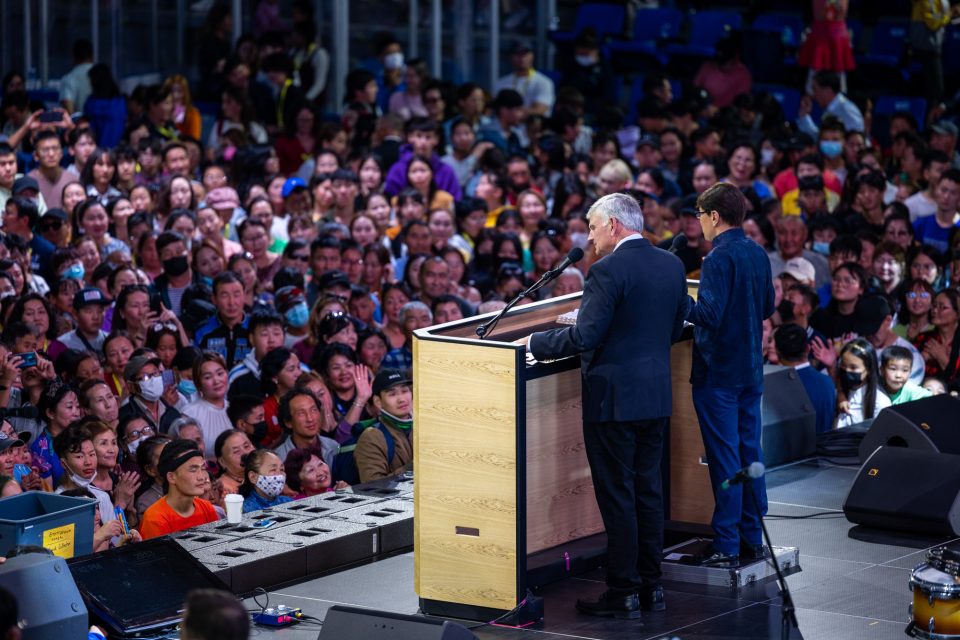 Across town a few days earlier, Chuluu* was at the Zaison Memorial, which honors allied Mongolian and Soviet soldiers killed in World War II, when he met some staff members from the Billy Graham Evangelistic Association (BGEA).
During the conversation, he shared that he was troubled because his elderly parents were sick and he had legal issues. They encouraged him to trust Jesus with his worries and invited the 21-year-old to the Festival.
To their delight, Chuluu came both nights. And on Sunday, he was one of the first people who came forward when Franklin Graham invited the audience to receive Christ's free gift of salvation.
For the last eight years, Chuluu hadn't followed any religion.
"I used to be Buddhist but now I am choosing Jesus," he shared. "Jesus said, 'If you believe me, your sins can be forgiven.' God can forgive me."
>>Read how others decided to follow Christ during the first night of the Festival.
A few steps away, Naraa's* face revealed her sadness. She had been out of work and was depressed. "I want to have friends and work. I want to be optimistic," she said.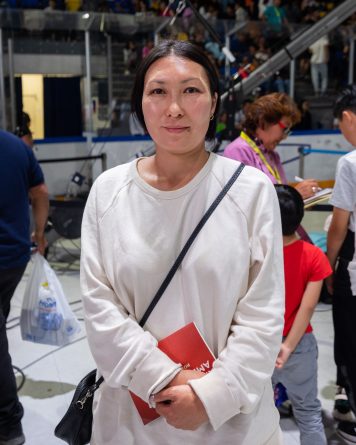 The 37-year-old also shared her desire to find a kind man and get married.
Naraa understood that choosing to follow Jesus didn't mean her problems would disappear or that she'd have a perfect life. But Franklin Graham's message spoke to her heart—and she believed God loved her.
Naraa decided to surrender her life to Jesus. And leaving the arena Sunday night, Naraa carried home a bright new hope.
Citizens of Heaven
Tsengel Ayush, one of the many faithful church volunteers at the Festival, has a great desire for others to find the hope that she has. Accepting Christ as her Savior at 18, she became one of Mongolia's first Christians in the early 1990s.
The mother of four and pastor's wife said Ulaanbaatar isn't an easy place to live. The winters are harsh. In fact, it's the coldest capital city in the world. Domestic abuse is a big issue, and many are in debt because salaries are low and expenses are high.
Though these and other things are out of her control, Ayush is trusting God for the future of her city. And she's praying for those who found the Truth this weekend to continue growing in their faith and keeping their focus on what's eternal.
In Philippians 3:20, the Bible says, "Our citizenship is in heaven, and from it we await a Savior, the Lord Jesus Christ."
Many at Steppe Arena secured their place in Heaven this weekend.
"This Festival is a great investment for the Mongolian Body of Christ," Ayush said. "I'm praying that those who heard the Gospel won't stray and that the Body of Christ would multiply and impact future generations."
Before leaving the stage Sunday, Franklin Graham thanked God for a great harvest of believers.
Smiling, he said, "We love your country and we love you. We praise God for what He's done here tonight."
*Names changed for privacy.
Do you know where you will spend eternity? You can be sure.