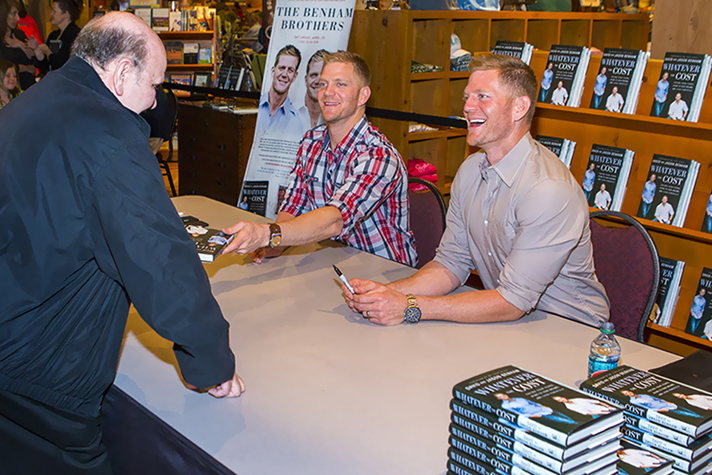 Real estate entrepreneurs David and Jason Benham received national attention when their show on the HGTV network was canceled in response to some statements they had made in defense of biblical marriage—marriage between one man and one woman.
The twin brothers will be at the Billy Graham Library on April 25 to sign copies of Whatever the Cost, the book that resulted from their experience.
Learn more about the event, which is free and open to the public.
Billy Graham Library Facebook and BGEA Facebook followers recently had the chance to ask the Benham brothers a few questions. Their answers are below.
Q: Would you please address the issue of standing for Gods truth (in love), without letting name-calling stop you (i.e. "bigot," "hater," "homophobe," etc.)? It seems as though just being called a name can have the power to close a Christian's mouth.
A: First of all, truth is not an "it"; truth is a Man. Love is the same Man—Jesus Christ. Speaking the truth without love is not Jesus, and loving people without speaking truth is not Jesus. He is both truth and love.
As for standing strong even when called names, we as Christians must remember that Christ told us this would happen. In Matthew 5:11 He said that we are blessed when "persecuted and falsely accused." King David also said in Psalm 56:5 that his persecutors "twist his words" on a daily basis. So we're in pretty good company when people falsely accuse us and twist our words. If they did it to Christ and David we can expect they'll do it to us. We have nothing to fear.
Q: Has your experience made your faith in the Lord stronger, to know He will provide for you no matter what?
A: Anytime we encounter Biblical resistance, which is being persecuted for righteousness, we are supposed to respond with Biblical resistance. In other words, we "resist the Devil and he flees." The Bible doesn't teach us to "flee from the devil" but to "resist" him. The only thing we flee from is temptation. When we resist him we get stronger! We love to work out, and we've learned that if we want to get stronger physically we have to increase the resistance, not decrease it. In the same way, we get stronger spiritually when we respond to resistance with resistance. Proverbs 28:4 says, "Those who forsake the law praise the wicked, but those who keep it resist them." Biblical resistance is a call to all believers.
Q: Have you spoken with Chip and Joanna Gaines (stars of the show Fixer Upper)? How has their experience differed from yours?
A: Chip and Joanna are a wonderful couple, from our interaction with Chip over the phone. We spoke with him several times when we were filming our show about how God was giving both of our families a platform for ministry. When we got fired he was one of the first people to call us, and he was fired up. He asked how he could pray for us and encouraged us to stand strong in the faith. We followed up with an encouragement back to him to use his show as a picture of what biblical marriage and family can look like on HGTV. And they've done very well!
Q: It takes great men/women of character and conviction to stand up for what you believe. What would you consider to be one of the greatest challenges you face when you stand up for the truth?
A: The fear of man and a man-pleasing spirit, along with the lure of a platform or ministry for Christ, is the biggest challenge to living out our faith today. The temptation to simply remain quiet for fear of being called names or for fear of losing a platform, a ministry or a job is so real today that it is paralyzing Christians. The Scripture that greatly encouraged us when we felt these same things was Matthew 16:25, "For whosoever will save his life shall lose it; and whosoever will lose his life for my sake shall find it."
Q: What advice can you share to encourage more Christians to make a stand for biblical values, and why?
A: God's blessings are only found within His boundaries. Remove the boundaries and you lose the blessings.
Psalms 24:1 says, "The earth is the Lord's, and all that is in it." Everything is God's—marriage, life, government, law, education, economics—it's all His. And He has a boundary (or a design) for everything—so when we follow His design we have life.
This is why Satan wants to eliminate God's boundaries. He doesn't want us—or our nation—to experience God's blessings. He doesn't want life, but rather death. Yet all we have to do is resist the devil and speak the truth, because the Bible promises that Satan will flee and the "truth will make us free."
If we remain silent now, people will die in their sins and Satan will have his way. God uses us as His agents to bring life to all. Those that have gone before us are in the great cloud of witnesses cheering us on to run our leg of this race!
Q: Now that your reality show is no longer a reality (and I do not mean that in any kind of derogatory way), how do you see yourselves witnessing in your given vocations? How is God is using you to witness to others?
A: No matter where we're placed or how we're paid we are called to be witnesses wherever we go. Witnessing should be as natural as blinking. We don't think about blinking throughout the day—we just do it. In the same way we should always be ready, willing, and able to witness as God opens the doors. We find ourselves witnessing on planes and at conferences quite often now as we're traveling across the country encouraging Christians to live out their faith. Before HGTV came along we were witnessing during business transactions and wherever/whenever we sensed the Holy Spirit had opened a door.
Q: If you can only do one renovation to a house prior to putting it up for sale, which task should be tackled?
A: Depends on the budget, but if you can do only one thing to your house and you have the money to do it, we would renovate the kitchen. Kitchens sell houses, so those are vital.
But if you don't have a lot of money the best way to prepare to sell your house is to de-clutter the floors and get most (not all) of your pictures off the walls. Then brighten the walls with fresh paint. You can do this yourself and save a bunch of money—and the return is always positive!
Want to meet the Benham brothers on April 25 at the Billy Graham Library? Find out more.