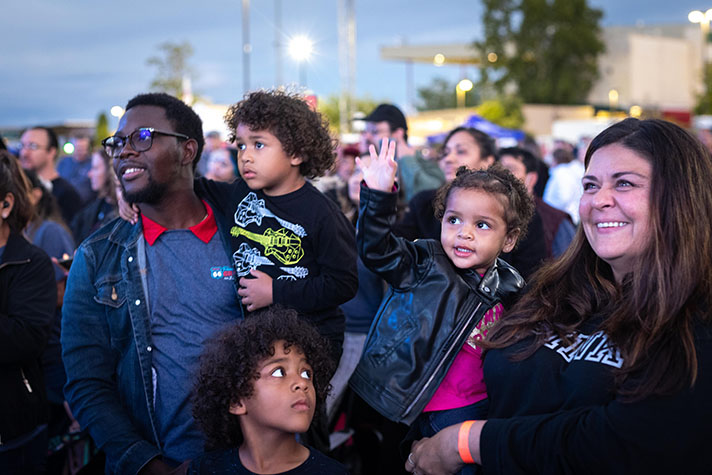 Although it was pouring rain just minutes before the God Loves You Tour started in one of the nation's sunniest cities, Albuquerque, New Mexico, it didn't deter people from coming Tuesday night.
7,100 people, to be exact, with more watching online.
"Isn't the rain glorious?" a pastor from the Navajo Nation asked Christy Willis, a Billy Graham chaplain, while getting drenched outdoors at EXPO New Mexico.
The pastor wasn't joking. Instead, he exuded joy ahead of the tour's sixth stop along Route 66.
>> See photos from Tuesday night's tour stop.
Because rain or shine, he knew God would be there. Just as the Lord had been present over the past year, even with losing many of his congregants to COVID.
Willis agreed. For her, the timing of the eight-city evangelistic tour was "perfect." She owns 66 Diner in town with her husband, and it's been a rough year for her—and well, pretty much everyone, she says, could use some new perspective.
And as God would have it, the gray clouds stopped spitting rain and parted against the stunning backdrop of the towering Sandia Mountains, filled with pink hues that reflect its Spanish name that means "watermelon."
People sat in lawn chairs and on blankets in a parking lot, clapping along to guitar-strumming Gospel singer Dennis Agajanian. Then they belted out "How Great Thou Art" with Latin Grammy Award-winning Christian artist Marcos Witt. Many rose to their feet to raise their hands or dance along with Newsboys.
"Lord, let the crowd come with joy," said lead singer Michael Tait, seeing the evidence of an answered prayer around him.
And when Franklin Graham took the stage, that joy didn't stop, but the attendees did become solemn.
"In 9/11, we had the event that changed our country, the world. You'll never be able to fly on an airplane the same after 9/11. We lost a lot of our personal freedom in 9/11," Graham said. "Then 2020 comes, and we have COVID-19 and it has changed our world. … Who would have ever thought the entire world would shut down?"
Encouragers and Prayer Warriors
"We greet people and help them get situated," Willis said, wearing her fluorescent chaplain vest to be easily identified. "Before [the event] starts, we just wander and talk to people and pray with people. After having done that, … if they need something they look for you."
Willis, who is covering four of the eight tour stops, said she's had many people who brought unsaved family members to the event come up to her for prayer, with high hopes that this would be the night that God would save them.
But, "Not only were [these family members] not believers in the Lord, they were an alcoholic, a heroin addict, they had all these chains holding onto them," Willis explained.
She'd tell those teary-eyed talking with her, "They're not here by accident. They agreed to come with you. So even if this isn't the night, it's a step toward the night."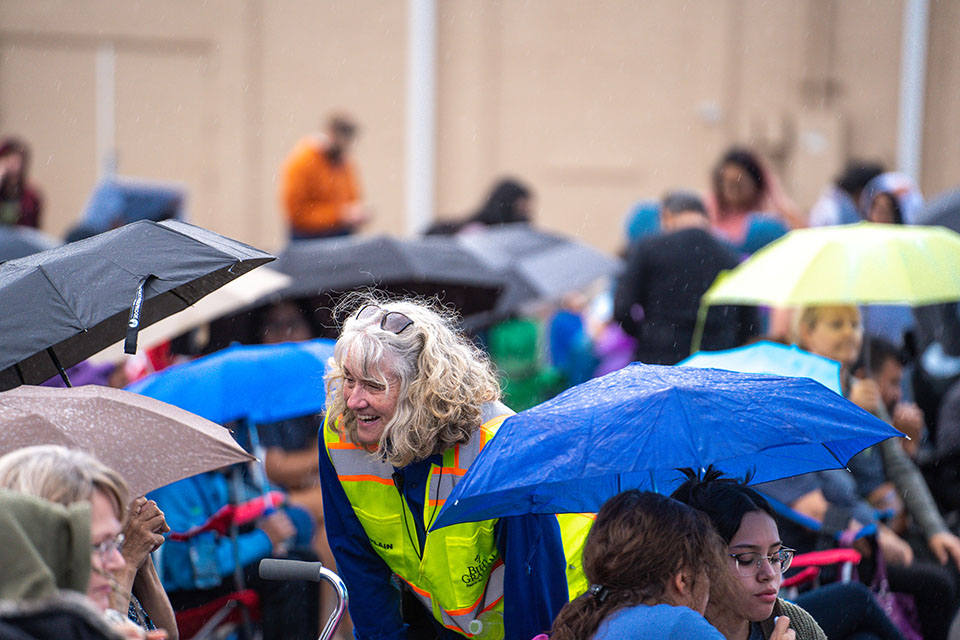 Your Soul Is Valuable to God
But for hundreds of people in Albuquerque, it was the night.
"I want you to know that 2,000 years ago, there was an event that changed the world. When Jesus Christ stepped out of Heaven, He came with a specific mission and that was for you," Franklin Graham said.
After reading from Mark 8, Graham asked, "What is your life worth to God? Everything."
However, there's a sin problem, and it's as rampant as COVID-19—but only has a single solution.
"There's not many roads to God. There's only one road, and it goes through the cross," the evangelist said.
'You Have a Calling'
Rico Racehorses listened to Franklin Graham's words carefully and stood to the left of the stage, publicly showing his decision to follow Christ. Hundreds more around him did the same, drawn to the Good News.
Although Racehorses had listened to Billy Graham on YouTube for years, he'd hopped from religion to religion, trying to find the one that made him closest to God. The 30-year-old had lost both of his parents to disease at different points in his life, and was battling his own mental and physical illness.
"I made a decision tonight that I was going to become a full-on Christian, and one religion, which is through Jesus Christ," said Racehorses.
A tear slid down his cheek as he talked about his most recent surgery, before sharing what God had revealed to him.
"I know that in all of this, God said, 'You have a calling. Even though you might not like it, you're going to face some trials in life. As you get older, you're going to understand I'm going to be walking with you. No matter what pain and suffering you go through, I will be there for you 24/7 day and night watching over you,'" Racehorses recalled.
He hopes that after Tuesday night, he'll speak about God in churches and youth groups, teaching them that their lives are valuable.
"It just really frustrates me that the world is falling away, but hopefully tonight and wherever you guys go, I hope the world comes together and [this] helps them understand God loves them and God is preparing for the coming of Jesus Christ."
Join us on the next Tour stop in Flagstaff, Arizona, today (September 30), or watch online, starting at 7 p.m. MT/10 p.m. ET.
Watch below to go behind the scenes of the God Loves You Tour with Billy Graham chaplains.