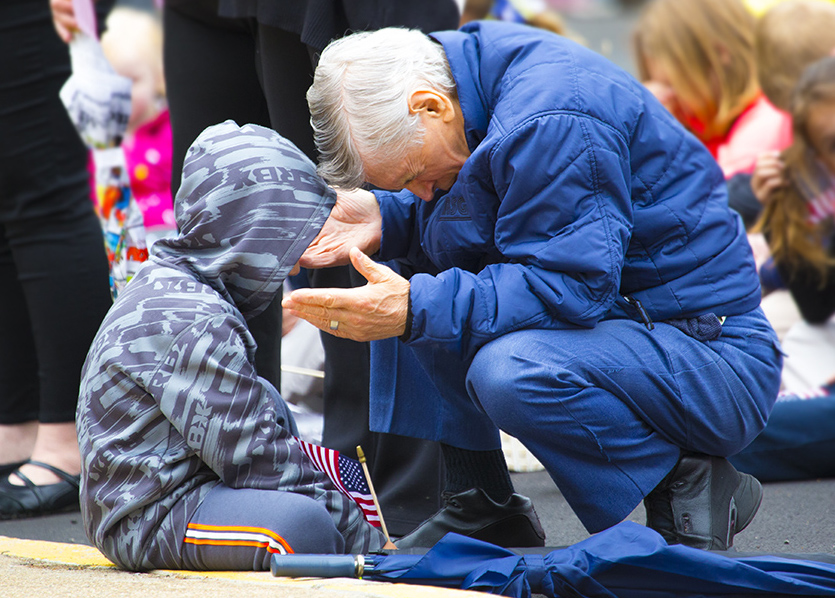 For Pastor Shannon Robinson, America's problem can be summed up by the absence of one word: love.
"When America begins to love again, we'll see change," said Robinson, a pastor from Oak Hill, West Virginia. "It won't take someone being in office for change [to happen]. When we love God, we'll see the change itself."
Robinson was among the estimated 4,200 people who braved a chilly, rainy Thursday to join Franklin Graham in West Virginia for his 22nd Decision America Tour stop. To date, more than 100,000 people have joined Franklin Graham across the nation.
Robinson knows firsthand that prayer changes things. He's seen that in his life and the lives of his congregation in Oak Hill. That's why it was so important for him to not only join Franklin Graham during the prayer rally but also to sign the pledge to take a stand for God and country.
"We need God back in America," Robinson said. "There's so much stuff going on. It's kind of like they want us to take our focus off of God and church and put our focus on all the other stuff. But our country was built upon biblical principles, so I believe we need to get back to that."
That biblical foundation is critical to Les and Gina Payton who volunteered on Thursday along with their children Joseph, Robin, Helen and Ben.
"We're just trying to raise our family and prepare them to be leaders in that next generation, to be faithful, Christian leaders," said Les, who recently retired as a lieutenant colonel after 27 years of service in the United States Marine Corps.
Four-year-old Ben took his job of handing out American flags seriously, making sure everybody within his tiny sight had their own to wave.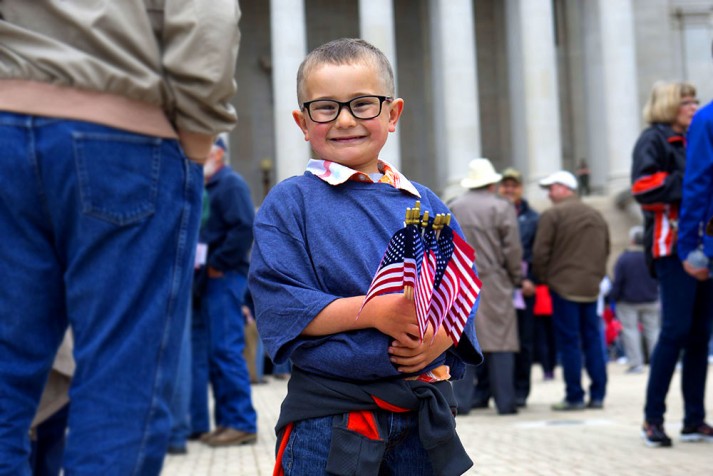 "He just loves to serve others," Gina said. "He's so adorable."
Watching her children serve blesses her heart, particularly because service is at the core of how Gina home schools her children.
"The most important lesson they'll learn is that everything is in service to our Lord and to glorify God in everything they do," said Gina, who also served in the Marine Corps. Now, homeschooling her children is her mission. "So this is how we school. We have some days of seat work, but a lot of it is we are called to serve people. We need to have white space on our calendar to be able to pray with people, and my kids do that."
Elk Valley Christian School, which is just a 20-minute drive to the State Capitol, offered students the opportunity to attend Thursday's prayer rally. Lexee Owens was among those who accepted and sat where she could hear on a wall near the Kanawha River.
A senior at Elk Valley, Lexee attended public school until her freshman year. She's been exposed to the harsh reality that statistics show so many West Virginian students her age endure—drugs, depression and so on. While revival is trending in at least one area of the state, peer pressure is still something students encounter.
"It's hard to be good," Lexee said. "Even if you are strong in your beliefs it's kind of hard when everyone else isn't."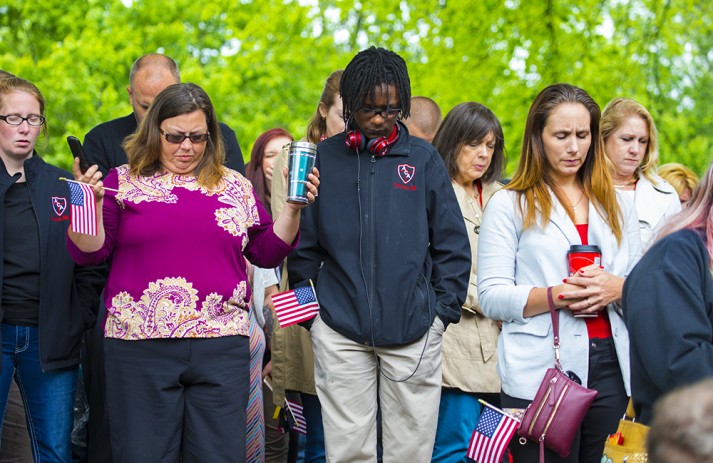 That can be true for young and old alike, depending on school and work environments. But Thursday was an opportunity for Christians to band together and simply focus on seeking God. Many people jammed shoulder-to-shoulder in the area facing the Capitol steps, while some listened from the other side of the Kanawha River as Franklin Graham's message echoed across the state's largest tributary. One individual kayaked his way across the river and into earshot.
"America is at a crossroads," Franklin Graham told the crowd. "Who we elect to lead this country is key."
But he didn't focus entirely on the presidential race which was an especially hot topic in Charleston on Thursday given 2016 hopefuls Bernie Sanders and Donald Trump were in the area campaigning ahead of next week's primary. Rather, Franklin Graham encouraged the crowd to focus just as much on the local elections.
It was never intended by our forefathers that we stop being Christians if we're elected, Franklin said.
"We take our faith into office," he said, as he mentioned offices from the local level up.
"Christians can take the school board back," Franklin said.
Pastor Robinson clapped loudly in support of what Franklin Graham had to say. Robinson particularly was taken with the suggestion to start local prayer groups.
"I want to start a community prayer group," Robinson said as he departed the West Virginia Capitol grounds. "Just start praying for some changes right there in our community. We want to see it manifest out into our city and our state and be effective throughout our country."