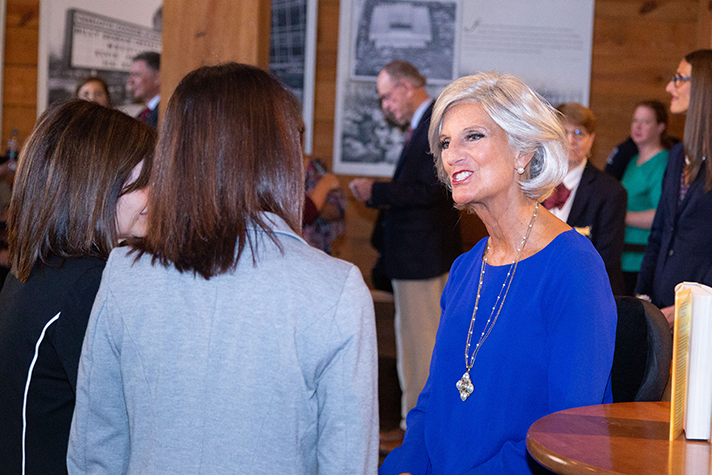 A scorching 90-degree day didn't prevent dozens of people from lining up at the Billy Graham Library to meet Anne Graham Lotz on Thursday afternoon.
The special meet and greet event in Charlotte, North Carolina, followed the release of her most recent book, Jesus In Me, as she returns to public speaking and teaching after 10 months of cancer treatments.
>> Order your copy of Jesus In Me
"I just want to thank you for coming on a blisteringly hot afternoon," Lotz said, greeting those gathered for her first public appearance at the Billy Graham Library since her father's funeral in 2018.
"Jesus in me is the person of the Holy Spirit," she explained. "[This book] is a memoir of my experience with the Holy Spirit."
Within the pages of Jesus In Me, Lotz explores the person, power and purpose of the Holy Spirit. She includes Biblical insights and personal stories about His constant companionship through her recent trials.
"Only a sovereign God could have arranged my life's events so that they coincided with the writing of my new book," Lotz said in a blog post, referencing how she became a widow, an orphan and a cancer patient over the course of the past four years.
"While I do not claim that I can even begin to know all there is to know about Him, I am learning to enjoy and trust Him more and more," she wrote.
A Loss and A Legacy
Among those undeterred by the heat on Thursday were a group of ladies from surrounding North Carolina towns. They arrived at the Library long before the meet and greet to make sure they got a copy of Jesus In Me.
"I'm looking forward to reading the book and hearing how the Holy Spirit was close to Anne during her own time of loss," Amanda explained, sitting in the cool comfort of the Library. "All of us have suffered loss over the past year. … We lost one of our really good friends."
That friend was Nancy, who facilitated various Bible studies they did as a group—including Lotz's Daniel Prayer. They plan to study her newest book together as well.
"Nancy would've been here. She would be reading Anne's book."
An Answered Prayer
Earlier in the day, Lotz recorded an interview program for The Billy Graham Channel on SiriusXM—set to broadcast at various times from Friday through Wednesday.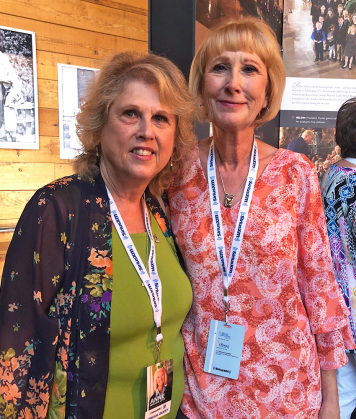 South Carolina residents Ann and Melody sat in on the live recording. The two women attend a book club together, and Jesus In Me is next on the list to study and discuss.
"I've always loved her," said Ann, who also had the special opportunity to review Lotz's newest book before it released to the public.
What did she think?
"Like butter in warm toast, it melts your soul," she said.
Melody hasn't followed Lotz's journey quite as closely. But after Thursday's events, she felt much more connected to the author—and to the topic of the new book.
"I asked God the other night to let me know that He's near," she said. "I feel like the Holy Spirit spoke to my heart today."
A widow and the mother of a breast cancer survivor, Melody is intimately acquainted with the struggles Lotz discussed at the event and in her book.
"I loved what she said: you're alone, but you don't let it within," Melody paraphrased. "To hear the power of the way she spoke today, that encouraged me. … I know that everything's going to be okay."