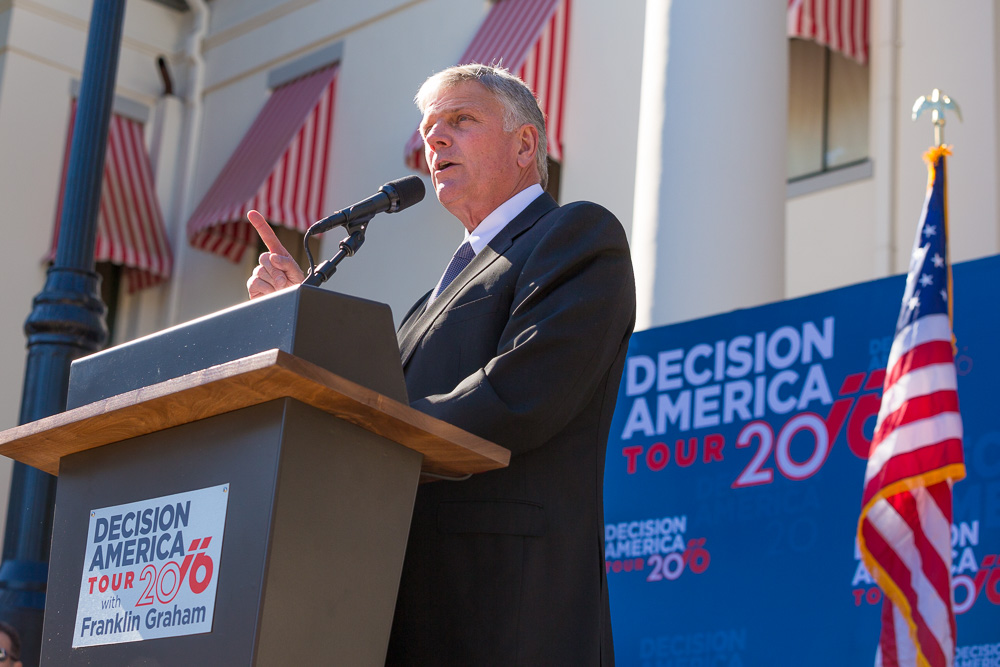 "I believe we are perilously close to the moral tipping point for the survival of the United States of America," wrote Franklin Graham in a recent Decision magazine article. "… I refuse to be silent and watch the future of our children and grandchildren be offered up on pagan altars of personal pleasure and immorality."
In January thousands gathered for the first four stops of the Decision America Tour—a series of noon prayer rallies—which kicked off on Jan. 5 at the state Capitol in Des Moines, Iowa. Other states visited this month were Florida (Jan. 12), Louisiana (Jan. 13) and New Hampshire (Jan. 19).
In February, Franklin Graham will make stops in South Carolina, Georgia and Hawaii to rally Christians to pray for their country.
Details of the tour are being rolled out throughout the year.
As people gather to intercede for America, Franklin is also preaching the Gospel of Jesus Christ in each capital, calling the nation to repentance and encouraging believers to engage the civil process by voting for godly leaders and prayerfully considering running for local office.
On the heels of several defining moments for our nation—such as the Supreme Court marriage decision, recent terrorist attacks, and wedding florists, bakers and photographers getting fined for standing by their moral and religious convictions, Franklin believes there has never been a more crucial time for Christians to stand and be heard.
"There now exists deep-seated antagonism and hostility toward Christianity in every seat of power in this nation—government, media, courts and education. It has become open season on Christians," he wrote. "Sin is openly celebrated and flaunted by the highest office in our land, and men and women of deep and sincere faith are publicly scorned."
The Decision America Tour stops—while they include a Gospel message from Franklin Graham, corporate prayer and encouragement for Christians to get to the polls—do not include any plugs for specific politicians or political parties.
"I'm not going to endorse any candidates. The goal is to get Christians to vote. There are Christians who don't vote. They think that their vote doesn't count. It does count … every vote counts," Franklin told Fox News commentator Sean Hannity in a recent interview.
"I want people to vote and look at things like school boards. Could you imagine if evangelicals were able to get on the school boards of America—the impact that would have on our nation over the next 20 years?"
For now, there is more to be done besides attending a state prayer rally and voting. Here are some things you can do to get involved in turning our nation back to God:
Join the prayer team: Become a part of your state's prayer team and follow your state's prayer group on Facebook.
Volunteer: This is a great way to get hands-on involved in the tour.
Attend a Rally: Be a part of Decision America Tour by joining us at a prayer rally in your state.
Sign the Pledge: Join Franklin Graham and commit to living out your faith with boldness.
Involve Your Church: Get free resources to help your church be a part of the Tour.
"This may be the most important election in our nation's history," Franklin said in a recent Facebook post. "America is headed in the wrong direction and only God can turn it around."