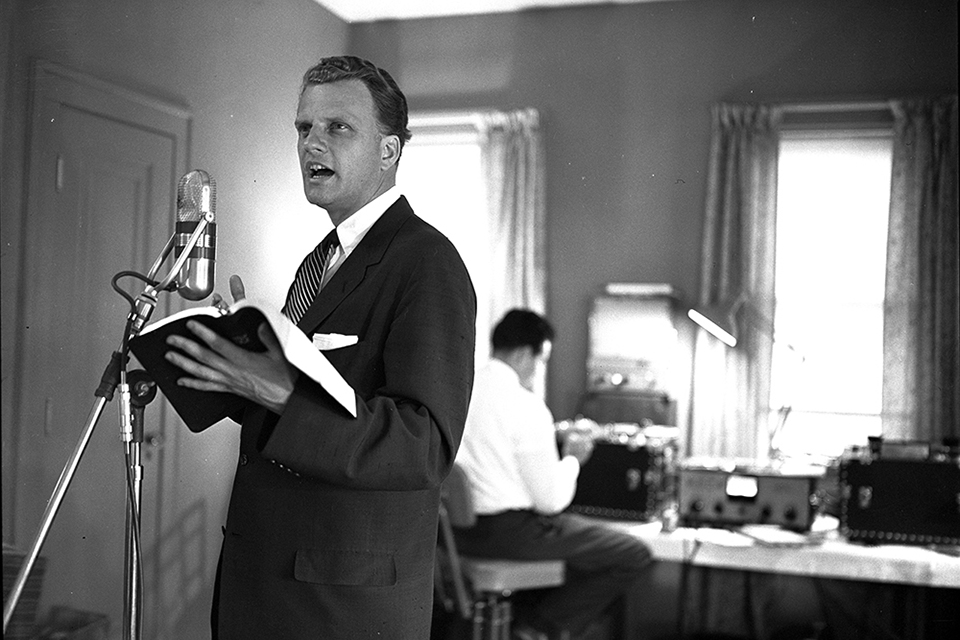 Since Billy Graham went to be with the Lord on Feb. 21, the Billy Graham Evangelistic Association has received tens of thousands of messages about how God used Mr. Graham to reach people all over the world.
Below are 10 new stories from men and women who encountered God's love through Mr. Graham and his use of radio, television, movies, the internet and more.

"During a Billy Graham Crusade in 1984, he spoke to me so clearly on TV about my sinful state and how Jesus was my path to salvation. It was the first time that I ever understood it. I went to a local church that was having a revival meeting. I received Jesus that night. Thank you BGEA!" —Terry
"I will never forget the service in a soccer field on Tan Son Nhut Air Base, Vietnam 1968. Dr. Graham came and spoke to a group of U.S. military service men and women. His testimony of God's love and grace will live in the lives of all who were blessed to hear his message. A true servant of our Lord." —Dan
"Billy Graham's televised crusades were a light that shone into the darkness of my childhood home." —Marianne
"I am only 18, but Billy Graham's ministry has done so much to bring my heart closer to Christ. I only wish I could have met him while on Earth, but I know someday I'll meet him. My greatest goal in life is to do what he did: Share the Gospel." —John
"My son, Collin, is 22 years old and has cerebral palsy. He has watched Billy Graham's messages for over 10 years. He is focused on his every word. Words cannot express the peace his words have given my son, who knows he was created this way for a purpose and this is NOT his home." —Sandy
"Billy Graham leaves a legacy the world cannot even fathom. I start each day with the devotionals he crafted. They have been a source of comfort and learning, bringing me to a closer walk with God and deepening the Word in my soul. His clear and simple message has guided, comforted and inspired me." —Nancy
"When I was 12 years old (1962) I used to sneak up to the attic to listen to Billy Graham on the radio. My father didn't like Protestants, blacks, Hispanics, etc. I knew discrimination was wrong, so I risked disobeying my dad to listen to Billy. Billy's Gospel hit me, and I accepted Jesus!" —Paddy
"A scholarship paid for by royalties from Billy Graham's book Angels was awarded to me in 1976 that enabled me to attend the Billy Graham Graduate School of Communication Studies at Wheaton Graduate School. I met Billy twice at Wheaton, graduated in 1978, and am deeply grateful for his kindness." —Daniel
"I'm a Christian because of Billy Graham. When I was a child, I was sick really frequently and fairly seriously. To help pass the time in bed, I listened to Billy Graham on the radio. He told me that God loved me and explained about Jesus. I committed to Him at that time." —Kitty
"I got saved at our downtown theatre in 1974 following the showing of A Time to Run. My life was changed forever because of Billy Graham." —Tami
A relationship with Jesus changes everything. Get to know Him today.