When Roy Graham hears his grandfather's name, he immediately thinks of his grandparents' log home in the North Carolina mountains.
It was a home visited by everyone from presidents to local pastors, from Bono to Muhammad Ali. They came for counsel, inspiration or just a quiet visit with "America's Pastor."
Two years after Billy Graham's passing, Roy Graham shared another memory from that home as he sat in the Charlotte, North Carolina-based Billy Graham Library on Friday, February 21.
"He was always reading the Word of God," Roy said. His grandfather's love of Scripture has stuck with him all these years.
"He walked out of his bedroom one time, walked by an open Bible, read two or three lines real quick—within seconds—then walked on up to the kitchen," he remembers. "My grandmother and I were sitting there by the fire and I was adding more wood to it. He came back down, read a couple more sentences on the way back to his bedroom. And I asked him, 'What could you have gotten out of that Bible in that short amount of time?' He turned around and looked at me and said, 'I sip on the Word of God all day long.'
"A smart aleck teenager was just handed it right back to him from his own grandfather."
Later in life, Roy Graham said, he would go to that same home to find giant pieces of paper around his grandfather's room.
Billy Graham's assistant, David Bruce, along with David's wife, Kerri, would print off Bible verses with huge letters, "a foot by a foot," Roy estimates, just so his grandfather could read them.
Even as his vision and memory started to fade, "he was still trying to remember Scripture," Roy said. "When he was bedridden and couldn't see much anymore, that's what was concerning to him, that he was beginning to lose his Scriptures."
Roy's father, Franklin Graham, would also come by to sit with his dad and read from Psalms and Proverbs, just as Billy Graham had done every day before.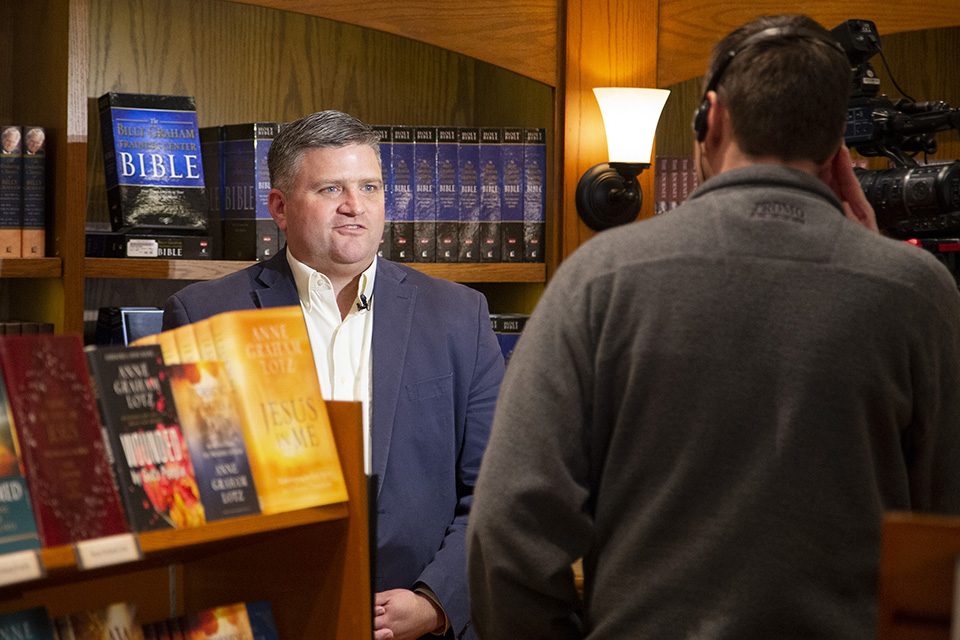 On the anniversary of his grandfather's last day on earth (February 21, 2018), Roy reflected on all that happened in the whirlwind of media interviews, an internationally broadcast funeral and even a time of lying in honor at the U.S. Capitol.
What sticks out to him most is the hours-long motorcade from Billy Graham's beloved Blue Ridge Mountains down to Charlotte where he was born.
"The thing that makes me still tear up today is watching all the people stand along the side of the road between Asheville and here and saluting him … and other things people did to honor my grandfather."
People silently lined roads and bridges to watch the motorcade pass by, some in tears, some with signs reading, "Well done, good and faithful servant." Fire trucks flew American flags from overpasses. Officers saluted the row of black cars as they slowly drove by.
"That just made me realize how much he was respected and loved," Roy said.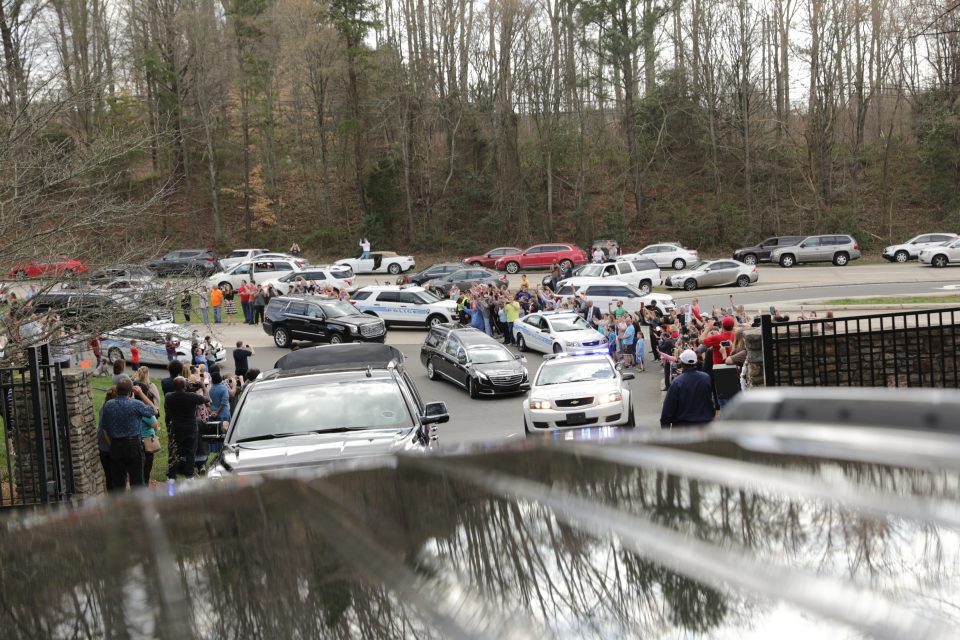 Though Billy Graham has traded this life on earth for eternity with his heavenly Father, the ministry begun in his name back in 1950 still has work to do.
"We're still sharing that story he's been sharing for 70 years, and it still goes on even though he's not here," Roy said. At the Billy Graham Library alone where the Gospel is clearly presented, "people have an opportunity to accept Christ here every single day."
That's in addition to the Billy Graham Evangelistic Association's chaplain ministry reaching people in crisis, its online evangelism outreach in six languages, a radio station, podcasts, TV programs, plus global Franklin Graham Festivals and Will Graham Celebrations.
There's also been a move to honor Billy Graham's Gospel legacy and share Christ with future generations by placing his statue—which could depict him holding a Bible—in the Capitol's Statuary Hall. The N.C. General Assembly voted back in 2015 to place the statue, which would stand alongside others like George Washington, Ronald Reagan, Thomas Edison and Helen Keller.
It's quite the honor for a farm boy-turned-preacher who constantly deflected praise.
"All that I have been able to do, I owe to Jesus Christ. When you honor me, you are really honoring Him," Billy Graham said in February 1983.
Roy witnessed firsthand that humble spirit and laser focus on Christ.
"Here's a man whose whole life was devoted to nothing but evangelism," he said.
Billy Graham devoted his life to telling people about the God of the Bible. Do you know Him?