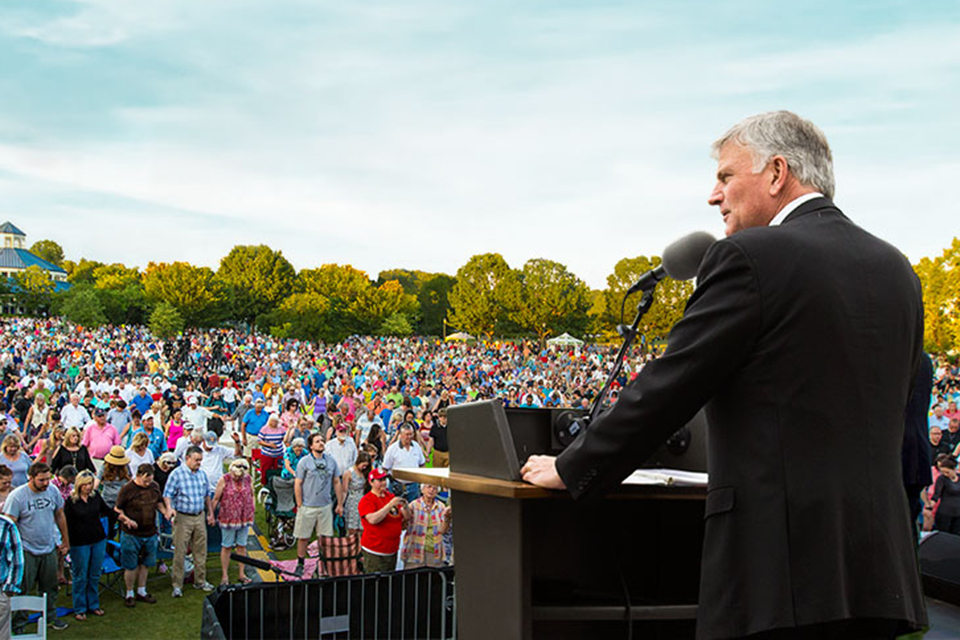 "For the Son of Man came to seek and to save the lost." —Luke 19:10

Across the United States, people are grappling with issues that can't be solved by money, politics or human effort.
"Only Jesus Christ can offer the spiritual transformation that America needs," says Franklin Graham, who is preparing to travel across Texas this fall to share the Gospel of Jesus Christ and lead Texans to pray for their communities, their state and the country.
Decision Texas: The Lone Star Tour with Franklin Graham will roll through seven cities this October, from the Gulf Coast to the Llano Estacado in the northwest.
Last year, Franklin traveled to all 50 state capitals, where more than a quarter-of-a-million people joined him to pray for America. This year, it was on his heart to get back on the road and stop in smaller cities. More than 22,000 people turned out during a four-city tour of Tennessee in May. Texas is up next, and plans are in the works to head to the West Coast and the Northeast in the next couple of years.
"I want to call God's people to prayer and invite the lost to surrender their lives to Him," Franklin Graham said.
Decision Texas: The Lone Star Tour with Franklin Graham will kick off on Oct. 11 in Lubbock before heading more than 100 miles south to Midland. The next stop will take the Decision Texas bus almost 500 miles southeast to Corpus Christi before it heads back inland to San Antonio and Round Rock. The second-to-last stop is planned for Waco, with the final event slated for Longview, about a 45-minute drive from the Louisiana border.
The bus will traverse about 1,100 miles of Texas highway by the time the tour wraps up on Oct. 19.
Decision America Texas Tour dates:
October 11—Lubbock, Mackenzie Park South
October 12—Midland, Horseshoe Arena Amphitheater
October 14—Corpus Christi, Whataburger Field
October 15—San Antonio, River City Community Amphitheater
October 16—Round Rock, Dell Diamond Parking Lot
October 18—Waco, Baylor Touchdown Alley
October 19—Longview, Maude Cobb Convention & Activity Complex
"We want to reach out to the churches all across Texas, not just in the big cities," said BGEA vice president Steve Rhoads. "That allows us to … encourage east, west, north and south, all across the state."
At each stop on the tour, attendees can expect to experience a time of prayer, a message of hope from Franklin Graham, Christ-centered music from Crowder (who's from Waco) and a fireworks display, weather permitting.
Word about these prayer and evangelism events is just beginning to get out across the Lone Star state, and Rhoads says he's already seeing some Texas-sized enthusiasm.
"Some of those smaller places are enthusiastic because those communities are not used to coming together for spiritual purposes," he said. "They'll come together for the local fair or the 4th of July, but to rally around the cross and to rally around prayer and a call for revival and reaching those who need the hope of the Gospel—that's very unusual in these smaller towns."
The Decision Texas team is searching for people who have a passion to see lasting change in their communities. There are many opportunities to get involved. "Church Insiders" will take time to speak with their pastors and help get local churches involved. "Social Networkers" will help spread the word on social media. And "Boots on the Ground" volunteers will go out to local businesses, schools and organizations with posters and flyers about the events.
There will also be opportunities to simply invite one person to come to the event. And last but not least, anyone can get involved today by beginning to pray for many people to discover the hope only Christ can offer—and the power He has to change hearts, communities and nations.
"We see this tour as being a real boost to the local church, to say, 'We're standing with you. Let's all stand together ask God to bring real, lasting change,'" Rhoads said. "These are places that need the Gospel and need the Church to stand up and be the Church. … to preach the Gospel and to see people get saved and transferred from the kingdom of darkness to the kingdom of light."
Keep an eye on BillyGraham.org for Texas tour updates and more information on how to get involved.