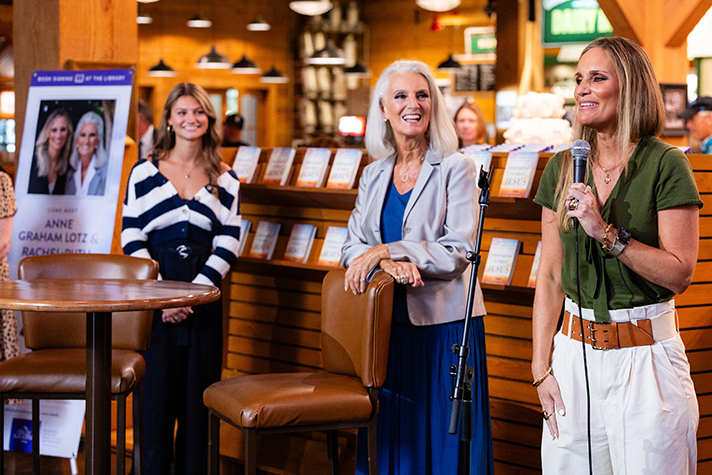 Can you imagine what it will be like meeting Jesus for the first time?
That question was on the minds of many in line Saturday at the Billy Graham Library as they waited to meet Anne Graham Lotz and Rachel-Ruth Lotz Wright.
Billy Graham's daughter and granddaughter smiled and warmly greeted each visitor while signing their new book, Preparing to Meet Jesus: A 21-Day Challenge to Move from Salvation to Transformation.
Preparing to Meet Jesus centers on the Biblical story of Abraham's search for a woman of character to marry his son Isaac—and explores the characteristics that God looks for in a bride for His Son Jesus Christ.
Bible teacher, speaker, and author Anne Graham Lotz has spent much of her life teaching God's Word and urging people to be ready for Jesus' second coming.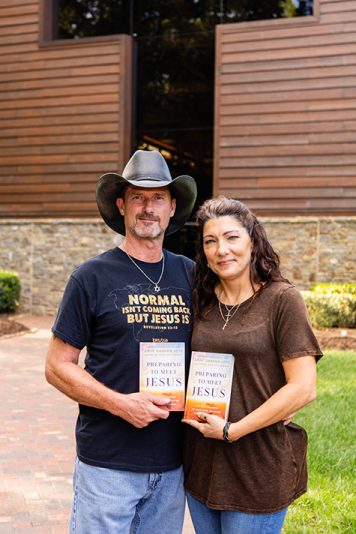 "When that moment comes, you can't get ready," she told the crowd. "You have to be ready."
Wearing a black cowboy hat and boots, Robbie Ballew's face lit up just talking about meeting Jesus.
"When you first see Him, are you going to be really ready? Or you just think you're ready and you're not?" he said.
Enjoying the peaceful Library grounds, Renee shared how grateful she was to start following Christ after watching a Billy Graham Crusade on TV in 1992.
With seven grown children, she knows what she'll say to Jesus.
"I'm going to be right there thanking Him for what He did for me," Renee said. "And what He did for me, He did for my family, because I was able to teach my children about Him."
Trisha Smith is a two-time cancer survivor, yet God has given her a deep peace and joy within.
"When you get in your 60s, 70s, you've been through a lot and you see His faithfulness through dire circumstances."
After the book signing, more than 140 people joined Anne Graham Lotz and Rachel-Ruth Lotz for Dinner With the Authors.
At tables adorned with fall flowers, guests enjoyed a delicious meal at the Billy Graham Library's Billy Kim Hall. Following dinner, Anne Graham Lotz and Rachel-Ruth Lotz Wright talked about faith, finding joy through hard times, and what comes next.
"This is our boot camp," said Anne Graham Lotz. "He's training us and refining us."
There's no need to fear death, she said, if you have received Jesus Christ as your Savior.
"Death is just when your faith becomes sight, a transition from this life into the next," Lotz explained. "For a believer, it's closing your eyes in this life and opening them in the face of Jesus."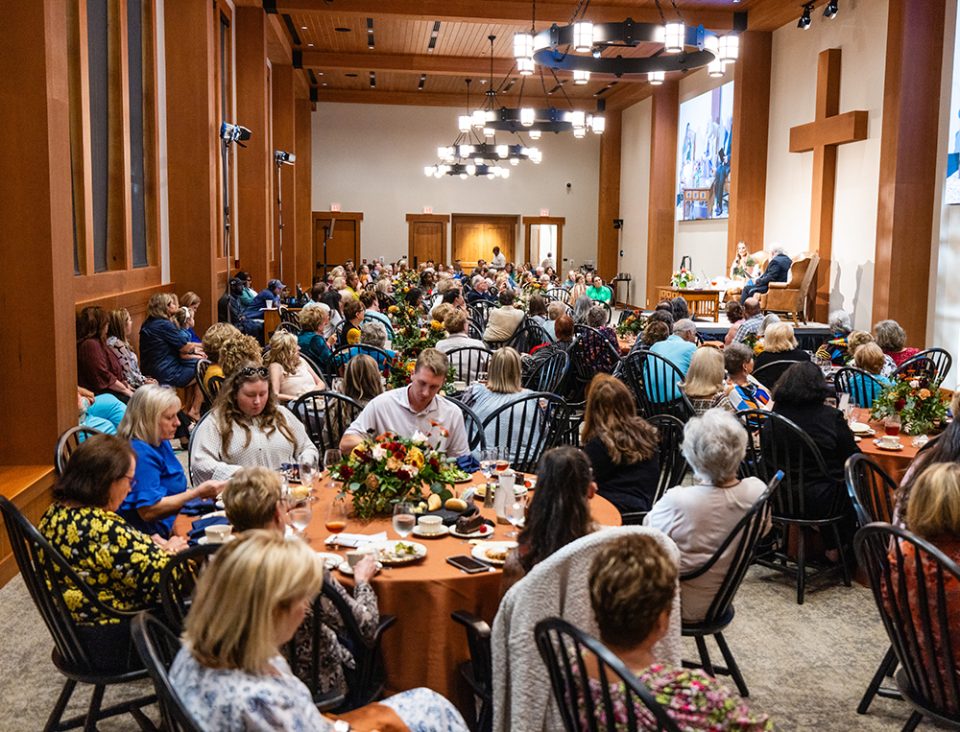 Rachel-Ruth talked about how eternal life with Christ begins on Earth.
"It's a lifelong journey of faith," she said. "It's studying your Bible, it's praying—and you get to see answers to prayer.
"He walks you through different hard things … and it becomes this wonderful journey, this love relationship."
The mother of three leaned heavily on her faith following two back-to-back heart attacks last year.
"God literally touched my heart, brought me back to life—and I'm here today," she told the engaged crowd.
While recovering at home, Rachel-Ruth reflected on what she had been through and started writing.
"This book came out of this horrible situation when I almost did see Jesus face-to- face," she shared. "When we're preparing our hearts for when Jesus comes back, … are we truly looking at what our character is like? What's my heart like?"
Lorraine Chavez lingered after the event ended, talking with her friend Trisha.
"I can't wait to get to Heaven," said Chavez. "Listening to them share about Heaven just made it sound so beautiful, much more than what we think in our minds. It makes me feel more in tune with Heaven now. Because I have … a more personal picture of what Heaven could be like."
Will you see Jesus face-to-face when you die? You can be sure.