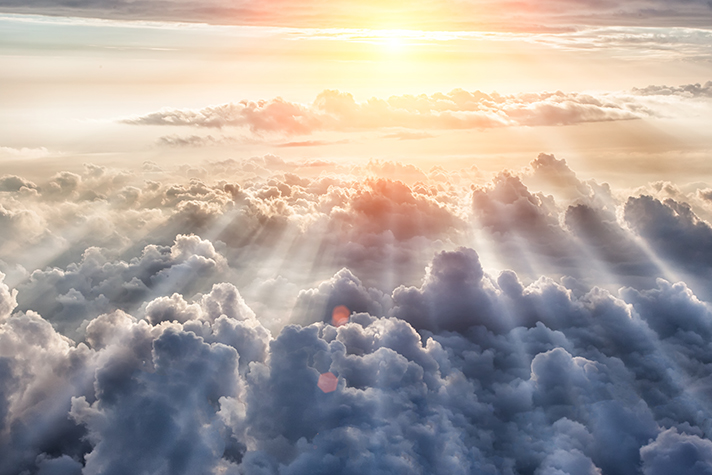 Q: What Will We See When We Get to Heaven?
We will see many glorious sites in Heaven, but the most wonderful of all will be the Savior of the world and His glory. "Your eyes will see the king in his beauty and view a land that stretches afar" (Isaiah 33:17, NIV).
Jesus Christ gave us a glimpse of this when He pulled back the curtain of Heaven and told the apostle John to write down what he saw: "Then I saw a Lamb. … I heard every creature in heaven …  singing: 'To him who sits on the throne and to the Lamb be praise and honor and glory and power for ever and ever!'" (Revelation 5:6,13, NIV).
It is part of our human nature to want to satisfy our imagination about Heaven, but God has His reasons for giving us only a taste of his eternal dwelling. Human language falls short of describing such majesty. The magnificence of earth's possessions will dim in Heaven's sunlight.
John could only express it with analogies: "Its brilliance was like that of a very precious jewel, like jasper, clear as crystal. … The great street of the city was of pure gold, like transparent glass" (Revelation 21:11,21, NIV).
Here on earth, streets are covered with gravel and asphalt, and windows are made of glass, but John writes about the golden streets that are transparent. Keep in mind that in Heaven everything is made new. We are given only snapshots of things to come. We will require a heavenly transformation to comprehend such glory.
Clouded things of earth will become transparent in eternity; now they are known only by Him. As we practice patience while waiting, let thoughts of Heaven's glory fill your soul. They will sustain you until the day your eyes are fully opened.
Peter tells those whose hope is heavenward, "You will receive a rich welcome into the eternal kingdom of our Lord and Savior Jesus Christ" (2 Peter 1:11, NIV). When He extends His arms inviting his people in, He will turn to His Father and say, "I have given them the glory that you gave me, that they may be one as we are one" (John 17:22, NIV). We will gaze at His nail-scarred hands, fall at his feet, and weep with joy, praising His wonderful name. That's what we'll see in Heaven.