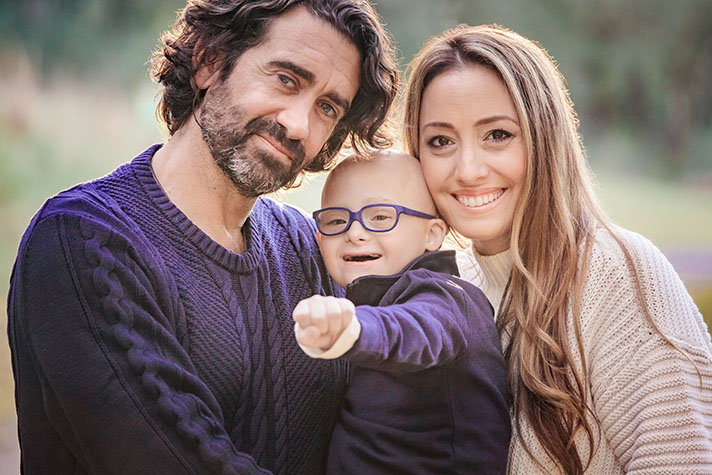 Singer-songwriter Aaron Shust has traveled the world with evangelist Will Graham and the Billy Graham Evangelistic Association to help share the Good News of Jesus Christ. This story was originally published during Down Syndrome Awareness Month in October, 2022.
When their youngest son turned double digits earlier this year, singer-songwriter Aaron Shust and his wife, Sarah, posted on social media like many parents would. For Sarah, it was her first time ever sharing anything on Facebook, but it was finally time.
Their words celebrated Michael, born on January 13, 2012—a momentous day that led them on a journey they never expected. A journey that began with some unexpected news in the delivery room.
"Four minutes after he was born, the nurse informed us that they had reason to believe that he had Down syndrome," remembered Aaron.
To say they were shocked is an understatement. "We just …," Sarah said, "we had no idea."
From the very beginning of the pregnancy, her doctor said everything looked good. "Looks like you've got a perfect, healthy baby boy," Sarah recalls him saying.
Their initial shock quickly dimmed when the couple learned that Michael, born deaf and with half a heart, might not survive. Doctors gave him less than a 1% chance of survival.
"We were really in the unknown of what's next," said Aaron. "Not just 'What's the next five years or 10 years going to look like for this baby?'"
"What are the next hours going to look like for him?" Sarah said.
"We were mourning. We were mourning the death of dreams," she said. "We were mourning a compromised baby that they said may not make it."
But Michael did make it, and the couple is beyond grateful to God for watching over him, especially through several major heart surgeries.
Posting for a Purpose
On Michael's 10th birthday, Sarah finally opened a Facebook account. She had felt a nudge from the Holy Spirit—and Aaron.
"You've gotta share," Aaron told Sarah. "I was able to sit back over the years and witness people be impacted deeply by my wife's words."
Sarah eventually agreed, saying, "Yes, but I'll do it afraid," admitting it's sometimes easier to live quietly.
"Whatever it looks like, I am only here for the kingdom of God. What I know to be true about Scripture and about God's love and faithfulness is meant to be said out loud and not just for me to hold.
"Michael's not mine for the keeping and only mine, but I believe a boy that can shine bright and be a testimony to the kingdom, can be a testimony to God's faithfulness."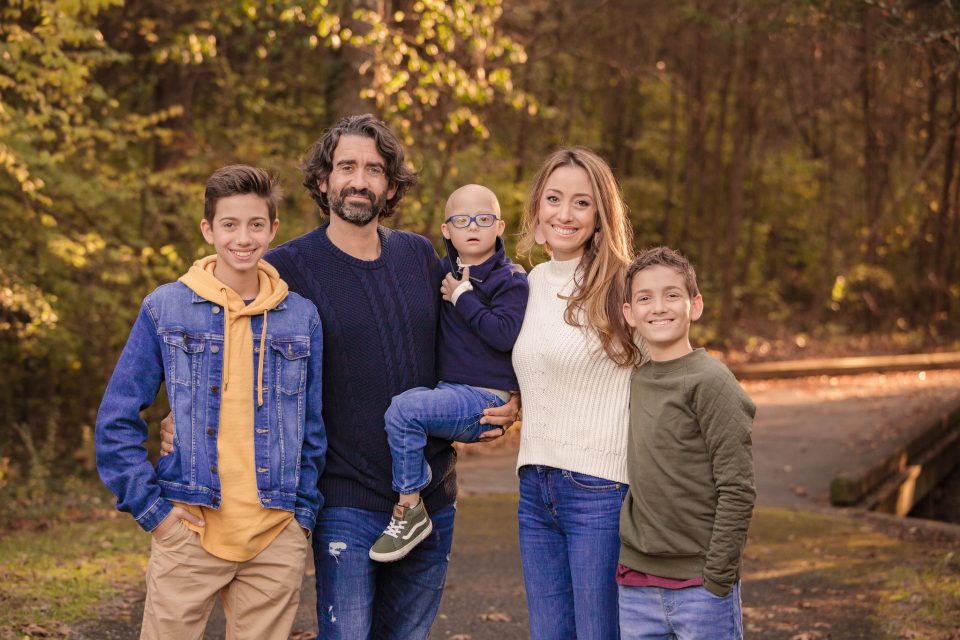 Advice for the Journey
Parenting a special needs child comes with unique challenges, Sarah said.
"I think you need to give yourself a lot of grace," she added, knowing every day may present something new.
Committing to their marriage first, she said, has meant everything: "We're in it together."
"I think that a huge foundational common ground that we have is that, come what may, God is sovereign," said Aaron. "So when things happen that are out of our control, we can take a moment, exhale and come together and say, this is in God's hands."
He also talked about their witness to others and how everyone is going through something.
"While we're in the wilderness that we're in, how do we respond? How do we react? Do we shake our fist at God and let people know that we're not happy? Or do we say God, we trust You and we worship You and You are good."
The Christian artist's songs speak volumes on that front.
"I've been singing these words for a long time—'I'm not skilled to understand, what God has willed, what God has planned,'" he said.
"But we step forward in faith."
Don't Isolate
Many times, special needs families choose to stay home because of physical challenges, sensory overload, and more.
"They aren't isolating for no reason," said Aaron. "They may not be able to handle it if their child has an outburst, just because people don't know how to react.
"The challenge, ourselves included," he said, "is to find a way to do things—the zoo or sporting events, for example—and to break out of our comfort zone."
Sometimes it's trial and error.
Once they were at a hibachi restaurant celebrating their son Daniel's birthday when the chef ignited a tall flame on their tableside grill. "Michael screamed and crawled under the table, and spent the rest of the night under our feet," he said.
Getting together with friends takes a little extra planning, too.
A lot of people don't know how to connect with special needs families, explained Sarah. The mother of three recommended doing your homework.
"Get to know the child through the parents first," she said, knowing every child has different needs. "Ask questions and serve from a place of knowledge instead of assumption."
If you're someone who really wants to get together with a special needs family, find ways to make them comfortable, added Aaron.
"Whether you invite them over, go to their house, or meet somewhere, it's going to be a little bit different. And that's okay."
Living Full of Faith
One of Michael's favorite moments of the day is hopping off the school bus.
"He's so excited," said Sarah. "You cannot match his experience or feeling his emotion. Just pure joy."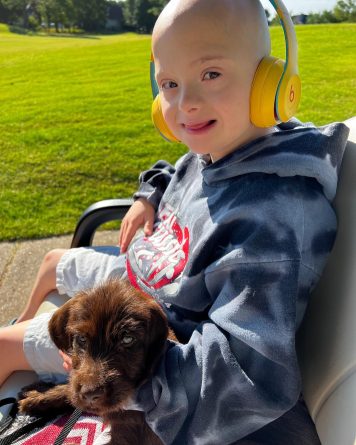 It's like Romans 12:15 says: "Rejoice with those who rejoice, weep with those who weep" (ESV).
Sarah chuckled recalling a conversation with their son Daniel years ago. "Mommy, I love you so much, but Michael's my favorite."
"It's okay," Sarah assured him. "I get it, I get it."
Michael—and millions of others around the world with Down syndrome have a unique perspective on life, Aaron added.
"There's something about Down syndrome that is more like God's kingdom," he said. "There's something about [Michael's] living unafraid and living without boundaries and living in a way that's full of faith.
"And not necessarily understanding the great doctrines or theology.
"Because I'm able to see that, I believe that I have a clearer window into the heart of the Father through my son, Michael."