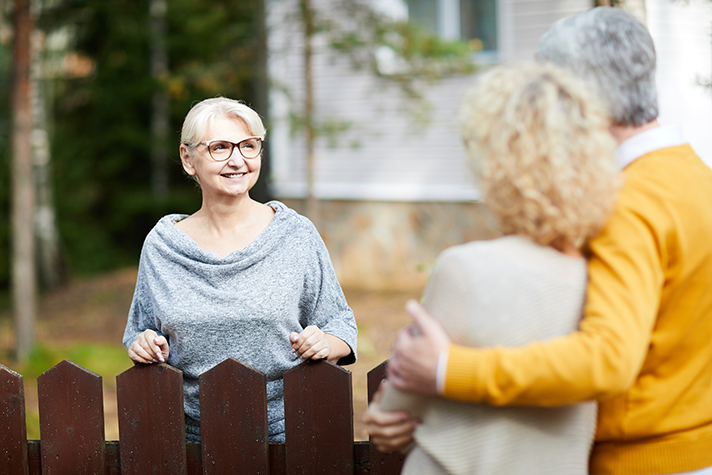 Wandering outside more these days? Stay-at-home orders and beautiful spring weather have given many people a chance to chitchat and meet neighbors from a safe distance.
With so much fear and negativity surrounding the COVID-19 outbreak, offering your neighbors some encouragement can be refreshing. Plus, with no televised sports or after-school activities, your cul-de-sac may contain a captive audience eager for good news.
Next time, when the conversation inevitably turns to the coronavirus, why not seize the opportunity to share your faith story? Every Christ-follower has one. It's how you came to trust God as your Savior and how He's changed your life.
Try starting with something like this:
Neighbor: This staying home thing is getting old.

You: It's hard for sure, and I'm sorry for the reason. But I'm trying to keep positive and stay grateful. God has blessed me—I wasn't always like this. I used to be …
Then, take a couple minutes and tell them about the old you and why you've changed.
>> Before you can share your story, you have to know your story. Use this tool to help you write it down and practice sharing.
You don't need to have an amazing testimony. What makes it meaningful to someone is that you're taking the time to open up to them and share something personal.
Still thinking, "Not me. I don't feel comfortable talking about my faith?"
As Christ-followers, it's really not about us. It's about loving our neighbors the way God loves us. In Matthew 28:19, Jesus said, "Go and make disciples of all nations."
And, God commanded we tell others how to find peace and purpose in Him.
Billy Graham said to never pass up an opportunity to tell others about Christ's love: "We are stewards of the Gospel. The power to proclaim the greatest news in heaven and earth was not given to the angels; it was given to redeemed men. Every Christian is to be a witness."
>> Be empowered by this story: Sharing Your Faith 101
Afraid you won't have the right words? In Luke 12:12, Jesus promised that the Holy Spirit will tell us what to say in that moment.
Remember, you don't have to worry about convincing someone they need God. In fact, you can't. That's up to His Holy Spirit to open their heart to the Good News and convict them of their pride. All you need to do is tell them about God's work on the cross that saved us.
This can include sharing these telling words from Billy Graham: "There must be a decision for Christ—here and now—in this life." Make it clear there's no "gray area" in this matter, it's black and white. No decision for Christ is a decision.
Invite them to watch your church service online. When your church reopens after the COVID-19 outbreak, follow up with a personal invitation to come with you.
>> Read Billy Graham's Answer: How Can I Convince Someone They Need God?
>> Check out this answer from Billy Graham about witnessing.
And don't forget to pray for your neighbors. Ask God to open their heart to some good news.
But most of all, don't waste this window of opportunity to share the reason for our hope.