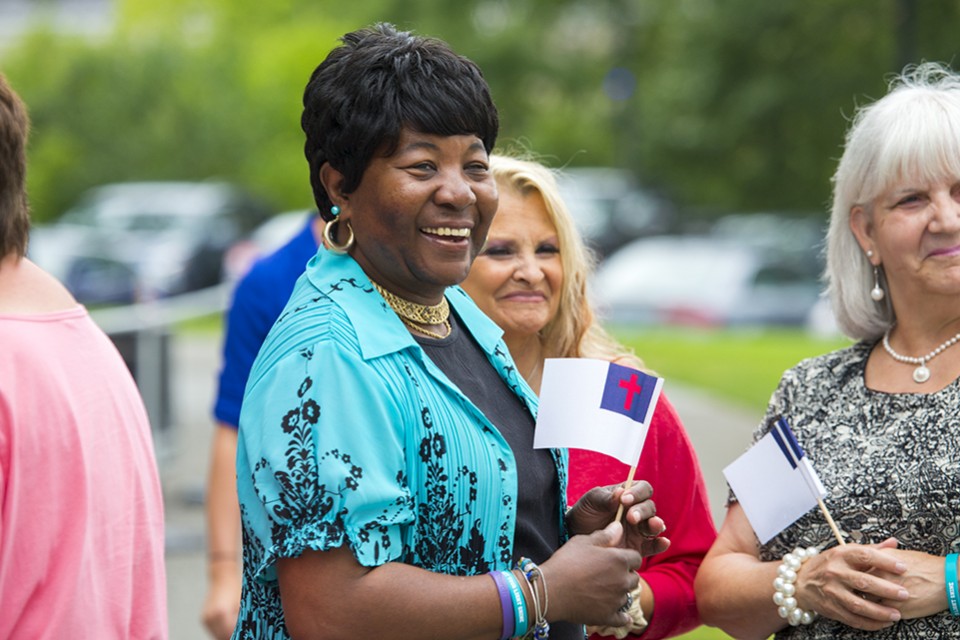 Enthusiastic crowds have come out in droves to publicly voice their faith and patriotism at each of the first 41 stops on Franklin Graham's Decision America Tour.
The evangelist embarked on the 50-state tour in January to encourage Christians to stand up for their beliefs—specifically when it comes to the 2016 political races. More than 170,000 people have joined Franklin Graham, who consistently urges Christians nationwide to pray, vote and engage.
"It's time for the church to stand up and for the Christian voice to be heard across this state and across this country," Franklin Graham said during his most recent tour stop in Hartford, Connecticut.
Nine prayer rallies are left on the Decision America Tour schedule, and Franklin Graham is scheduled to stop this week in Delaware, New Jersey and Pennsylvania.
The tour will wrap up in October when the bright red and blue buses roll to the last six State Capitols: Lansing, Michigan; Indianapolis, Indiana; Columbus, Ohio; Annapolis, Maryland; Richmond, Virginia; and Raleigh, North Carolina.
Franklin Graham has made it clear many times that he is not endorsing any candidate or party.
"I'm running a campaign for God to put God's voice back into politics," he has said at almost every prayer rally. "And we need men and women who are not ashamed to mention Jesus Christ's name in public."
And as he heads to the last nine states, his message goes forward.
"The only hope for this country is if the people of God are willing to take a stand for truth and righteousness.