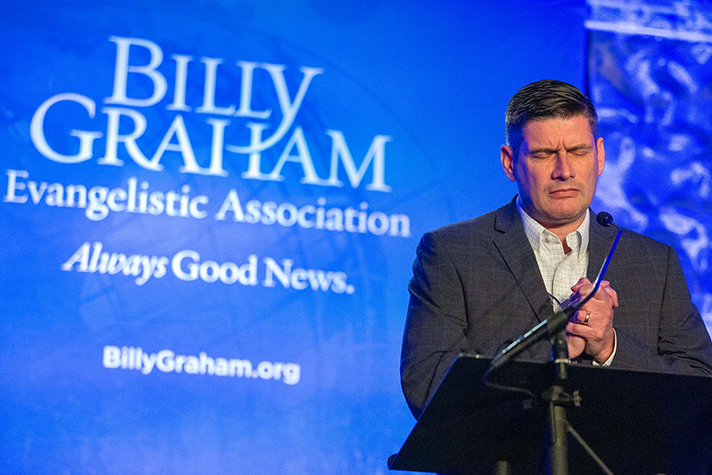 When Rafael Caudillo received an unexpected invitation to the Church Leaders Summit, he and his wife Tabitha began planning. The young couple drove eight hours with their infant daughter from Bismarck, North Dakota—where Rafael pastors Revive Christian Church—to Rapid City, South Dakota, for the full-day event meant to encourage and equip pastors.
"We love the Rapid City area so we thought we'd make a couple days of it and come down and network with some people," said Rafael, one of more than dozens of pastors and church leaders from six states who attended the event hosted by the Billy Graham Evangelistic Association.
Though the social distancing realities meant the room had to be situated to seat a much smaller attendance than originally planned, those who made the trek heard challenging and edifying messages focused on evangelism, discipleship, leadership and ministering in times of crisis.
"God loves this world, but God is going to judge this world. You can't talk about the love of God without the judgment of God," Will Graham said, pleading with pastors to be true to the Bible—even if it's not popular.
"If you don't believe me, look at the cross. Jesus bled and He died on a cross so that you and I could live. We need to preach the judgment of God as well as the love of God."
Graham went on to encourage pastors to make evangelism a focus in their churches, highlighting this unique season of life.
"With COVID-19, we've seen our idols brought down. No sports, no movies, no concerts. Our almighty dollar is a rollercoaster," Graham said.
"My friends, God is at work in this country right now. It's time for us to be awake. The time is now! The harvest is now!"
Nick Garland, recently retired pastor of First Baptist Church of Broken Arrow, Oklahoma, also addressed the assembled church leaders with stories of seeking and salvation.
"They don't know which way to go, but they know they aren't happy where they are," said Garland, speaking about those around us every day. "The truth is, the world needs Jesus. The world has always needed Jesus."
Garland shared that a 19-year-old man broke into his church and did tens of thousands of dollars' worth of damage. Garland, though initially angry and wanting justice, ultimately had an encounter with the young man in which he forgave him and led him to Christ. Later, the entire church forgave the teenager, who is now a pastor and making an incredible impact in his homeland of El Salvador.
The story had an emotional impact on many of the pastors in the room, including Rafael Caudillo.
"Given the turbulent time that we've all been walking through in a variety of ways with racial issues and so many different avenues out there, I've been walking through this place of exactly what Nick spoke," Caudillo said.
"Lord, forgive me for not been embracing what You've been calling me to—to love You and love people," he said.
Jonathan Harms, events manager with Rapid City's Breeze Radio, also shared what God revealed to him through seeing churches from across the city and greater region gather in unity.
"Coming here this morning during worship, I really felt [like it was] a special moment because I realized that this is the Church in one room together and I think that's pretty rare," Harms said.
"We don't all have to be the same thing," Harms referred to the varying churches in attendance. "We're all saying the same truth but we're doing it as different parts of the body."
And that truth—Christ's death and resurrection, the hope we have in Him, and the eternal importance of proclaiming it—made a lasting impact on Harms, especially as Graham called pastors to embrace it.
"We don't realize how safe the language we hear is every day until somebody says something as bold as Will said this morning. That's a brave thing to say, but it's not, because he's just talking truth," Harms said.