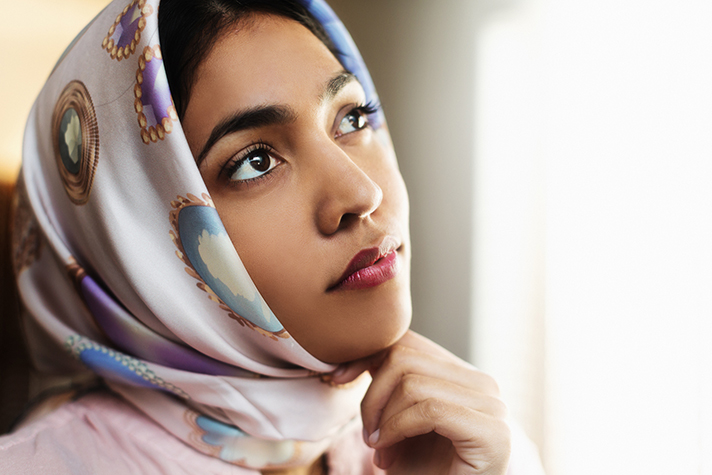 They threw burnt car oil into his watch repair shop and said it was a warning; next time they would burn it down. On the village walls they painted words like "repentance or beheading," and "kick out evangelicals"—words that led straight to his family's home.
Ahmad* was a gym teacher and shop owner completely changed by Jesus Christ. His neighbors weren't happy when he started leading others to the Savior.
These were neighbors who considered themselves Christians but who saw Ahmad's evangelical faith as "new teaching" that threatened the church.
With their lives at stake, Ahmad and his wife Nour* moved with their four children from the Middle East to the United States in 2010. Since January, they've volunteered with the Billy Graham Evangelistic Association's (BGEA's) online Arabic ministry, where they interact with Muslims curious about Christianity.
So far this year, the Arabic ministry has seen:
365,408 website visitors
164 indicated decisions for Christ
The couple is joined by eight other trained volunteers across the United States and Canada who are part of this year-old ministry.
When Ahmad and Nour first came to America, they felt like "fish out of water" with nowhere to serve, Nour said. There aren't nearly as many Arabs in the U.S. as there were back home, they explained through an interpreter, yet that's exactly the population God put on their hearts.
They asked their daughter to pray for a ministry opportunity to open up, and before long, she heard about Salam Maa Allah, the Arabic outreach of BGEA's internet evangelism ministry, Search for Jesus.
>> Do you have an Arabic-speaking friend? Share the Gospel through this interactive website.
Ahmad now works as a jeweler, and Nour is a housewife. Both are answering God's call to reach people with the truth of the Gospel.
Back in the Middle East, Ahmad said, it was hard to talk to Muslims freely. Now, he continued, the couple can talk to them openly online, without persecution.
"We can share the Gospel clearly," he said, adding they don't have to worry about people turning violent.
Most people who come across the online ministry are from Iraq. They connect with one of BGEA's Arabic-speaking volunteers—like Ahmad and Nour—through the Salam Maa Allah Facebook page, where they can interact more privately via direct message. The people Ahmad and Nour talk to have lots of questions just like they did when first learning about Jesus.
>> Read More: How to Share the Gospel with Muslims
Ahmad and Nour speak highly of a Christian pastor they met while living in the Middle East. He was hospitable, loved his family well and would talk to Ahmad and Nour until 3 a.m. about the Gospel.
She Had Lost All Hope
Sara* came across BGEA's online Arabic ministry as she was looking for someone to help her find meaning in life. She had lost "hope in the world" and wanted peace. A trained ministry coach named Fatima shared how Christ lifts our burdens and takes away our sins, sparking Sara to ask more questions and say she wanted to know everything about Him.
Sara began reading the Bible in Arabic on her phone and sent Fatima a screen shot of a passage she was reading from Luke. Sara soon decided to become a follower of Christ and asked Fatima for discipleship lessons so she can grow in her faith. Fatima happily sent them her way.
"He would say, 'Don't leave my house until I answer all your questions,'" Nour remembers.
It was through that pastor that Nour and her husband became Christians in 1994. Now it's their turn to respond to a wide array of questions online—like how to find peace. That's a big one, especially for an area of the world that's seen a lot of war.
One young Yazidi woman living in a refugee camp connected with Nour by accessing the internet through her phone. The fact that the woman told Nour where she was located is huge. So is sharing a person's real name, like another woman did with Nour after committing her life to Christ.
It's important for any of the Arabic volunteers to let people online know they can trust them, that there's a safe space to ask what's on their hearts.
One man told Ahmad, "You are blessed because you have God's love for you." Ahmad let him know that he, too, is loved beyond comprehension. The man ended up asking Jesus into his heart.
'I Could Be Part of the Puzzle'
"When you try to tell them God loves you, they don't understand you because they don't know a God of love," another volunteer named Elham* said. "It's almost unbelievable to them, that God loves them."
Elham lives in Canada where she works with special needs children. She's one of BGEA's Arabic volunteers and has corresponded with about 800 people online since joining the team in February.
As a Syrian who came to Canada in seventh grade, Elham grew up going to church, but it took a while to understand this Good News everyone was talking about.
"I didn't know that [God] could be my Father," she said. The idea of a personal God is a new concept for Muslims, she said, many who are used to a "hard, uncompassionate god."
Some people she talks to get defensive when she shares the Gospel. Others, Elham said, "are receptive and they ask questions."
They ask how to find purpose in life, whether God cares about them and who Jesus is.
>> Is Jesus God? How can that be? Find answers.
"We try to talk to them in their language," Elham explained. Volunteers are trained to use religious terminology familiar to their Muslim audience.
Often, the people she talks to are going through something major. They might be sick, suicidal, have marriage or financial problems, or be depressed.
Elham realizes she could be the first person to talk to them about Christ—how He cares about their lives, and provides guidance and hope for the future.
"I could be part of the puzzle for that person," she said.
Elham typically volunteers from her living room, cellphone in hand, as she chats with people online through her phone. As a mom, it's convenient to volunteer in the evenings or on Saturday mornings while her children are doing homework or watching TV. She can't see the person on the other end of the digital connection, but asks God for wisdom before each conversation.
"Before I start, I tell Him, 'I am depending on you, Lord. … I don't know the person I'm talking to, but You do.'"
'The Heart of Jesus'
Elham knows every conversation isn't going to end with someone getting saved, but each one is equally important. At first, she was discouraged that some Muslims she spoke to online wanted to argue, but over time, she's seen many ready to accept Christ.
"It's a privilege for us to be able to testify about God," she said. "It's a seed that we plant. I might not see it grow, but He is faithful to water it."
BGEA's Arabic ministry can also send people online discipleship resources to help them grow in their faith.
"I believe evangelism is the heart of Jesus," Elham said. Simply sharing what God is doing in your life can attract people to Him and make a huge impact, she added.
Even if it's from your living room on a Saturday morning.
>> Learn more about volunteering with BGEA's online Arabic ministry.
*Names changed to protect identity.