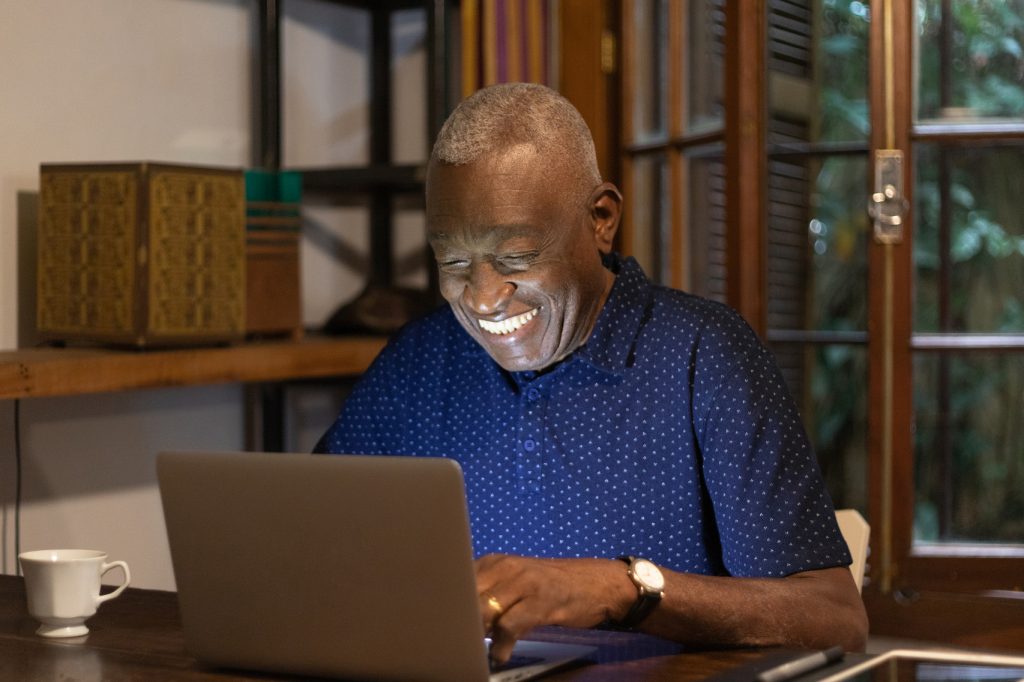 Since the outbreak of COVID-19, people have been turning to the internet for answers to spiritual questions that suddenly seem more pressing.
At the onset of the crisis, Billy Graham Evangelistic Association's online ministry Search for Jesus (SFJ) created new Christ-centered web pages to point people to hope in the midst of the pandemic. These pages are available in English, Spanish, Korean, Arabic, Mandarin and Portuguese and have been visited by more than 233,000 people and counting. Many have clicked to connect with a volunteer chat coach, leading to some life-changing spiritual discussions.
Others are sending spiritual questions to chat coaches through Facebook Messenger on the PeaceWithGod.net Facebook page and its Spanish version, PazConDios.net.
Below is a recent story about an older man who just celebrated his "spiritual birthday."
Fear, Grief & COVID-19 'House Arrest'
A man in his early 70s told a Search for Jesus chat coach he was struggling over losing his father in the midst of the COVID-19 pandemic.
"My dad passed on March 30th, and this pandemic has got me loaded with so much fear and anxiety," Walter* typed.
"So, so sorry about your dad," typed Jordan*, the trained volunteer chat coach. "How are you holding up?"
"I'm not doing too well, because I wanted to give my dad a better 'sendoff,' but because of pandemic restrictions, I just couldn't," Walter said. "And this pandemic has made me feel like I'm on house arrest."
"Me too," Jordan typed.
Jordan asked how Walter felt about his relationship with God. Walter said it could be better. Then Jordan asked a question that quickly identified something that's been holding Walter back spiritually.
"If you were to stand before God, and He were to ask you, 'Walter, why should I let you into Heaven?' what would your answer be?" Jordan asked.
"I've tried to be a good and decent person all my life, if that accounts for anything," Walter answered.
That's when Jordan asked him to read a couple of verses from the Bible: "For by grace you have been saved through faith. And this is not your own doing; it is the gift of God, not a result of works, so that no one may boast" (Ephesians 2:8-9).
"It kind of sounds that being a good and decent human being isn't much for me to offer God," Walter typed back.
"Exactly," Jordan replied, explaining that no one on earth can ever be good enough or holy enough to save themselves from sin.
"God loves you so much, Walter," the coach continued. "He wants a personal, intimate, one-on-one relationship with you. But God is holy. We can't go to Him any way that we want to."
Jordan explained what the Bible says about God's intolerance for sin, and that the penalty for sin is death (Romans 6:23).
"But God loves you so much that He sent Jesus to die on the cross in your place, to pay your death payment in full," Jordan shared. "Now, because of Jesus' death, you can have a relationship with God. Are you ready to have that?"
Walter said he thought he had been ready in the past, but when he had prayed to accept Jesus, he didn't feel a "change of heart." He also shared about the anxiety and depression he's battled for many years.
Jordan said the key to a changed heart is faith—believing that Jesus is who He says He is.
"Jesus promises in Revelation 3:20, 'I stand at the door and knock. He who hears my voice, and opens the door, I will come in to him,'" Jordan typed.
"Jesus is talking about the door to your heart. He promises He will come into your heart if you ask Him to. You must believe that He will, … not because of what you feel, but because it is what He promised, and He would not lie to you. … We are saved by faith (believing)."
Walter made it clear that he wanted to accept Jesus through faith.
"We can settle this once and forever right now, Walter," Jordan said. "I can help you with that."
"Please do," Walter responded.
"Do you believe that Jesus lived, died for your sins, and was resurrected?" Jordan asked.
"Can you admit that you are a sinner and you need a Savior? Do you understand that there is nothing you can do to save yourself?"
"Yes," Walter answered each question.
"Is it clear to you that God is HOLY and gets to decide how you are to come to Him? Jesus said in John 14:6, 'I am the way and the truth and the life. No one comes to the Father except through Me.' This is the way that God has chosen to accept you. These are His rules. Are you willing to accept them?"
"Yes."
Jordan then led Walter through a prayer of repentance and faith, as he asked Jesus to come into his heart.
"Remember this date," Jordan typed. "This is your 'spiritual birthday.' Today you have been born again. Your life will never be the same."
"Please pray for me so much!" Walter typed. "It's hard to see the computer keys with moist tears!"
Jordan shared one last verse—1 John 5:13: "I write these things to you who believe in the name of the Son of God, that you may know that you have eternal life."
"He is writing this so you may 'KNOW' you have eternal life," the chat coach emphasized. "Not 'hope' you have eternal life, not 'pray' you have eternal life, but you may KNOW you have eternal life!"
"I want to hold onto that Scripture forever!" Walter said. "I don't know what else to say except GOD BLESS YOU!"
Jordan told Walter it had been an honor and privilege to help lead him to Christ. Then the coach directed him to take the next step of faith by enrolling in the free follow-up course, Know Jesus.
Jordan's parting words to the new brother in Christ: "I look forward to meeting you in Heaven one day!"
Do you have spiritual questions? Need someone to pray with you? You can connect with a chat coach 24/7.
*Names changed to protect privacy