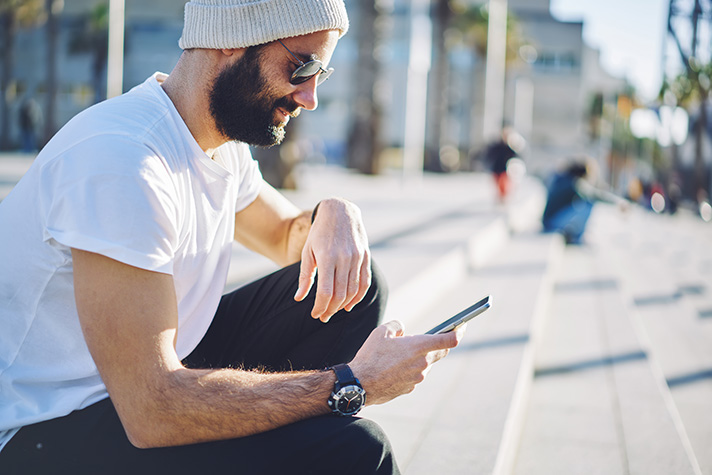 As millions of people turn to the internet for answers, God is using this global platform to draw people to Himself.
In 2012, the Billy Graham Evangelistic Association began an online ministry called Search for Jesus—and today more than 1,500 trained volunteers connect individually with those asking questions about eternal truth or longing for a closer walk with God.
Whether people reach out via email, online chat, or social media, volunteers help address their spiritual needs by pointing them to a relationship with Jesus Christ. Volunteers often refer them to one of the ministry's online discipleship courses and connect them with a church in their area.
Believers from every state in the U.S.—and other countries around the world—have served with this 24/7 ministry, which is available in English, Spanish, American Sign Language, Portuguese, Arabic, Chinese, and Russian. Since Search for Jesus began, over 19 million people across the globe have indicated decisions for Christ.
Evangelism isn't just a calling for pastors and clergy, but for all Christ followers. As Billy Graham once said, "One of the greatest priorities of the church today is to mobilize the laity to do the work of evangelism."
And that is exactly what Search for Jesus enables Christians to do: evangelize to the nations from wherever they are.
Deryl Holliday started volunteering with Search for Jesus more than a decade ago. After retiring from over 50 years in the pastorate, Holliday remembers being excited to continue ministering to others online.
"My love for evangelism is greater because I've been in this ministry," said Holliday, a chat volunteer.
He told about a conversation he had with a man from Malawi named Thoko.*
"I would like to follow Jesus Christ because I was born a Muslim," Thoko explained in an online chat. "I have decided to receive Jesus as my personal Savior so I would like you to help me."
Holliday made sure Thoko understood the Gospel and then helped him pray to receive Jesus Christ in repentance and faith. He also addressed questions about the Bible and encouraged Thoko to join a local church.
"Please keep encouraging me," Thoko said later, grateful to have a brother in Christ available to support him in his faith.
At over 80 years old, Holliday hopes he can live to be 100—and continue volunteering for years. "God put me here," he said. "I can see His hand at work."
Holliday thought back to another message he received from Musaka* in Uganda. "I have a lot of questions, but I don't have answers," this 22-year-old aspiring doctor said.
Musaka felt guilty about sin in his life and wondered if God could forgive him.
As the two chatted back and forth, Holliday shared the Good News that God offers forgiveness from sin through a relationship with His Son Jesus Christ. Relieved to hear this truth, Musaka prayed to surrender his life to Jesus Christ that day.
'I Kept Walking Towards God'
Discipleship volunteer David Cooper has also had many conversations with people online on the topic of forgiveness.
A Muslim man named Shah* had enrolled in an online discipleship course through Search for Jesus and was eager to know more about walking with the Lord.
"Will God forgive me? Will God help me?" asked the Afghan immigrant to Tajikistan. Shah spoke Farsi and limited English. Cooper responded to his questions in simple English, explaining the Gospel message.
Shah was able to understand the Good News and Cooper led him in a prayer confirming his decision to follow Jesus Christ and receive salvation.
Shah later messaged Cooper, "I am very happy that God has forgiven me."
Cooper was able to help connect Shah with a local church and sent him a link to an online Bible in Farsi.
Because Christians can face severe persecution in Tajikistan, Shah confided in Cooper that he was concerned for his life. Cooper connected him with people who could support him in his newfound faith in Christ.
Despite the difficult circumstances, Shah praised the Lord for the spiritual guidance he received online.
"I kept walking towards God. I said 'God help me.' God is very kind and sent you," he said.
*Names changed to protect privacy.
>>Reach people online with the Good News of Jesus Christ by becoming a Search for Jesus volunteer.
How you can pray for this online ministry:
Pray that many more people around the world will accept Jesus Christ as their Lord and Savior through this internet outreach.
Pray that Holy Spirit will direct volunteers to searching hearts and use them to answer deep spiritual questions.
Pray for those seeking a church home to be connected with a community of believers through our online church locator.