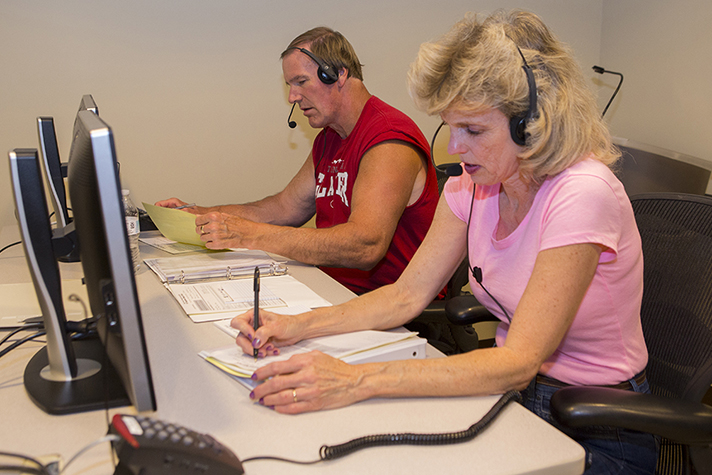 "I would pay money to do this."
Judy Turner started talking to people on the phone about Jesus 13 years ago. She's part of BGEA's TV Telephone Ministry (TVTM), where people who watch Billy Graham programs on TV see a number on the screen and call in. Each caller is connected with a volunteer who's trained to offer spiritual guidance.
In May, Judy spoke to a 16-year-old girl in Maryland who watched a Billy Graham Classic on TV one day after school.
"She said she'd done some really bad things and started crying," Judy said. The teen didn't think God would accept her in heaven, and thought the forgiveness Jesus offers was "too good to be true."
Judy shared what the Bible says about mercy and redemption. She helped the high school sophomore understand what John 3:16 has to do with her. The teary-eyed teen prayed over the phone with Judy to accept Jesus' forgiveness and dedicate her life to Him.
Judy encouraged her to read more in the Bible and to go to church where she could learn about God.
It's not just a preacher's job to share Christ, Judy says; it's up to everyone who calls themselves Christians.
"We're all commanded to witness, and this is a way," she said about TVTM. "I don't think it can get any easier."
From BGEA headquarters in Charlotte, North Carolina, Judy and her husband, Earl, volunteer to answer the phones every chance they get. Nearly all eight of their children have been trained for the ministry as well, although a few had to wait until they turned 18, the minimum age requirement for volunteers.
Judy remembers one call where her son, Brandon, shared some Bible verses he learned in Awana—a youth-centered evangelism and discipleship program—and led a man to Christ.
There are plenty of people out there who need hope, Judy said.
"They're coming to you," she explained about TVTM. "You don't have to feel intimidated. … God has been working on them and calling them. … It's almost as if the fish are jumping in your boat."
Just a couple of weeks ago, Judy took a call from someone who had dialed the wrong number. She assured the caller it wasn't the wrong number and ended up leading the person into a relationship with Jesus.
She makes sure callers really understand salvation—how it's not about praying a prayer, but about what Christ accomplished on the cross, and what that means for each of us.
Sometimes the call is difficult, or the person on the other end hangs up, but there are so many wonderful calls in between, Judy said, that it's all worth it.
A Jewish woman who was dying of stage four cancer called once and asked why God had to have a son. Judy explained how Jesus was God in human flesh and how that fits into His plan of salvation. By the end of the conversation, the woman had begun a new life with Christ. She told Judy she was going to call a church down the street and ask about being baptized.
Another call Judy took was from a man several states away who was so excited to follow Jesus. The man said he was going to throw out his porn collection and start leading a clean life.
Then there was the woman who called while her husband was at a church prayer meeting with their children. The woman confessed she'd been having an affair and planned to leave that night—her bags were packed. But her husband had left the TV on and there was a Billy Graham Classic airing that night. The woman told Judy she realized she wasn't saved, and after talking for a while, said she was bringing her bags in from the car.
Calls like that are the reason Judy and Earl check the volunteer schedule when planning their vacations. They don't want to miss a chance to answer the phones.
Occasionally Judy gets a call and talks to two people at the same time. And sometimes, a caller wants to hand the phone to a family member—a parent, child or spouse.
Judy is there to offer guidance and prayer. And Judy is praying, too, asking God to direct her responses.
"He does the work," she said. "It's not my words or my savvy; He's got to do this."
Other volunteers are there to pray over the calls—not just those calling in, but the ones taking the calls as well.
Judy says being part of TVTM has strengthened her own faith, too, as she witnesses one person after another discovering God's love for themselves.
"You can't lose the wonder of what He's done," she said.
Would you like to volunteer with BGEA's TV Telephone Ministry? Find out more.