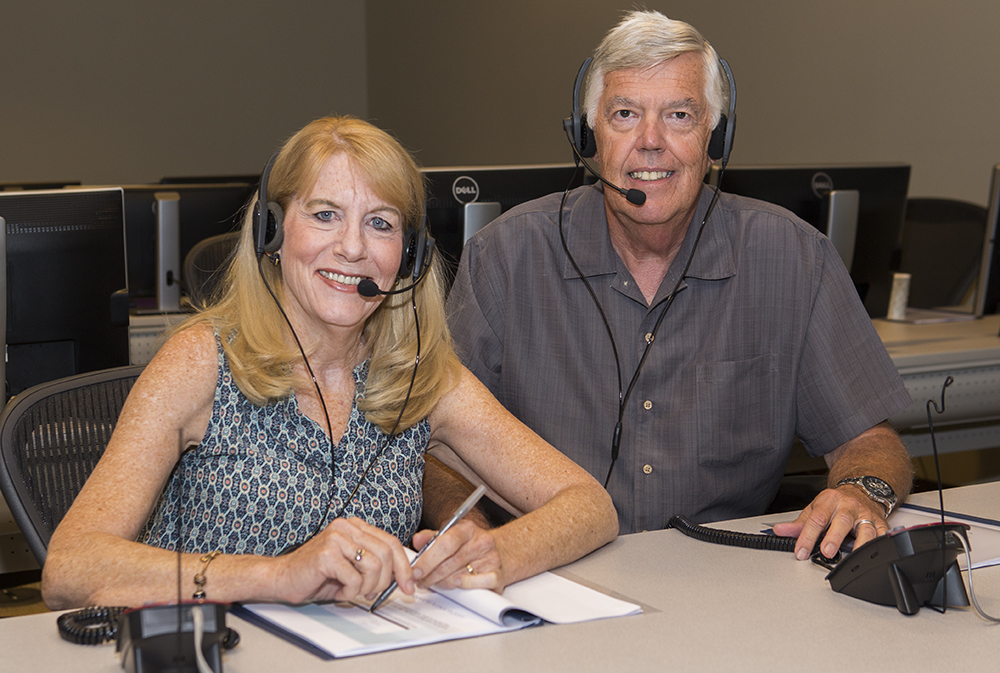 On Wednesday, Thursday and Saturday nights, TBN airs past Billy Graham Crusades across the U.S. and Canada. During those programs, a toll-free number shows up on the screen so viewers can call and talk to someone about God. That's BGEA's TV Telephone ministry.
"This is the opposite of what I want to do."
Peggy Rogers hated talking on the phone. She didn't even like to pick up when her home phone rang, much less chat with strangers about spiritual matters via telephone.
So when she found herself in a call center one night, expected to answer a constantly ringing phone and discuss Jesus with the person on the other line, her nerves almost got the best of her.
A few hours later, though, she had led seven people into a relationship with Christ and excitement overtook the nerves.
"I have always prayed about getting over being so shy," said Peggy, 21 years after that trial run with BGEA's TV Telephone (TVTM) ministry. Not only has that shyness dissolved over the years, but her confidence in sharing her faith has flourished.
History of TVTM
In 1980, BGEA employees set up a few phones, hoping people would call in response to a Billy Graham Crusade telecast. Incoming calls overwhelmed the volunteers, and within months, 200 phones were installed at BGEA headquarters. The ministry now has 41 call centers and more than 2,000 trained volunteers nationwide.
It's the same for her husband, Steve, who joined the ministry three years before Peggy.
Steve says he shared his faith a little bit before volunteering with TVTM in 1992, but was never that comfortable with it. Now it's second nature.
"We've gone from pew sitters to ones that are very comfortable in sharing our faith with others," he said—which is easy to do, he added, after years of witnessing the power of the Gospel and "watching God work in real time."
Before Peggy joined the team, Steve remembers getting home late after volunteering and waking her up with one story or another from that night.
"I was so excited, I couldn't help it," he said. "I had to tell her what happened."
And the stories haven't stopped.
There was the call Peggy got once where the person on the other end asked a question and she wasn't sure how to respond.
"I felt like I didn't give a good answer," Peggy said. She was disappointed but made sure to study the topic afterwards.
Lo and behold, she got a call from the same person sometime after.
"God gave me another chance," Peggy said. And this time, she was prepared.
It's been years now since Peggy had major liver surgery, and since joining TVTM, she's gotten multiple calls from people recovering from the same kind of surgery or battling liver cancer.
There's a simple explanation, Steve says confidently: "God directs the calls."
One of Steve's most memorable calls was from a man who identified himself as an Eskimo and lived in the Arctic Circle where he didn't get any TV stations. The man had rented a movie, turned the TV to channel 3 to play the VHS and found a Billy Graham Crusade being broadcast on a station he didn't normally receive. He watched the telecast, then called the number on the screen. Steve picked up.
"I led the man to Christ, then he put his wife on the phone and she came to God, too," Steve said.
Over the past two decades of volunteering, Steve and Peggy have raised two kids—who used to help verify callers' addresses in the phone book before computers were used for follow-up—and have gone from picking up the receiver on each call to using headsets and noise-canceling mics. Yet the power of God in the ministry has remained the same.
The pair spend almost every Saturday night at a church-based call center in Riverside, California, and recall one stormy night back in 2000 when all 50 phone lines were busy.
"We were answering a lot of calls … and suddenly all the phones went dead except one," Steve said.
That one call was a volunteer leading someone to Christ. Everyone else gathered around in the meantime, praying for the rest of the phones to come back on. A few minutes later, each phone lit up again, in order from 1 to 50 across the room. The people who had been cut off called back and most were reconnected with the same volunteer they had been talking to. Many were calling to give their lives to Jesus.
The real surprise, though, came two days later when a phone repairman came to fix the church phones, none of which were working then. It turns out the main phone line had been hit by lightning and all the equipment was fried. A pastor relayed the repairman's message to Steve.
"He said it was impossible to take any calls," Steve remembers. "And I said, 'Well … we did.'"
Peggy says they've seen lots of miracles and that being part of TVTM has been an eye-opener into God's character.
"Seeing the power of God work, we just have a greater confidence, peace and assurance that God will see us through," Steve said. "You cannot remain the same; you're going to be changed."
Interested in volunteering with BGEA's TV Telephone ministry? Learn more.