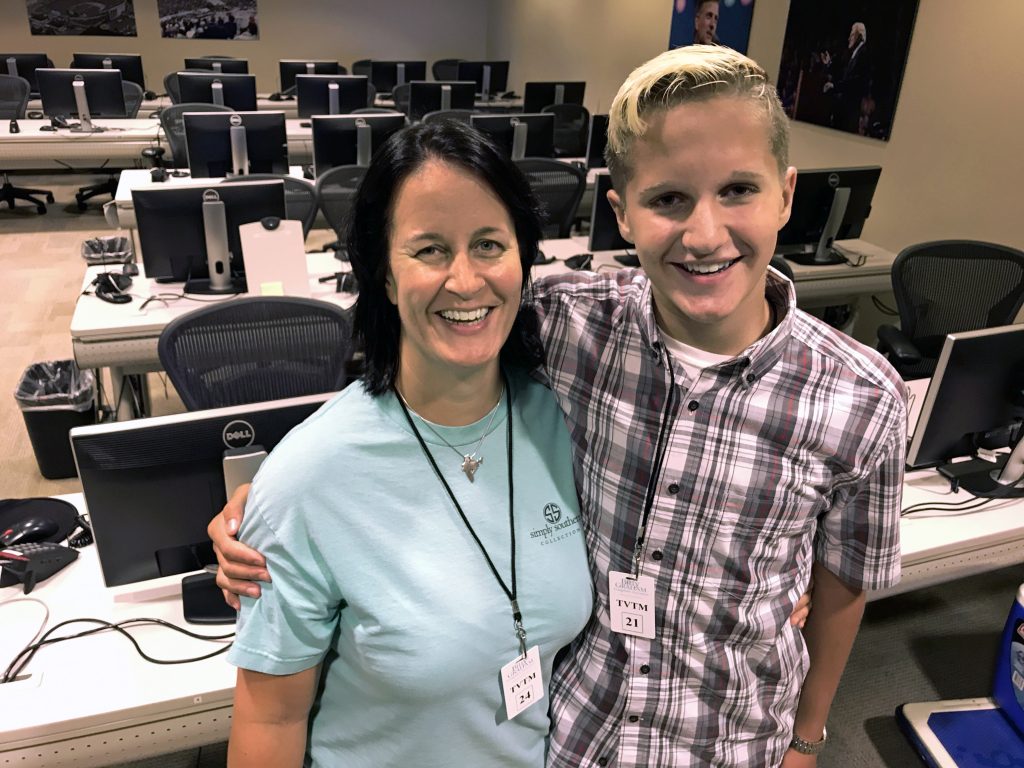 At 5:30, everyone is in place. Eleven people are spread across the room, each facing a phone and a computer. They have headsets on, and it's pretty quiet, except for a snippet of a conversation here or there.
At that moment, Trinity Broadcasting Network is airing a 1992 Billy Graham Crusade from Portland, Oregon. Billy Graham is onscreen, wearing a light tan overcoat and big glasses. He's talking about the second chance God gave Jonah. Johnny Cash sings at one point, and Portland Trail Blazers basketball star Buck Williams shares his story. There's a phone number at the bottom of the screen.
The group of 11 volunteers are part of BGEA's TV Telephone Ministry (TVTM), which responds to people who call that number when these classic Crusades air.
Jen Westmoreland brings her 13-year-old son, Zac, and together, the pair volunteers with TVTM twice a month.
That's between Zac's involvement in cross country, Boy Scouts, piano lessons and helping with the children's ministry at church.
At 5 years old, Zac committed his life to Jesus at the Billy Graham Library.
Now, as Zac sits in the room with TVTM volunteers, he knows that others who are watching Billy Graham on TV right then could be on the cusp of making the same decision.
When the calls start, he says, "I'm just thinking about what they're calling in for and what they could receive. … People are accepting Christ."
At 5:56, one phone after another starts ringing, breaking the quiet.
"Oh, they must've had altar call," says Jen, who serves as the local chair for the Charlotte team.
Twenty-five years after preaching his message in Portland, Billy Graham has just invited a new generation of people watching on TV to follow Jesus Christ. Now they can call to personally connect with someone.
Volunteers answer those calls, offering prayer, encouragement and spiritual guidance. One volunteer explains salvation further; another emphasizes how much God loves the person calling in.
"I think in any generation, people want to talk to someone about their needs, especially their deepest spiritual need, and that's why our volunteers are so critical to this ministry," said TVTM Senior Manager David Ferrara. "They allow the viewer to make that personal connection with someone.
"The TVTM ministry is also a blessing for our volunteers," he continued. "It's one way they're able to fulfill their call to share the Gospel and to pray for others, which is a call for all Christians."
Ferrara holds a laptop in his hands as a program on the screen tracks incoming phone calls. There are four call centers he's keeping an eye on that night: one at the BGEA headquarters in Charlotte, North Carolina; as well as centers in Green Creek, North Carolina; Sonoma, California; and Winter Garden, Florida.
Three minutes after the barrage of phone calls begins, there are 35 callers on hold across the four call centers. With volunteers finishing up one call after another, only three are still in queue by 6:05.
Volunteers fill out a form for every call they get. On this day, those forms go to Zac, who makes sure all the information is filled out. One by one, he hands the forms to a woman nearby who verifies contact details on the computer to ensure any resources BGEA sends the caller will go to the right place. Then he takes each form just outside the door where a volunteer prays over every caller.
The average call lasts nine minutes, Ferrara says, and volunteers are typically there until about 6:30 wrapping up. Within an hour, the four call centers combined answered about 125 calls from across the country.
That night, a 90-year-old man called to accept Christ.
Another woman called from a hospital in Houston just days after Hurricane Harvey. Volunteer Jerry Lape took that call and took time to pray for the woman who was awaiting a possible cancer diagnosis.
Since Hurricane Harvey, the nation has experienced other crises. There were hurricanes Irma and Maria, which absolutely devastated Puerto Rico, along with parts of Florida and the Virgin Islands. Then the mass shooting that left nearly 60 dead in Las Vegas on Sunday.
So what place does TVTM have in the current state of affairs?
"These tragic events in our country can cause people to lose hope, so understandably they're looking for someone or something to place their hope in," Ferrara said. "When they watch a Billy Graham Classic, they'll encounter a message of hope that's beyond the temporal things of this world. They will hear the Gospel message, and learn how they can have eternal life by trusting in Jesus Christ as their Savior.
"Every week people call our TVTM ministry because they recognize this is the hope they always needed."