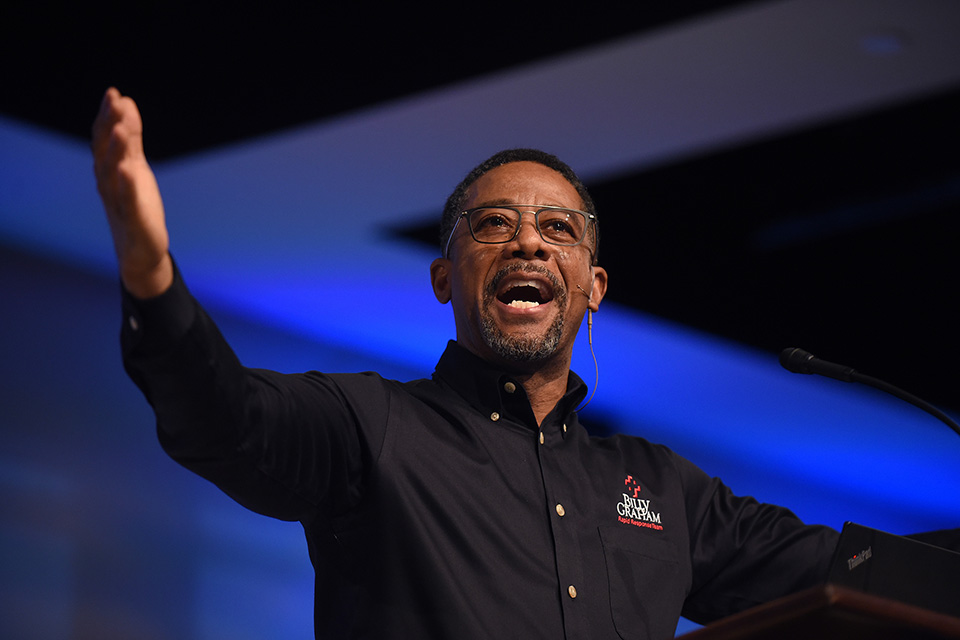 "Do not be overcome by evil, but overcome evil with good."
Romans 12:21
A thoughtful hush fell over the crowd gathered at the Billy Graham Training Center at The Cove during the recent Law Enforcement Appreciation Retreat.
"Do you not know I could have been one of your worst protesters?" Kevin Williams asked the rapt crowd.
Encourage an Officer, Change a Community
The Rapid Response Team is planning more Law Enforcement Appreciation Retreats next year. Your support can help refresh and renew officers and their spouses.
Williams' statement was a stark reminder of the reality that law enforcement officials face day in and day out. God has the ultimate say, but an officer's decision to obey God's instructions carries eternal importance.
Williams, emergency response logistics manager with the Billy Graham Rapid Response Team, used his own life as an illustration as he challenged officers.
Storm Troopers & A Praying Grandmother
During his message, Williams recounted his life growing up as an African American in inner city New Jersey. He remembers watching with 9-year-old eyes as the "Storm Troopers"—that's what they called the police—rolled into the neighborhood and violently arrested a neighbor. At 16, Williams said police dropped him off on the other side of town and threatened him with juvenile detention if he didn't make it home before the citywide curfew.
Two years later, he was arrested and imprisoned without due process. His grandmother never stopped praying even as Williams was scheduled to be transferred to a maximum custody unit that housed murderers.
"God takes me out of that, has the government clear and expunge my record and then put me in a uniform," he said, and then paused. "But God."
'Darkness Is Waiting'
The miracle extends beyond Williams' deliverance from prison. Despite his firsthand experiences, Williams, who once played with first responder cars and military toy soldiers as a boy, never became embittered toward law enforcement.
Instead, he went to work for the New Jersey Department of Corrections. He wore many hats there, including serving as a member of the juvenile crime prevention program.
During his message, Williams encouraged and cautioned law enforcement through Romans 13. Biblically, everyone should be subject to God's appointed authorities, but in turn, those authorities—including officers—should be subject to God. They have a responsibility, and the ones who lean on God can become respected and honored members of the communities they serve (Romans 13:7) as they see the good amidst some very difficult days.
>> Read more about expanding this law enforcement ministry in 2021.
"Be careful of those in your communities," Williams said. "Those who are doing right, encourage them. Let them know you see what they're doing. Don't antagonize them and push them the wrong way because darkness is out there. Darkness is waiting to take them in and indoctrinate them."
Shine a Light
In one case for Terry Bratton, bonding with the community was as simple as literally shining a light on some kids playing basketball at night. Bratton, now a pastor in Texas, served 39 years with the Houston Police Department.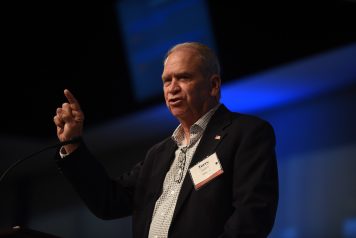 He spoke after Williams on Tuesday and shared how he saw ministry opportunities more clearly only after God reframed his perspective.
He recalled sitting in a parking lot at 3 a.m. doing paperwork when he noticed neighborhood kids shooting hoops in the dark. Bratton shined the bright takedown light from his police car on the kids. For a moment, the kids and Bratton stared at each other before the kids slowly resumed their game. This one decision changed the narrative, and ultimately officers and neighbors worked together to make that community safer.
"When we get caught up in self, we miss God at work," Bratton said.
'Find the Good'
Admittedly, finding the good isn't something that happens in a law enforcement official's own strength.
"It's hard to see the good when you're out there working," admitted Sgt. Jeff Furr, who has served 24 years as an officer in Monroe, North Carolina. Officers typically see people on their worst days, and their shift can be full of tough calls—like suicides or crimes involving children.
And yet his joy spills over into his life, Furr's wife Susan said, noting her husband has taken it on himself to brighten his neighbors' day by replacing worn American flags.
Susan shares the struggle of finding the good in the midst of an often taxing profession. She oversees Union County's 911 operation center.
"It's not because I don't see the bad," she said. "It's because I choose to find the good."
Officer Brad Richardson worked in ministry before joining the Winston-Salem Police Department. This, he said, is now his mission field.
"Winston-Salem is my home," Richardson said, standing with his wife Amanda. "I police with the philosophy that everybody here is family. We're all part of the Winston-Salem family."
'Never Forget Our Duties'
That mentality seems to be something of a lost art as the public reportedly is losing confidence in police and other public institutions. But for the Christ-centered officer, it's everything. And it happens best as an officer daily seeks God by reading His Word and praying.
Williams urged officers to knock on church doors in their communities and request prayer—specifically for themselves and their departments.
Draw out the community, retired Baltimore Police Chief Melvin Russell said.
Russell, known for his work with police-community relations, thought back on his time working patrol. Nobody had to teach him compassion because he grew up where he eventually policed. This was his community, his family.
Newcomers can figure it out, too, he said. They just have to get out of their cars and start talking.
"That's all we did in my era was stay out of that car between calls," Russell said. "We didn't go and drive off and sit on a lot where we're all congregating with fellow police officers talking about whatever while the city is dying, while the community is hurting.
"We have a ministry—pastors, police, we all have a ministry. And that ministry is out in the field. The harvest is truly plentiful."