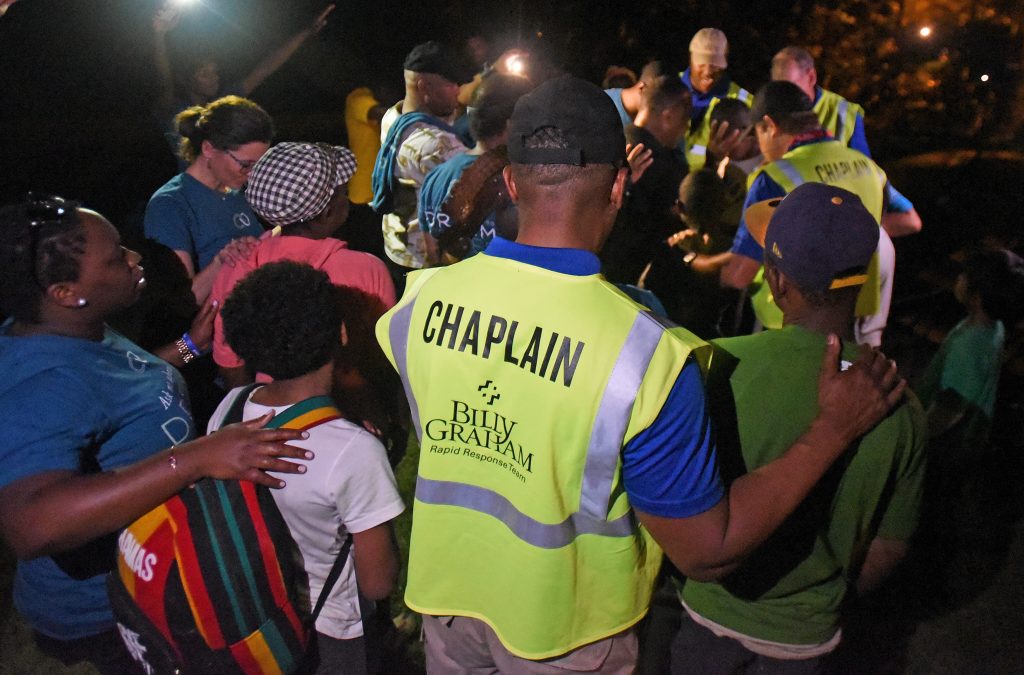 It's a Tuesday night in Reid Park, an historic neighborhood in West Charlotte. Children scamper about, throwing footballs with Charlotte-Mecklenburg Police officers and eating ice cream. The teens have taken over the basketball court and they're showing their older counterparts some moves. One even later joked that he juked local pastor Theo Schaffer. Schaffer blamed his "pastor jeans."
There's a spirit of camaraderie here that transcends a narrative currently shadowing much of Charlotte. Crime has been on the rise in the Queen City. Violent crime has increased 18.5 percent during the first six months of this year compared with that same time frame in 2018. Fifty-seven people were killed during the first 181 days of 2019. That's how many people were murdered in all of 2018.
"It can sound alarming," said Schaffer, who works with discipleship efforts in this community. "But there are signs and snippets of revival. You have to be in the Spirit to discern it. You have to see it in children, in people. Like right now, this [park] looks like Heaven. There's a remnant that He's raising up."
Watch video from the Rapid Response Team's recent visit to Reid Park:
'God Opened Doors'
The Reid Park area, susceptible to the same citywide struggles, has been on the hearts of local churches and police for some time. In spring 2016, a Charlotte-Mecklenburg Police captain learned more about the Adopt-A-Block programs happening in Ferguson, Missouri, and other places that have experienced civil unrest in recent years.
The concept of Jesus' followers adopting neighborhoods was making a difference. The Billy Graham Rapid Response Team deployed to these areas and local chaplains got involved personally in the neighborhood initiatives. The immediate goal was to do something like that in Charlotte until the police captain learned about the Charlotte Mecklenburg Dream Center.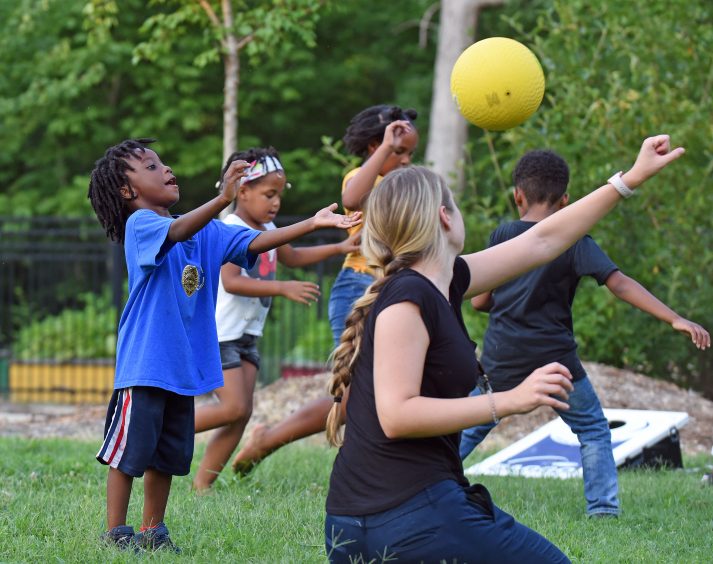 The Dream Center, an affiliate of the flagship Dream Center in Los Angeles, already was implementing the organization's Adopt-A-Block model in JT Williams, a nearby Charlotte neighborhood. The Charlotte group felt the timing was perfect to add another neighborhood and took the lead on Reid Park with support from local churches, police and other resources.
Within 18 months, hearts were softening and even the statistics were impacted. Bo Frowine, executive director of the Charlotte Mecklenburg Dream Center, said his group found crime dropped from 5.8 instances per week to 1.1 on the streets they serve.
"It's not anything we did," Frowine insisted. "It's that we're taking the presence of God into the community and that alone changes the community. There are people here that didn't know how to receive us, but we believe that God went before us and God opened hearts and God opened doors."
Volunteers show up on Saturday. Every. Single. Week. They knock on doors. They pray with people. They follow up. They love. And over time, sincerity and commitment has built trust.
When a 9-year-old boy was hit by a car recently, the family called Frowine's team to come visit and pray with him. On Tuesday, the little boy kept up with his friends from his wheelchair, his left leg in a blue cast covered in names.
One of the boy's friends zipped by uniformed law enforcement officials to catch up.
"Hey police," the little boy said, darting past with a smile.
"Hey buddy," officer Eric Nelson said warmly, a football at the ready in his left hand, just below a Jesus-honoring tattoo on his forearm that read, 'For the King.'
Engagement with the children is the best, Frowine later said. It makes your day when the kids run up to hug you. But it's not just the little ones impacted, and the Dream Center is particularly encouraged after well-attended launch party for its newest Charlotte neighborhood in nearby Thomasboro. At the Reid Park event, adults also embraced volunteers and even the police during Tuesday's event.
"You're willing to risk your life to save a life, and we just appreciate you," Pastor Belton Platt told the officers, shaking their hands as he stopped to talk. Platt grew up in this community and made a name for himself as a bigtime cocaine dealer. After spending time in federal prison, "Money Rock" as he was called, turned his focus to ministry.
He has a heart especially for the youth, for seeing them make the right decisions and following in the path God has for them. That's a big reason why his ministry plans to play a role in the Dream Center's discipleship efforts for this community.
"We hold the key to change in this nation, in this city, in this world and that key is Jesus Christ," Platt said. "It is the love of God. It is the power of God. We hold it. We have the glorious Gospel of Jesus Christ on the inside of us. And who doesn't want to hear Good News?"
'Only One Reason'
Nearby, the energy on the basketball court is matching the high-paced music the DJ is spinning. Tuesdays in this park are usually devoted to Bible study, but on this particular night there'll be an outdoor showing of "Woodlawn." Dream Center volunteer Candace Salamone felt led to make that happen complete with free food. She points to what Jesus demonstrates in the Bible. Sharing a meal can start fellowship.
The movie, which the Dream Center also will show July 12 in its first adopted neighborhood of JT Williams, addresses racial and religious tensions. It really touched her heart when it released in 2015. A native Lumbee, Salamone was in the first generation of her family to attend a desegregated school. She grew up watching her family cope with drugs, depression, violence. But Jesus changed her life, she said. Hope is possible.
"I know there's only one reason I am not in the same situation that many others in my family and the legacy of my family line," she said. "There's only one reason, and that is what God has done in my life. I don't want any of that to be wasted."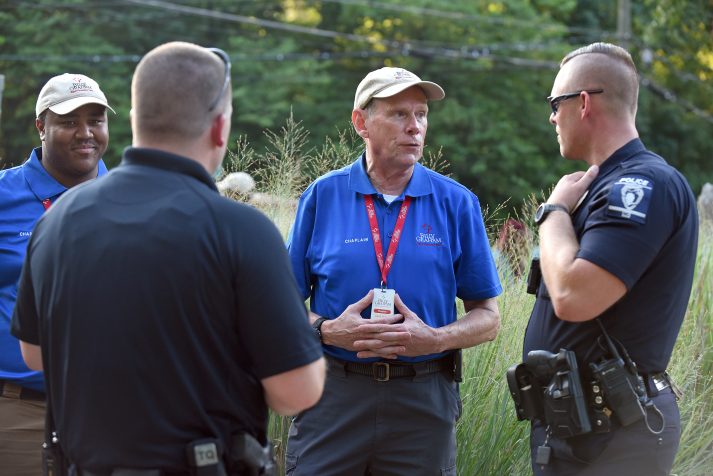 'This is Awesome'
With God, nothing is wasted—that's something many people echoed on Tuesday, and that includes the movie outreach. This event wasn't just about free food and a movie. It also isn't just about speaking a message of God's love once. It's about starting the conversation and continually walking alongside those who made decisions that night for Jesus Christ.
Billy Graham Rapid Response Team chaplains were honored to talk and pray with some of these folks. They gave Bibles to new believers and encouraged them to read God's Word every day. RRT manager Ken Dunlap talked to one young man who wanted prayer because his life, his family are currently embroiled in a drug gang. Dunlap encouraged the 28-year-old not to walk this path alone, and he surrendered his life to Jesus. With the young man's permission, Dunlap will connect him with a local church.
"Underneath, that (tough) exterior is hiding greatness, but they need the church to bring them up into it and let them know that Christ can take you and make you a diamond in life," Dunlap said.
All over the park, local pastors like Theo Schaffer were looking for opportunities to connect. Schaffer found his on the basketball court, where he played against one young man. Schaffer asked for his number—maybe they could get together for lunch or even play basketball on a video game. The young man, appearing delighted, shared his contact information.
"And don't give him a fake number, either," chimed in Daisy Gabriel, seated nearby eating ice cream.
Gabriel has lived in this neighborhood since she was 11 years old. That was decades ago. Or three lifetimes maybe. She raised triplet daughters during that time, and now they're 27-year-old college graduates. A lot has changed over the years, Gabriel says somewhat sadly.
"This neighborhood was alive," she said, remembering her youth. "You didn't have to worry about nobody fighting or shooting or breaking into nobody's houses because the kids stayed busy. They worked. They had rec centers and stuff going on. It was something, and I wish they could bring that back to the city of Charlotte."
In a way that resource gap is one the Dream Center and its supporters have been bridging. Gabriel acknowledged that, but shared that she didn't realize the group was this involved until a couple members knocked on her door Tuesday to invite her to the dinner-and-movie event. She's usually working when they're in the community.
"I said, 'If they can take the time to come out and to do something for the neighborhood, let me take a moment or two to come out and participate,'" she said. "This is awesome."