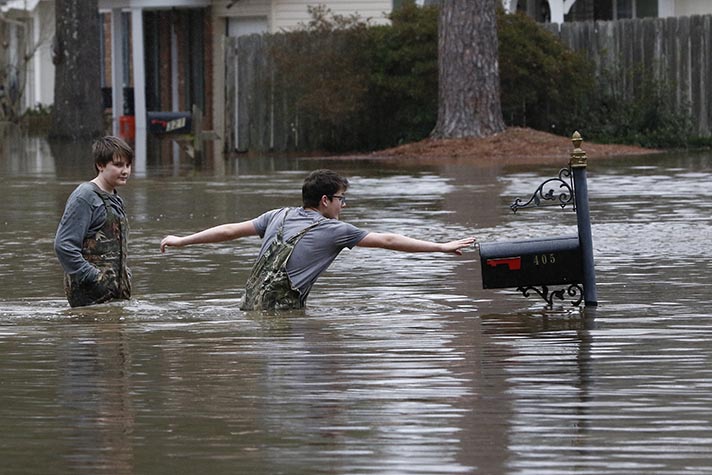 The Billy Graham Rapid Response Team (RRT) is in Jackson, Mississippi, with its Mobile Ministry Center (MMC) after catastrophic flooding. The MMC serves as the ministry's hub, and provides a safe space for residents to have conversation with crisis-trained chaplains.
Over the past few days, Mississippi and Tennessee residents have been pounded with heavy rains. Door-to-door evacuations have occurred as hundreds of homes have been inundated with floodwaters—and the National Weather Service forecast shows there's more rain to come.
Although the threatening Pearl River crested in Jackson on Monday, many are continuing to watch it in the coming hours.
"What's already taken place is horrific. I can't imagine looking around and seeing that devastation, and then to know that the forecast is calling for more rain, and how helpless that would make you feel," said Josh Holland, RRT's assistant director. "The message of the Bible is that God is a God of hope, no matter what the natural circumstances are. His supernatural love can meet us in the middle of our greatest pain and we are honored to share [His love] with people. Even when there are no words, we have the opportunity to be a physical presence and beside them as they grieve."
While the team will be available to the Jackson community to offer a listening ear, Samaritan's Purse—the chaplains' sister ministry that repairs houses—is also in the area preparing to work on residents' homes. Additional chaplains will deploy to the city when waters recede.
This marks RRT's fourth deployment in February, as they have chaplains currently serving in Spartanburg, South Carolina (tornado); Puerto Rico (earthquakes); and Pendleton, Oregon (flooding).
Please keep both the Rapid Response Team and people facing loss in your prayers.