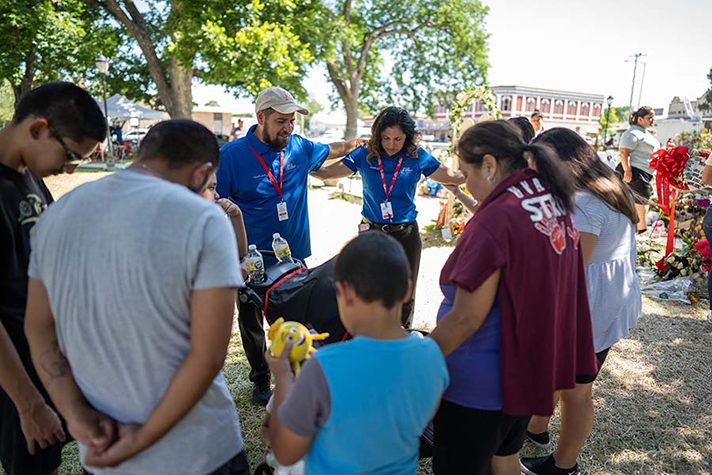 The last few weeks probably have been the worst ever for the town of Uvalde, Texas, grappling with the tragedy of an elementary school shooting.
But in the midst of pain, crisis-trained chaplains with the Billy Graham Rapid Response Team (BG-RRT) were there every single day, offering those grieving an ear to listen, arms to embrace, and the hope that can only be found in the love of Jesus Christ. 
They've heard story after story of heartache.
"Ever since the shooting, you can see both anger and sadness in people's faces here in Uvalde," said Gladys Castillon, a resident of the town for almost five years. "There is a gloomy fog that will not go away anytime soon. It will take time." 
"My family and I have been in self-isolation in the house for almost 15 days now,"  shared Spanish-speaker Lupita Ibarra. "So, I decided to take my kids out to the park yesterday. Nothing was the same. Nobody was there. We can't heal when we are still going to the funerals and we see all the pain. It's just too much."
Local chaplains from Texas arrived to Robb Elementary School within two hours of the elementary school shooting. Soon, many others joined them. A total of 18 chaplains served the community for just one day short of two full weeks, making themselves available outside of the school, the Civic Center and the town square—where those most affected by this tragedy have been gathering. 
Chaplains shared stories of how the hope of the Gospel uplifted the grieving community of Uvalde, the police officers and visitors who have been coming from all over the country to give their respects.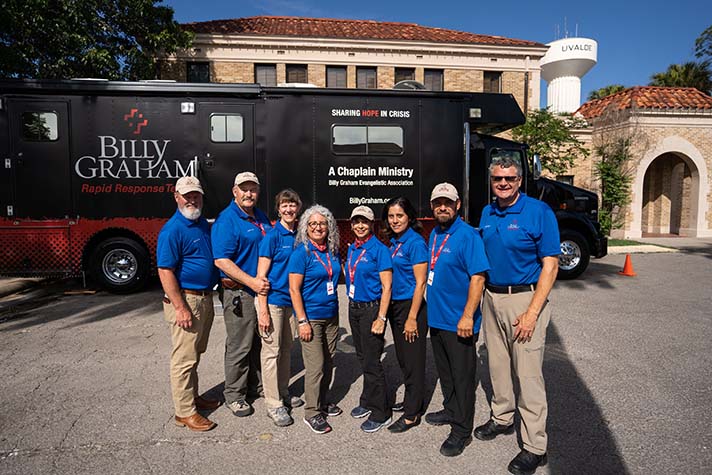 A Marriage Serving Christ
Chaplains Juan and Rosemary Morales live in Houston, Texas, and as soon as they received the notification, they felt God's nudge to go and serve the community of Uvalde.
"We are privileged to be able to be part of the Billy Graham chaplain team and just to represent the kingdom of God," they shared.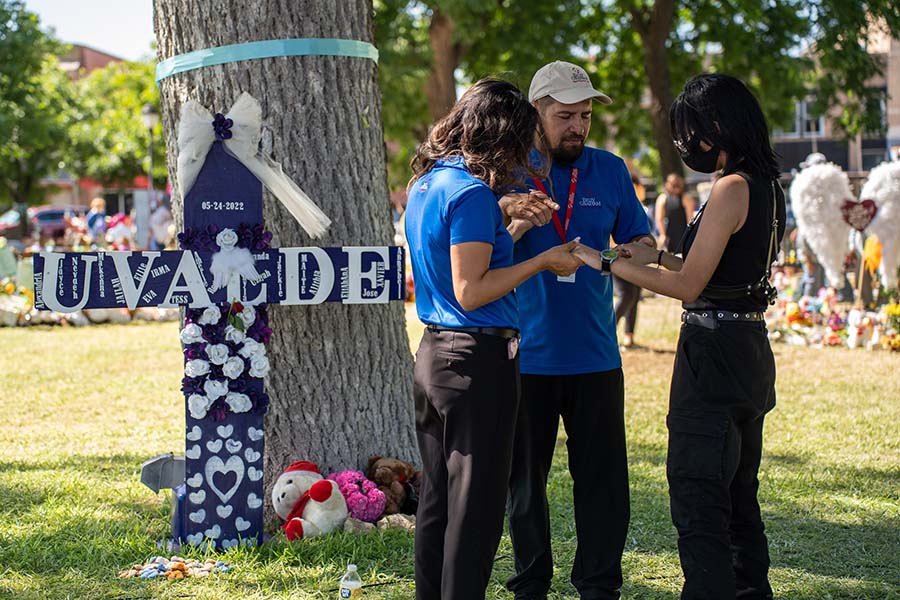 Led by the Holy Spirit, this couple ministered to over 200 individuals and led 24 to trust in the love of God and find eternal salvation in Jesus Christ. 
Here are some of their stories.
Allen
The two chaplains were walking in the town square when they noticed Allen and his mother. Allen looked upset and confused. 
"God drew me to him," Rosemary said. "I just told my husband, 'The Lord is leading me to pray for him.' So we came closer and we introduced ourselves.
"We asked him how was he handling everything that's happening around him right now. His mother answered for him in Spanish and said, 'He has a lot of hatred inside.'
"[Allen] said, 'Yeah. I'm mad. I'm upset at the world and myself. I've been a victim of bullying, and I have bullied others too.'
Juan noticed he was distressed, so he asked him if he could give him a hug. 
"And just giving him that hug, Allen's tears began to flow," Juan remembered.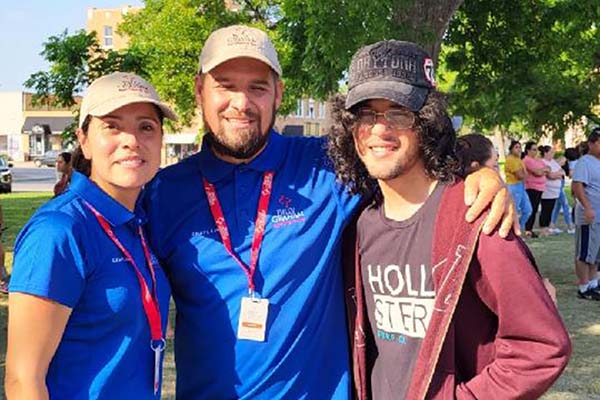 "Would you like to be free today?" Juan asked. "Jesus Christ says that He will bring peace to our lives when we make Him Lord and Savior of our lives and we put our trust in Him. He can give you freedom."
Allen responded saying he wanted to be free—and Juan and Rosemary shared the Gospel and lead him through the Lord's prayer. 
"His mom just began to rejoice," Juan said. "She noticed such a difference that she asked if we could take a picture of them.
"He is a totally different man. He allowed us to take this picture with him. 
"He did not look like that," shared Rosemary. "He did not have a smile when we met him."
Mario and Maria
Mario and Maria are a married couple from Vigo, Texas. Mario is an army veteran and they went to pay their respects at the memorial set up for the victims. 
"He said that he served this country well and that he was very angry with all that's happening," shared Juan. "Mario said, 'I'm worried for the future of America for my children and my grandchildren. It's hopeless. All hope is lost.' So I told him, 'Well, there is still one more hope, and His name is Jesus Christ.'
"I said, 'Jesus Christ is the only one that can help us out. The Bible clearly states that if we turn away from our wickedness, He is able to heal. Have you guys ever surrendered your life to Jesus Christ?
"How can we?" Maria asked.
"Today you can assure yourselves salvation in Jesus Christ," Juan explained. The two decided to pray right then and there and let Jesus Christ into their lives.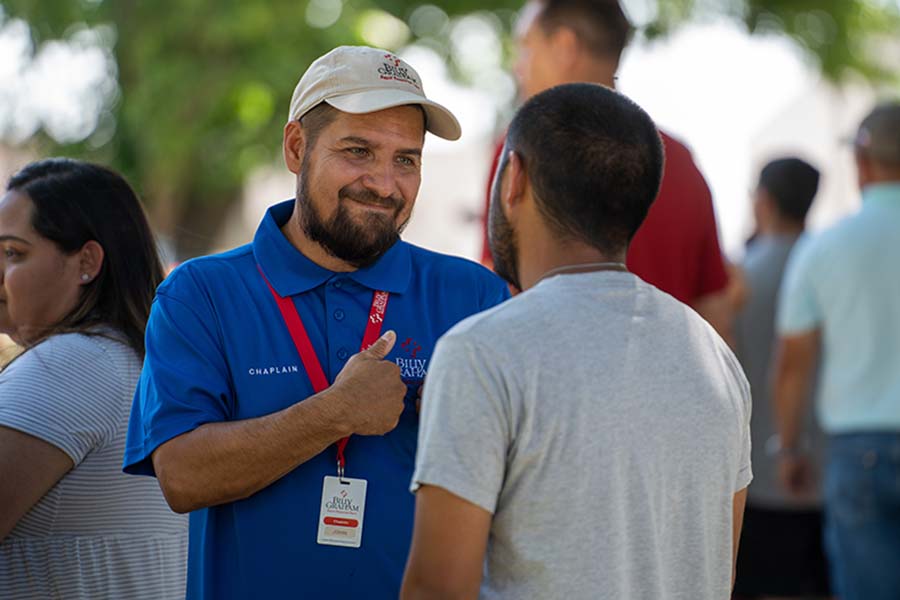 Marciano 
Juan and Rosemary also got to hear testimonies of believers, like Marciano, who got saved through Billy Graham's proclamation of the Gospel in a very unique way.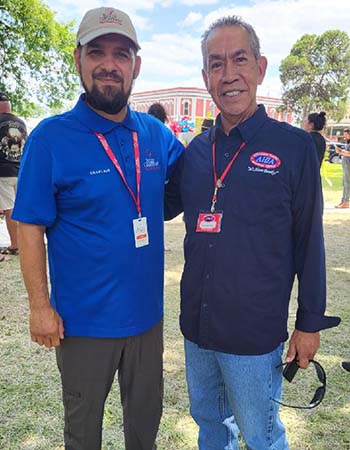 Back in 1969, he was out partying one night when he was a "psychedelic hippie," as he described himself. The morning after the party, he was at a friend's home. 
"On that morning, his friend's dad was watching a Billy Graham Crusade on TV and he heard what now he knows was an altar call by Billy Graham," shared Juan.
"Billy Graham said, 'Come as you are, Jesus loves you. God loves you.' And he was reached right there.
"He told us that his life has been changed ever since that day," the chaplain said. "He left his old lifestyle behind and he has been serving God all these years."